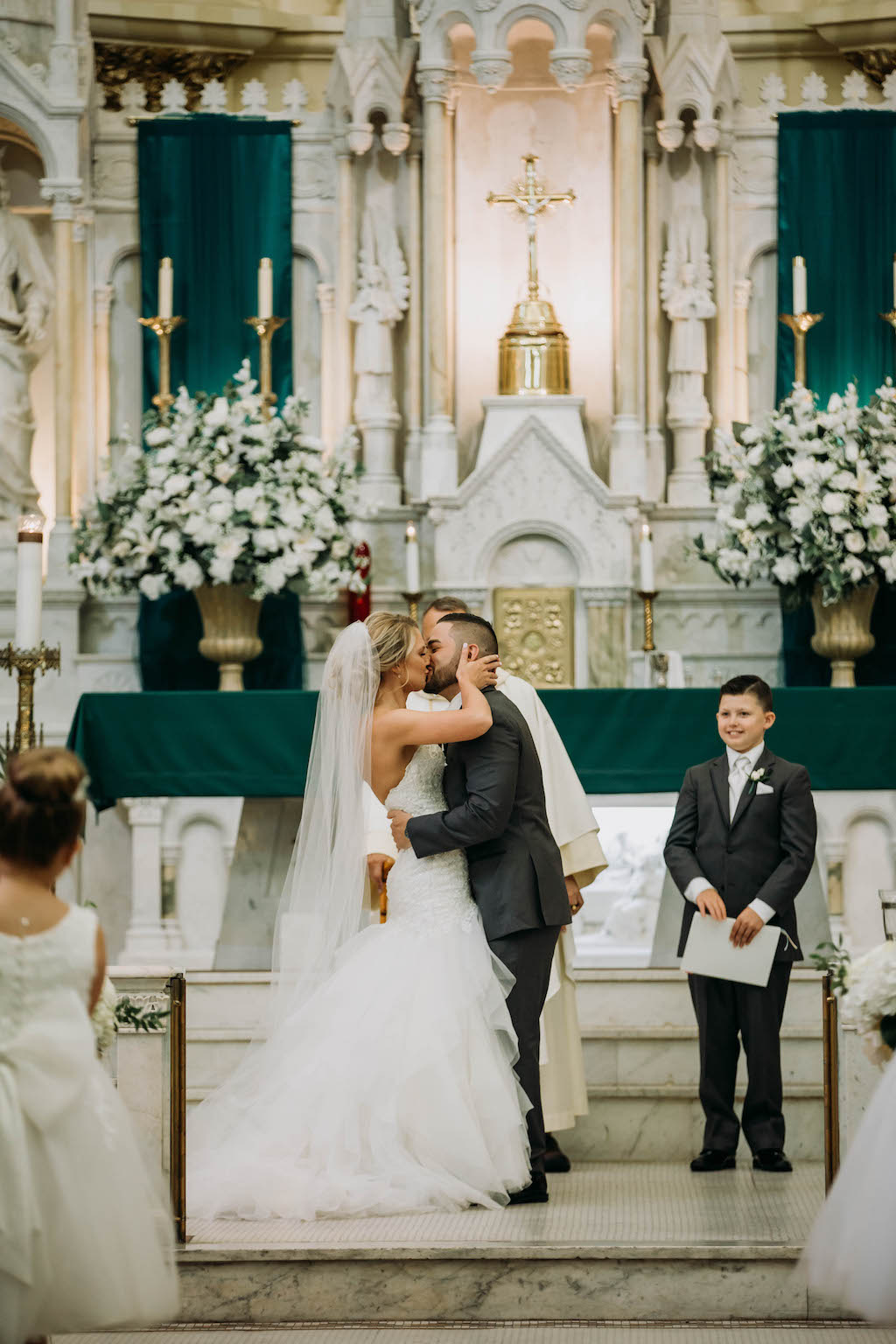 Traditional
Generally, a "traditional" wedding is associated with following the customary wedding activities as dictated by the religious beliefs of the couple. It is common for different religions to have wedding ceremony traditions that are a reflection and symbol of their faith.
A traditional ceremony usually begins with a wedding processional down the aisle including the groom, bridesmaids, groomsmen, ring bearer, flower girls, and ending with the bride and her companion(s). The officiant will welcome the wedding guests, share a positive wedding sermon, and include a consecration of the ceremony.
Time must be allotted for the declaration of intent, to give the bride and groom the chance to say their "I Dos" and share their wedding vows. In a traditional wedding ceremony, it is likely that the vows be more structured than they would be in a more contemporary ceremony; in some religious persuasions (e.g. Catholicism) these vows may largely be written for the couple and are designed to be echoed back as the Reverend recites them. Most traditional wedding ceremonies will also include a ring exchange, followed be the pronunciation of the couple as "husband and wife", and the invitation for the groom to kiss the bride.
At the end of the ceremony the bride and groom will be presented by the reverend as the recessional begins and they exit the wedding venue, followed by the wedding party.
Traditional wedding ceremonies may also include rituals and traditions derived from the cultural, rather than religious, heritage of the couple. These traditions can greatly vary depending on the cultural backgrounds of the families, but they all share one common theme: a symbolic expression of the commitment between the bride and groom.
Contemporary
With a contemporary or modern wedding ceremony, you may include many of the same elements of the traditional wedding ceremony, but simply adjust the wording to match the desires of the bride and groom. Often, these contemporary ceremonies are not focused on the religious messages, and may be held in unique locations.
Contemporary ceremonies are often shorter than certain types of religious/traditional ceremonies. They can also allow couples a great deal more freedom in determining exactly how they want their ceremony carried out. Some couples will craft contemporary ceremonies designed to revolve a certain theme; others use the opportunity to craft a ceremony combining their two faith perspectives; and still others who want a ceremony that is specifically catered to their own personal love story.
LGBTQ+
Most of the elements of a same-sex wedding ceremony are similar to those in any other wedding, although a few adjustments might be made to better accommodate the couple. The reverend will speak to the couple and discuss how they would like to be referred to during the ceremony and when they are announced.
Some same-sex couples will want to have a fairly traditional wedding ceremony, while others prefer to think outside the box when it comes to planning their big day. Because the legality of same-sex marriage varies in each state, you will need to make sure that you are planning the ceremony in accordance with local laws.
Simple
Some couples don't want to go through the stress of planning a big wedding and would prefer to avoid getting caught up in all the details. A simple wedding offers these people the opportunity to share their commitment to each other and legally wed without organizing a massive party.
A simple ceremony might be boiled down only to include the essentials, often just the Declaration of Intent with the witnesses present. Afterwards, the paperwork must still be signed and submitted. The rest of the elements of the wedding are spiritual and emotional additions that can make the ceremony a nicer occasion and a memorable event for all in a attendance, but are not necessarily legally required.
Each couple has her own definition of "simple." A simple ceremony for one couple might involve a ceremony in a beautiful venue that doesn't require much adornment with a dozen or so guests, while a simple ceremony for another couple might take place in the couple's home and only include the couple and whatever witnesses are legally mandated.
Just because a ceremony is "simple" or quick doesn't mean that it isn't a deeply meaningful one for the couple.
Wiccan/Pagan
Wiccan and Pagan weddings tend to be very different from traditional weddings, and you will find that the ceremonies can vary widely depending on the preferences of the couples. There are many different types of Pagan worship, each with different wedding traditions. Most couples prefer a ceremony based around their individual beliefs.
Often, the ceremony will start by "casting a circle," or the couple might choose to have the circle cast a few hours before the ceremony begins. This process will likely include a time where the officiant will turn to each point on the compass in order to honor the four elements: air, fire, water, and earth.
Sometime the circle might contain an altar, and traditional items might be placed on that altar. There may also be items to represent each of the four elements, such as water, a feather symbolizing air, a candle for fire, and salt for earth.
Pagans tend to be egalitarian, which means that it is unlikely the bride will be given away by her father. Some families have traditional activities to honor the living family members as well as the ancestors who have passed on. It is also common for the couple to approach the circle and enter it from the East coordinate, an action which symbolizes the rise/growth of their relationship.
It is common in the 21st century that a Wiccan or Pagan wedding will include elements that could also be found in a more "traditional" wedding ceremony. For example, the couple might want some time included in the ceremony to share their vows with their significant other and the assembled circle, or to exchange rings with one another.
Renewal of Vows
A renewal of vows isn't a "legal" ceremony because the couple is already married. A vow renewal allows the wedding couple to recommit and publicly share their love and devotion. This vow renewal is often held around the marriage anniversary.
Sometimes wedding couples plan to renew their vows during certain notable anniversaries, such as five-year, ten-year, twenty-year, or fifty-year anniversary. Other times, a vow renewal may be the opportunity for a couple to recommit and bond together again after going through a rough patch in their relationship. There isn't a right or wrong time to renew their vows, it's entirely up to them!
Handfasting
Handfasting is often included in Pagan or Wiccan weddings, but is also a common element in many modern-day Celtic and Irish weddings. It features the couple joining their hands together as the reverend wraps ribbon or cord around the joined hands.
Even though the tradition of handfasting is commonly associated with a particular set of beliefs, this beautiful ritual may be included in any other type of wedding ceremony. Alternately, the handfasting ritual can be expanded to form the entirety of the ceremony, if the couple chooses to forgo a more 'traditional' wedding.
Handfasting is a traditional way of showing their commitment for each other, and it is common for the wedding couple to share their vows while their hands are tied together.
Originally. handfasting was the representation of a trial marriage, where the couple would stay together for a year before reassessing their commitment and love to determine if they wanted to stay together. Even though the origins of handfasting is usually a symbol of life-long commitment, and the couple will often consider the marriage to be permanent.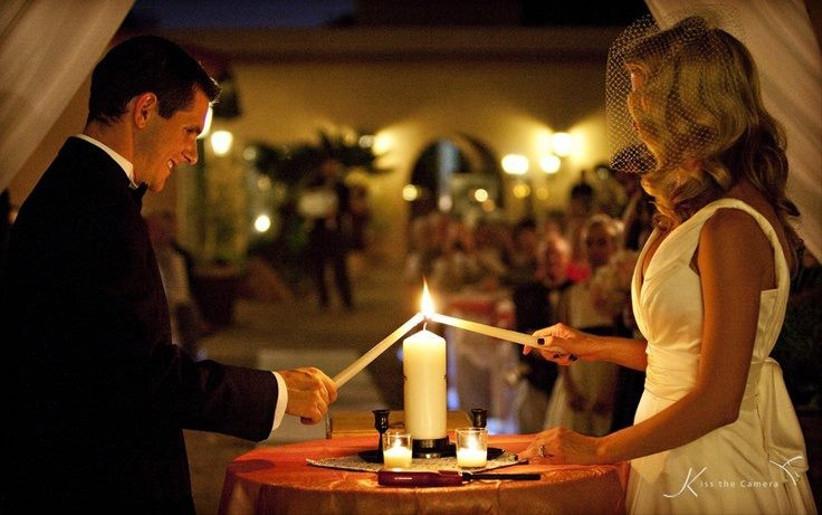 Unity Candle Ceremony
Lighting a Unity Candle during your wedding ceremony is a special way to symbolize your two lives joining together as one.
____________ and ____________, together as you light this candle of unity, you symbolize the flame of your own individual selves joining to ignite the partnership of marriage.
You also bring the warmth, strength and wisdom of your family's fire as kindling for your own.
As __________ and ____________, your flames are separate, yet they feed the same fire.
From this day onward, may you bask in the beauty of the light of your love, may its light shine bright and steady upon your path together and may its heat keep you warm through all the days of your lives and beyond.
Sand Ceremony
A Sand Ceremony or Blending of the Sand is a unique way to symbolize two lives becoming one in a wedding ceremony. This is also a great way to incorporate children or family into the wedding.
_____________ and _____________, today you join your separate lives together. The two separate bottles of sand symbolize your separate lives, separate families and separate sets of friends. They represent all that you are and all that you will ever be as an individual. They also represent your lives before today.
As these two containers of sand are poured into the third container, the individual containers of sand will no longer exist, but will be joined together as one. Just as these grains of sand can never be separated and poured again into the individual containers, so will your marriage be.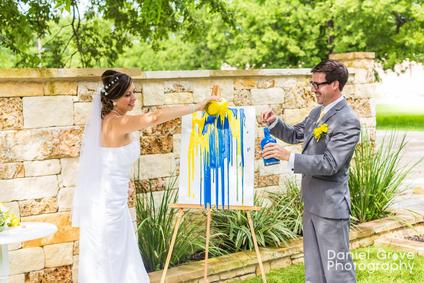 Unity Canvas Painting Ceremony
A fun alternative to the traditional unity candle ceremony or sand ceremony, the Unity Canvas Painting Ceremony lets the couple celebrate their unity ceremony in an artistic way that truly represents themselves.
Every marriage starts out as a blank canvas and every day is a splash of color. This blank canvas represents represents the day of the wedding, and a new beginning. The paint colors signify the experiences that lie ahead; colors of joy and sorrows, blessings and heartache.
The colors represent __________ and __________'s milestones, passions and dreams. They are moments that become the days that make up the years. There will be places on the canvas when the colors blend and mix, flowing together, creating a new color of experiences shared. And there may be places of contrast.
Parts of the canvas that look dark or messy and not at all to the couples liking. While another spot remains blank and bare. However, when you step back and look at the canvas in its entirety, you will see that it clearly is "An Original Masterpiece" unlike anything you've ever seen before.
Each color, contrast, shadow, blend as unique and beautiful as you.
Wine Ceremony
The couple drinks from a single glass of wine. This symbolizes drinking from the cup of life and sharing all of its experiences together, both bitter and sweet.
This glass of wine symbolizes the sum of your life experiences. It contains within it the sweet flavors of love, joy, wonder and contentment. This same cup, at times, holds the bitter taste of sadness, pain, and despair. When you drink deeply of this cup of life, you invite the full spectrum of experiences into your life.
Rose or Flower Ceremony
A Rose or Flower Ceremony is a romantic way for the couple to exchange their first gifts as a married couple.
Your gift to each other for your wedding today has been your wedding rings – which shall always be an outward demonstration of your vows of love and respect; and a public showing of your commitment to each other.
You now have what remains the most honorable title which may exist between a couple – the title of "husband" and "wife."
In the past, the rose was considered a symbol of love and a single rose always meant only one thing – it meant the words "I love you." So it is appropriate that for your first gift – as a married couple – that gift would be a single rose. Please exchange your first gift as a married couple.
In some ways it seems like you have not done anything at all. Just a moment ago you were holding one small rose – and now you are holding one small rose. In some ways, a marriage ceremony is like this. In some ways, tomorrow is going to seem no different than yesterday. But in fact today, just now, you both have given and received one of the most valuable and precious gifts of life – the gift of true and abiding love within the devotion of marriage.
___________ and __________, I would ask that where ever you make your home in the future – whether it be a large and elegant home – or a small and graceful one – that you both pick one very special location for roses; so that on each anniversary of this truly wonderful occasion you both may take a rose to that spot both as a recommitment to your marriage – and a recommitment that THIS will be a marriage based upon love.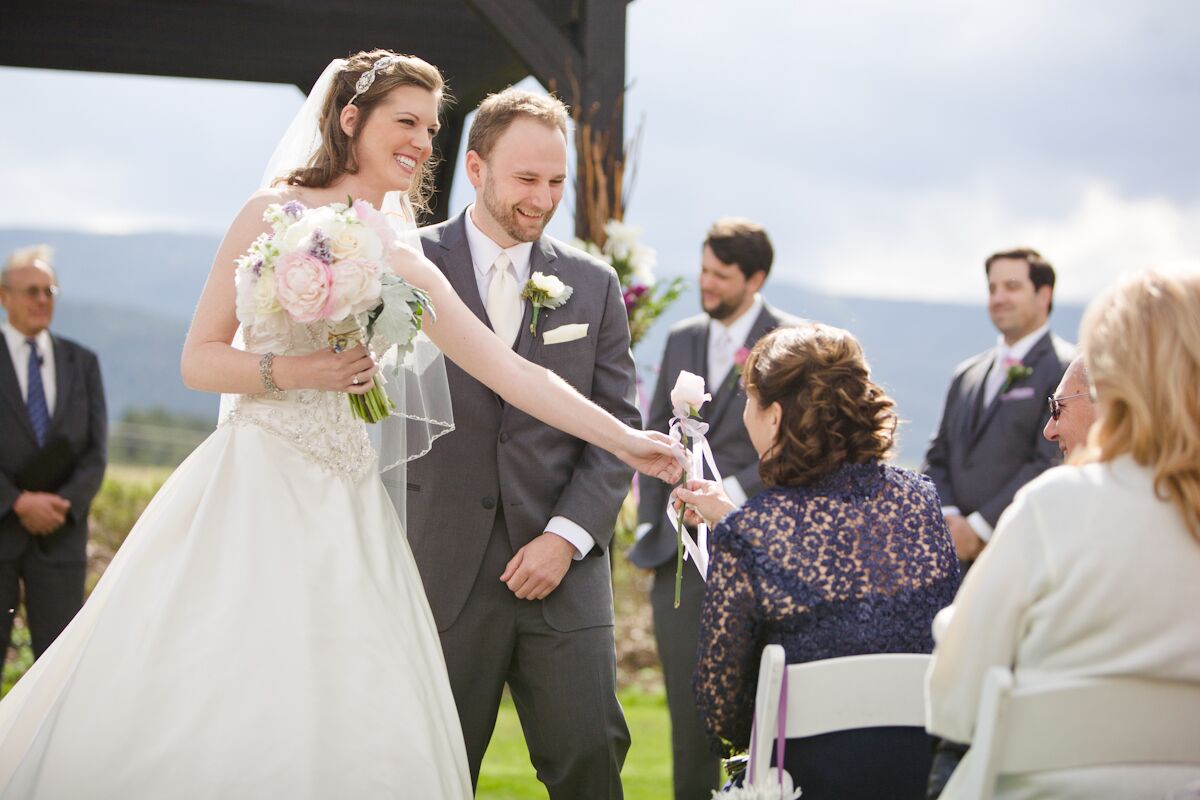 Mother's Rose Ceremony
The Mother's Rose Ceremony is a great way of honoring the couple's mothers or other family members during a wedding ceremony. The Rose Ceremony allows the couple a way for them to show gratitude for the love bestowed upon them.
Marriage is the celebration of coming together of two lives and it is a celebration of two people in love. The love that the couple feels for one another is a seed that their parents planted in their hearts years ago and today it has blossomed.
Today, as they embrace each other in their love, they also embrace the families, which have come together on this happy occasion. As a sign of their love for their families, the couple would like to offer these roses, to their mothers as symbols of their eternal love. These roses are a promise that no matter how far away you are that you are not forgotten and that you are always in their hearts.
Hands Ceremony
A Hands Ceremony explains the importance of the hands of the couple while the couple is simply facing each other while holding hands.
I asked you to join hands as a symbol of the union that you are making today.
I'd like you to think about the hands that you are holding.
These are the hands of your best friend
Holding your hands on your wedding day
Promising to love you and your work together as you build your future together.
These are the hands that will give you strength when you need strength
Tenderness when you need tenderness
And love when you need love.
These are the hands that will countless times wipe the tears from your eyes
Tears of sorrow
But also tears of joy.
These are the hands that years from now will still be searching for your hands,
Still seeking the love, encouragement and support that each of you seeks from the other.
Ring Warming
Before you say your vows and exchange your rings, the wedding officiant will ask everyone, including your wedding party to participate in a ring warming. The ring warming is an opportunity to send the couple good luck and love through a silent wish to the rings when passed to them.
Now as the couple comes from their community of family and friends, and ask our support as they begin their journey together…. They also ask for your blessing upon their marriage.
Later in the ceremony the couple will exchange rings as a symbol of their love and commitment to one another. As the ceremony proceeds they would like to invite family and friends to take part int The Warming of the Rings.
As the rings make their way through the group please take a quick moment to hold them, warm them with your love, and silently make a wish or ask a blessing for the couple and their future together. When the rings return they will contain your love and support for their union to keep it strong throughout the years.