Wedding Anniversary Symbols
Anniversary celebrations began in medieval times when people celebrated 25 and 50 years of marriage. A husband would crown his wife with a wreath of silver for 25 years and of gold for 50.
The tradition of gold and silver wedding anniversaries has stuck, but there is now a long list of other named anniversaries to accompany them. Each represents a different facet of the couple's commitment, the stage their relationship is at and the number of years they have been together.
1st anniversary: Paper/Associated Flowers: Carnations / Pansies 
Can it really be a year ago you said 'I do'? Time flies when you're having fun…
Paper weddings have an edible tradition. If you opted for a fruit wedding cake, you can freeze the top tier and have it re-iced to eat on this day.
Don't stick to stationery for gifts on a paper theme. Name a star after your partner and present them with the certificate, or order a personal horoscope, or offer a voucher for a gift experience such as a helicopter ride over London? Tickets are, of course, paper.. so the world is your oyster! Then again, why not just pour your heart out in a love letter?
2nd anniversary: Cotton/Associated Flowers: Cosmos
Keep it simple on your second wedding anniversary: spend it tucked up in crisp, fresh cotton sheets. Or splash out on a second honeymoon.
3rd: anniversary: Leather/Associated Flowers: Fuchsias 
For your third, what about a leather-bound photo album or wallet with something to spend inside? 
4th anniversary: Linen/Associated Flowers: Geraniums
How about some lovely new bedlinen or cushions for your bed?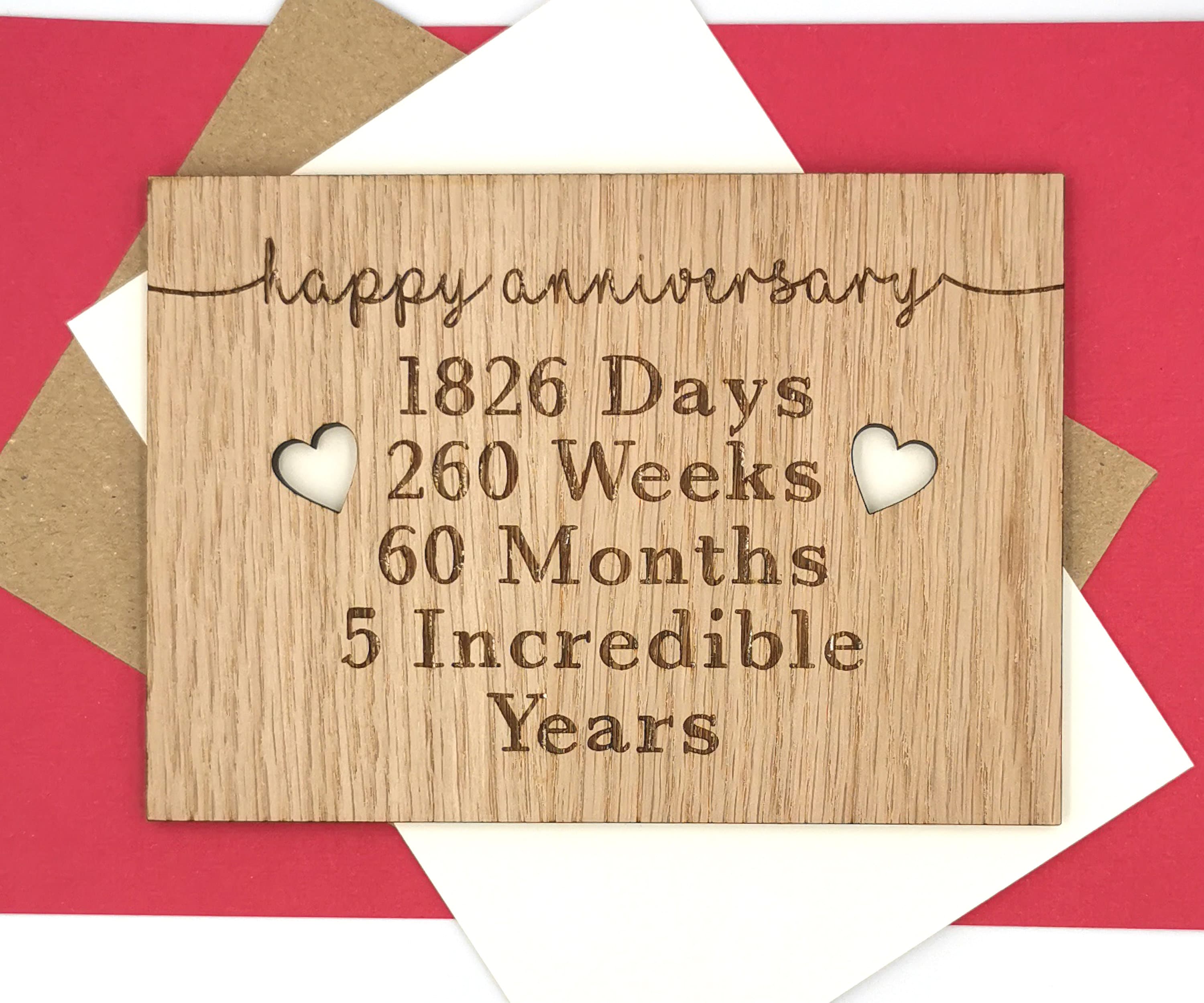 5th anniversary: Wood/Associated Flowers: Daisies 
In Wales, elaborately carved wooden 'lovespoons' have been given for centuries. The term 'spooning' – meaning 'romancing' – originates from this Welsh tradition. An alternative gift to each other could be a romantic visit to a log cabin!
6th anniversary: Iron/Associated Flowers: Calla Lillies
In his famous diary, Samuel Pepys (1633-1703) writes of going home 'to be merry, it being my sixth wedding night'.
7th anniversary: Wool/Associated Flowers: Jack-in-the-Pulpit 
For your wool wedding, you could snuggle up in new cashmere sweaters and watch Marilyn Monroe in the Seven Year Itch.
8th anniversary: Bronze/Associated Flowers: Clematis
9th anniversary: Pottery/Associated Flowers: Poppies
Stylish ceramics make perfect pottery presents. On the other hand, your ninth anniversary is a good opportunity to exercise your own artistic talents. Take a trip to your local pottery café and create a personalized masterpiece for your beloved.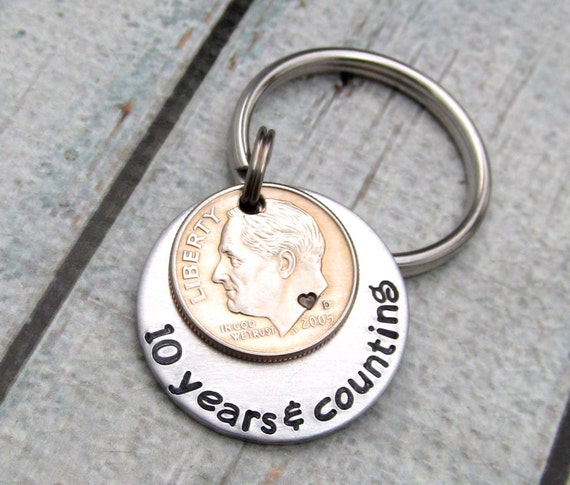 10th anniversary: Tin/Associated Flowers: Daffodils 
At ten years old, your marriage is getting all grown up and hopefully, more mature. But not too mature! To celebrate a decade of togetherness, why not break out the jelly and ice cream and hold a tenth birthday party for your marital relationship? Invite your friends and family over to join in the fun.
As a gift idea, tin may not sound too promising. Fortunately, there's also a gemstone or precious metal associated with each wedding anniversary. According to this tradition, you can celebrate your first decade together with diamonds. Any excuse!
11th anniversary: Steel/Associated Flowers: Morning Glory
12th anniversary: Silk/Associated Flowers: Peonies 
In Denmark, it's traditional to make a big fuss of the 12-and-a-half-year anniversary. Called a copper wedding, friends and
family build the couple half an arch made from spruce (you get the other half when you reach your 25th). The arch is decorated with flowers and lights and positioned at the door of your home. When it comes to silk, why not invest in some beautiful silk lingerie for yourself!
13th anniversary: Lace/Associated Flowers: Hollyhocks
Romantic lace is often associated with weddings. The veil made for Queen Elizabeth's 1923 wedding to George VI required 12,000 hours of work and 12million stitches. For your 13th anniversary, why not surprise your partner with a weekend trip to Bruges, home of lace-making?
14th anniversary: Ivory/Associated Flowers: Dahlias 
Ivory comes from elephants, so if you want to follow tradition in cruelty-free style, choose the modern alternatives of opal or gold gifts instead.
15th anniversary: Crystal/Associated Flowers: Roses 
If renewing your wedding vows appeals to you, your 15th anniversary – one of the first 'big' ones – could be the time to do it. You can make the service as formal or informal as you like, have a civil or religious ceremony, or fly to an exotic location to do 'I do' all over again.
Anniversary symbols vary worldwide. In some cultures, your 15th wedding anniversary, for example, is called a 'glass' wedding. Time to blow your savings on a conservatory? A greenhouse? Designer his 'n' hers specs? Combine the traditions by toasting each other with champagne in new crystal glasses.
16th anniversary: Topaz         
17th anniversary: Amethyst                                     
Why are certain materials associated with different anniversaries? As the years pass, you'll see that the materials become more durable and more valuable the longer the marriage – just like your relationship! Another theory is that they are designed to help you replace wedding gifts at the time they wear out…    
18th anniversary: Garnet
You might not fancy buying each other garnets, but there's nothing wrong with taking a weekend break in the home of these red gems – Prague. If you love the idea of a city filled with gothic architecture and romance, this is the place to go.   
19th anniversary: Aquamarine            
Aquamarines are the color of the sea, so what about a quick trip to the coast to celebrate your 19th anniversary? A stroll on the prom, a quick paddle and a champagne picnic on the beach can be a real tonic. As the poet EE Cummings wrote, 'It's always ourselves that we find at the sea'. An alternative could be a visit to a relaxing spa for the weekend. Continuing the water theme, fit out your bathroom with some beautiful new accessories?
20th anniversary: China/Associated Flowers: Day Lilies 
Congratulations – you've made it together through two whole decades! Invite friends and family together to help you celebrate. To mark your 20th anniversary, throw a roaring twenties fancy dress party , and Charleston the night away.
You can always add another piece to your wedding china, as it's fun to collect things over time. Prince Albert, for example, gave Queen Victoria a set of gold and porcelain jewelry bit by bit – a brooch before their wedding, a brooch and earrings for Christmas and a wreath on their fifth wedding anniversary in 1845.
21st anniversary: Brass
22nd anniversary: Copper
Brass and copper are not necessarily the most romantic of metals but use your imagination and you could make something of them. Copper-bottomed saucepans are prized by celebrity chefs, or be 'bold as brass' and take your beloved for an extreme sports experience such as bungee jumping or whitewater rafting.
23rd anniversary: Silver plate 
24th anniversary: Musical instruments 
This is an unusual one! Instead of an instrument, how about tickets to a concert, or a new cd for the collection?
25th anniversary: Silver/Associated Flowers: Iris
Silver weddings have a long tradition. In medieval Germany, husbands gave their wives a wreath of silver when they had been married for 25 years. 'Sylver brydells' are mentioned in an English church record of 1624, and the term 'silver feast' is attributed to the Germans in a letter to Dr Samuel Johnson in 1806.
Couples may want to buy something to special to commemorate this first major milestone in their relationship. Choose from a huge range of silver items to celebrate your 25 years together – this could be a lovely silver frame for one of your wedding photographs, or even a piece of jewelry for each of you.
26th anniversary: Original pictures 
How about having your portrait painted as a special anniversary gift? A less costly option is to enlarge and frame a favorite (wedding?) photo. Otherwise, keep an eye out in local galleries and choose something that you both love.
27th anniversary: Sculpture 
This anniversary gives you a great opportunity to buy a lovely sculpture – either for inside your home or for your garden. You might even decide to take a class and make something yourself!
28th anniversary: Orchids/Associated Flowers: Orchids 
In China, orchids symbolize nobility, friendship, elegance and perfection – making these exotic, mysterious blooms an ideal anniversary present. Bouquets of orchids or orchid plants are breathtaking. If you feel like splashing out, many orchids originate from Asia so perhaps it's time for a holiday!
29th anniversary: New furniture
30th anniversary: Pearl/Associated Flowers: Sweet Pea 
Be pearly king and queen for the night with a Cockney themed party for your pearl wedding. You can feast on jellied eels and have a good old knees-up! Alternatively, keep it just the two of you and curl up in front of some classic movies from the 1930's.
In Indian mythology, pearls are said to be dewdrops from heaven that fell into the sea. These jewels represent peace, nobility and beauty, and would make a wonderful gift – but if you can't stretch to pearls, use their color as an inspiration for a beautiful white gift, or just get romantic over a dozen oysters. Caviar is traditionally eaten with a mother of pearl spoon… I see an evening of Champagne and caviar!
31st anniversary: Timepieces
32nd anniversary: Conveyances (vehicles) 
You could always purchase that long-coveted Porsche for your anniversary, but if a car isn't quite the right thing, why not just 'convey' your partner to a posh hotel to enjoy a weekend of luxury as a 32nd celebration? Or hire a limo for the night and enjoy the celebrity lifestyle.
33rd anniversary: Amethyst     
The Victorians were fond of making rings with a message conveyed in the first initial of each jewel. So a ring with a Diamond, Emerald, Amethyst, Ruby, Emerald, Sapphire and Topaz on it spelt 'dearest'.
34th anniversary: Opal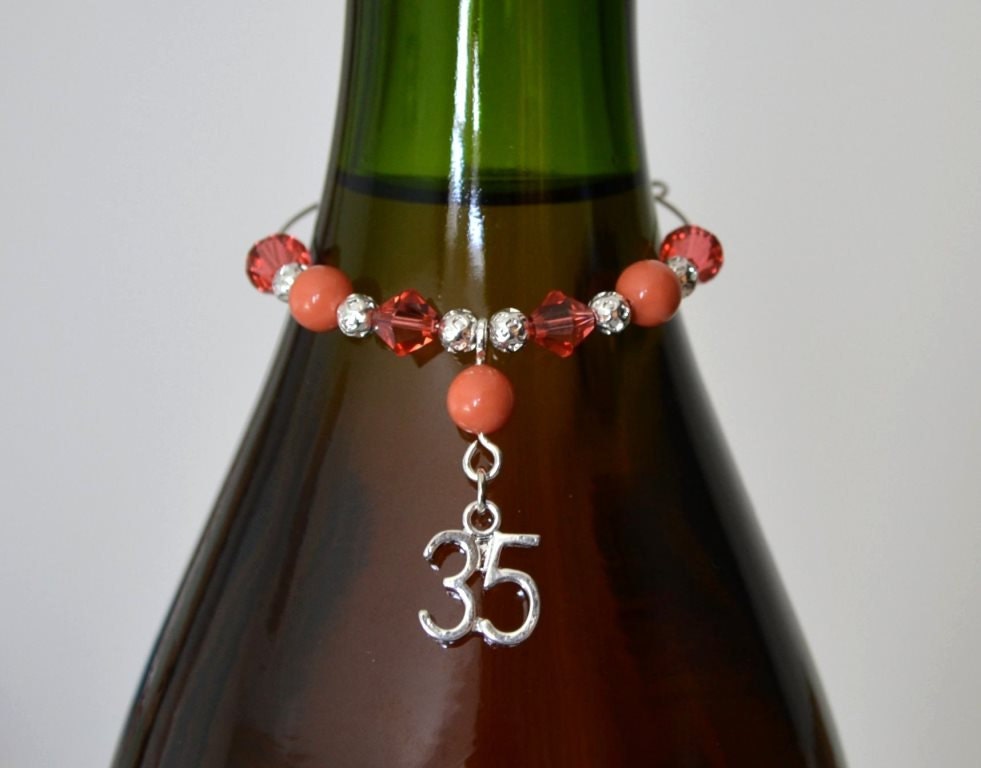 35th anniversary: Coral  
Jewellery is the natural choice for this anniversary gift, as coral goes so well with jade, the gemstone associated with 25 years of marriage.
Jade was once used as currency in China and is considered to be lucky. Red coral is the most valuable kind.
Alternatively, head to one of the world's great coral reefs and go for a dive together!
36th anniversary: Bone china
37th anniversary: Alabaster 
Although, generally speaking, it's five- and ten-year anniversaries that are the most widely celebrated, there's no reason not to mark the date of your wedding every year. So if you want to have a big bash on your 37th or 38th – go ahead! Try an alabaster carving or sculpture, as a gift.
38th anniversary: Beryl
Beryl is a little known, colorless gemstone in it's pure form. Aquamarine is it's blue version and it's green is one of the most precious gems of all – emerald.
39th anniversary: Lace
There is no traditional material for the 39th wedding anniversary but the modern lists state lace, which also marks the 13th. 26 years on, it may be time to replace that tablecloth!
40th anniversary: Ruby/Associated Flowers: Nasturtiums 
Life begins at 40, and the 40th wedding anniversary is considered to be one of the most important after the 25th. Not surprisingly it's been attached to one of the world's most precious gems. Rubies are said to be rarer than diamonds – they symbolise health, wealth and wisdom and, of course, passion.
Rubies are red, so why not plant a red rose in your garden as testament to your love? Or buy some vintage bottles and invite your party guests to toast the future and the past in vintage ruby port or red wine.
41st anniversary: Land
In 1659, John Evelyn wrote in his diary about going to a 'forty-first wedding day feast', one of the earliest references to wedding anniversaries in English literature. It looks as if all anniversaries were an excuse for a celebration back in those days – what a good idea!
42nd anniversary: Real estate 
43rd anniversary: Travel
44th anniversary: Groceries
Groceries don't sound too exciting, but they can make a great present. Just remember to avoid standard supermarket fare and go for a luxury hamper instead.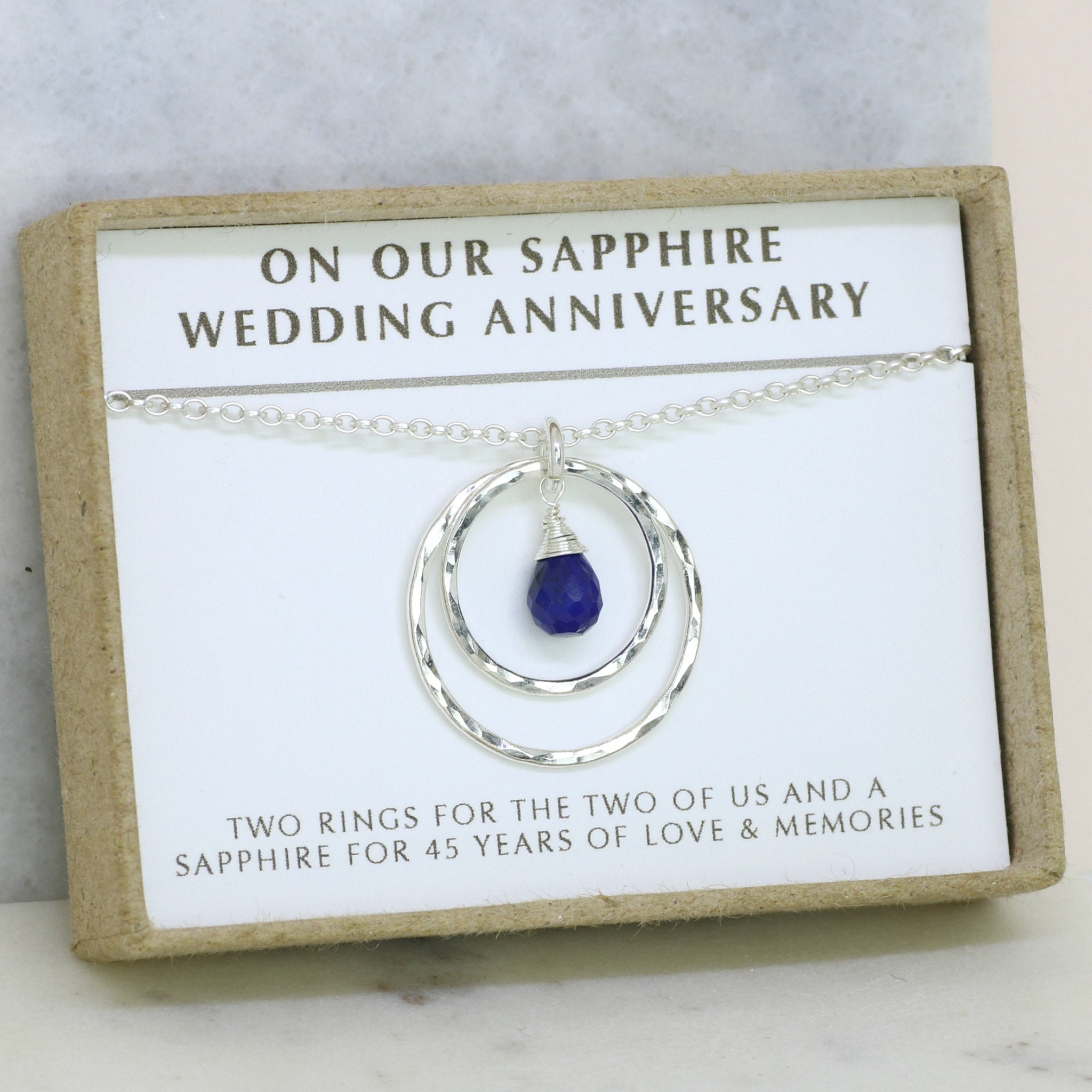 45th anniversary: Sapphire
Sapphires come in an array of colours – pink, yellow, white, green and red as well as blue. So get the shaker out and celebrate your 45th with a multi-coloured cocktail drinks party.
Use the Victorian language of flowers to let your partner know how you feel with a colorful bouquet. You could try freesias for faithfulness, alstromeria for desire – or just a red rose, for love.
46th anniversary: Poetry 
This is the perfect opportunity to be romantic – buy a poetry book, go to a poetry reading or even put pen to paper yourself.
47th anniversary: Books
Explore the literary theme for these anniversaries and take your love to Hay-on-Wye, home of the famous book festival. It's a charming, picturesque place, packed with bookshops where you'll be sure to find a volume of romantic poetry for your partner.
48th anniversary: Optical goods
49th anniversary: Luxuries
Modern wedding symbols, such as luxuries and optical goods, might not have quite the same romantic ring to them as traditional materials like silver or rubies, but you could always buy a telescope and spend your anniversary stargazing together…
50th anniversary: Gold/Associated Flowers: Violets 
You've spent half a century together – what better cause for a celebration? Golden weddings have been marked for many years. In
medieval Germany, men would present their wives with a golden wreath on their 50th anniversary. This was said to symbolise harmony.
Going for gold is the obvious choice for a 50th wedding gift and you may want to use the opportunity to buy each other new wedding rings to add to your old ones. You could even have special inscriptions made inside the rings to mark the occasion.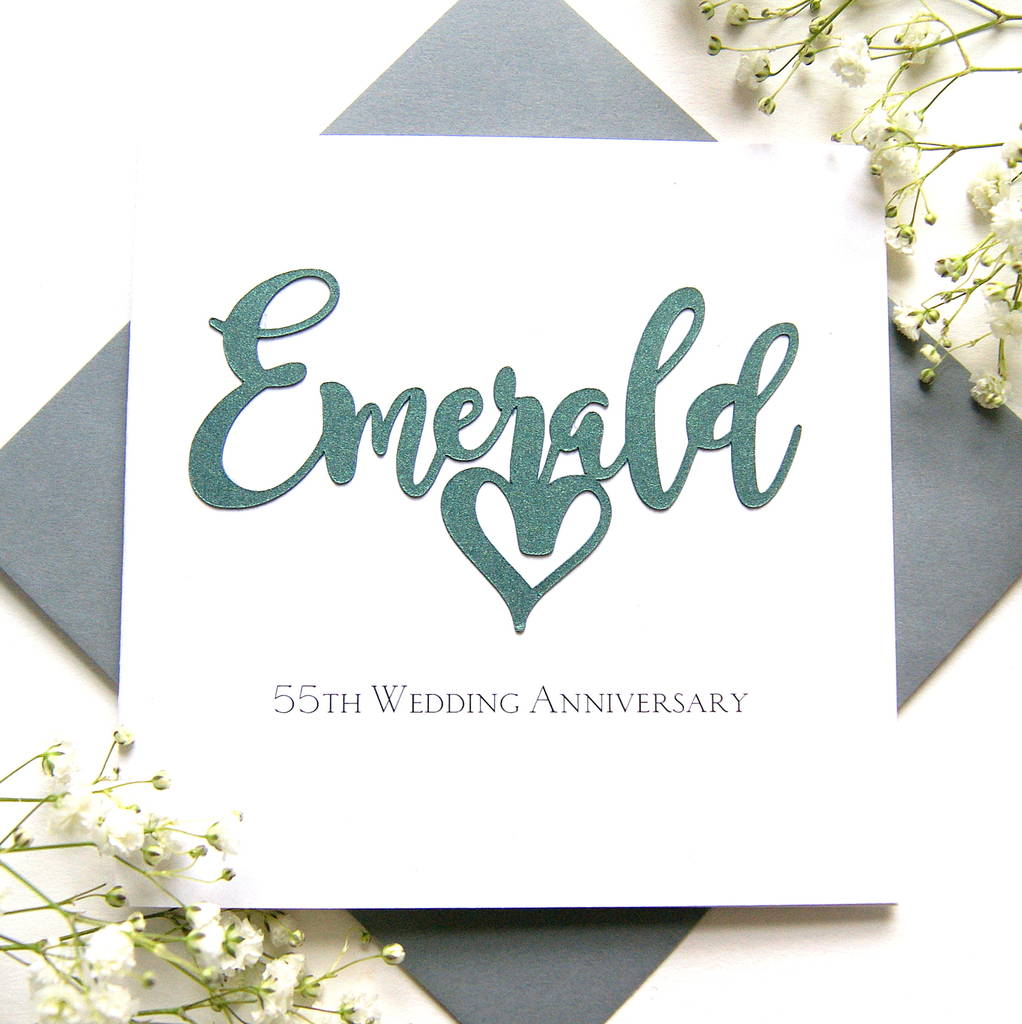 55th anniversary: Emerald 
These precious stones symbolise love and rebirth and make beautiful jewellery. You can also use green as a basis for your anniversary party and give it a Celtic theme with some traditional Irish music. Or 'go green' and give your loved one a present with an ecological slant, so the gift endures for future generations too.
Now's your chance to take a dream trip to Ireland – the Emerald Isle, in celebration of your anniversary. You could even stay in a romantic castle. If you fancy somewhere a little warmer try Sardinia's Emerald Coast.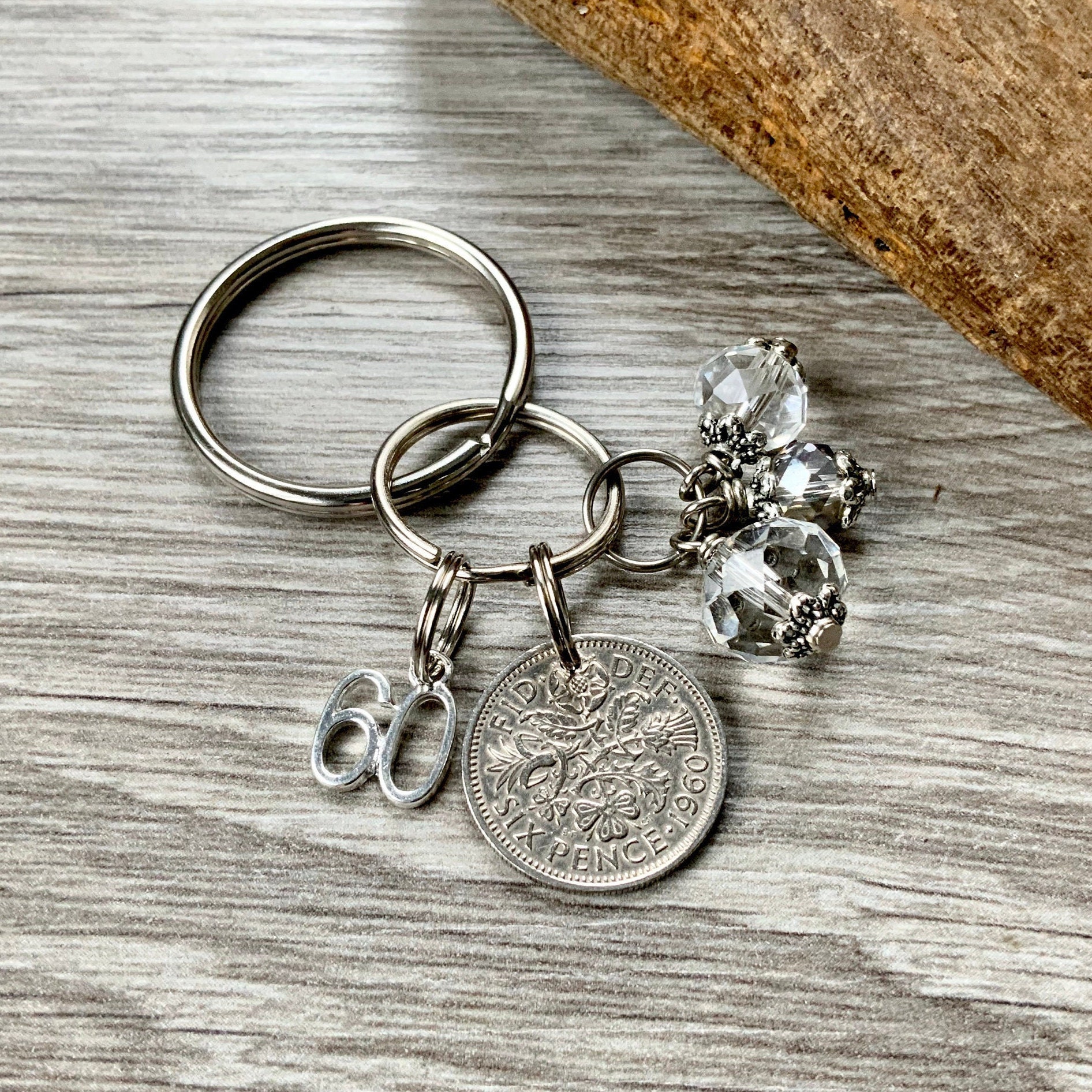 60th anniversary: Diamond
The word 'diamond' originates from the Greek adamus, meaning unconquerable – which, if you've lasted 60 years, is the perfect epithet for your own marriage. Splash out in celebration of this fantastic event and buy a beautiful piece of diamond jewelry.
70th anniversary: Platinum
After 70 years together, you've earned your own platinum record. And like the metal, your marriage is strong, precious and rare.
Eternity rings are a popular anniversary present. Of course, you can buy one whenever you feel like it, but it might be an ideal gift to mark a special anniversary like the 70th.
75th anniversary: Diamond 
Although the 75th is the second diamond wedding in the anniversary calendar, it was actually the first to exist – the 60th was added in 1897 when Queen Victoria celebrated her Diamond Jubilee. There's no modern symbol for a diamond wedding. Perhaps that's because nothing beats a diamond.
Diamond anniversary parties will probably include generations of family and friends and should be an event to remember. Make sure someone is on hand with the video camera to get it all on tape.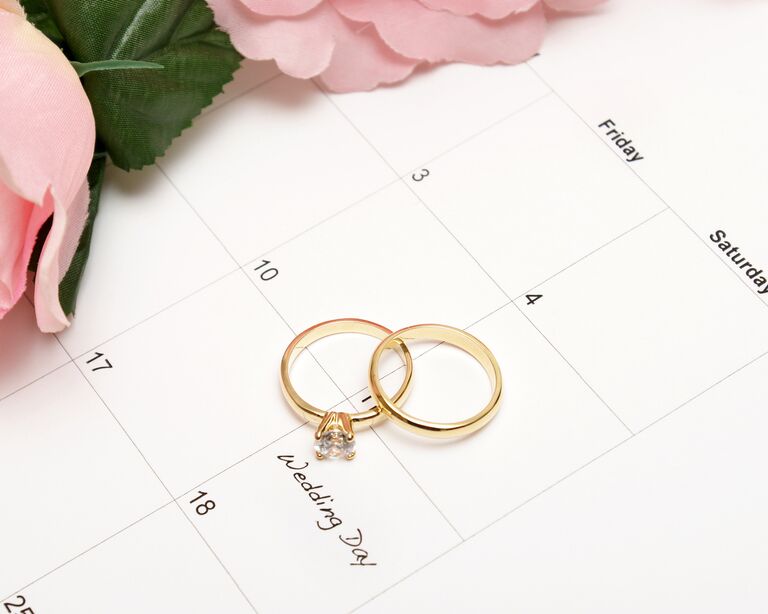 7 Steps for Setting a Wedding Date
Choosing a wedding date is one of the most important planning decisions that you'll have to make as a couple — it will impact every other aspect of your big day. You may have an idea of where you envision yourself walking down the aisle or what you want your cake to look like, but until you decide when you'd like to get married, you can't commit to anything. You might be asking yourself, "How do I pick a date that works for everyone and is still special to me?" or "Where do I even start?"
For every couple, the process is completely unique and that's part of what makes your wedding date so special to you. I hope that by sharing some planner insight — as well as my experience as a real bride — I can help you find the perfect time to say "I do."
Step #1: Take the weather into account.
The most popular months to get married are June, September, and October and it's no surprise why — the weather is absolutely beautiful in early summer and fall. In general, you can plan for weather based on past records and standards, but always remember to continue to track it throughout your planning process as well.
I've been to weddings where we've encountered some unseasonably strange weather — those of you who live in Connecticut remember that September/October heat wave we had! — and the best way to deal with it is to add some cushion in your budget for items like throws or fans. Think about your guests and their comfort level.
I love every season for its unique beauty, but I knew that I didn't want to wear a wedding dress in mid-summer and that there was no way I could get my husband Todd to wear a suit in 100 degree weather! So, we peeled back the layers of each season and ended up with early winter. The weather won't be too cold and everything is so beautiful and serene during that time of year.
Step #2: Consider all the factors of an off-season date.
Getting married in January or March might help cut your rental venue fee down, but you have to be prepared to make sacrifices in other areas. For example, let's say that peonies are your absolute favorite flower and you can't imagine having a bouquet with anything else. Depending on the time of year, it may be hard (if not impossible) for your florist to find them at a price that fits your budget. (In general, off-season flowers are incredibly expensive.)
The same concept applies for Friday vs. Saturday weddings. Although a venue might be able to give you a break on their minimums for a Friday reception, be aware that the rest of your wedding vendors might not be able to.
Since I was married in the wintertime, I was willing to spend a little extra on guest comforts such as throws, extra heaters, and a hot chocolate station. Bonus: Those amenities served double-duty as personalized guest favors and interactive activities throughout my wedding day.
Step #3: Lead the date selection process by creating a list of what you envision for your wedding day.
Imagine that your wedding day has finally arrived — what do you see? A lush rose garden as the backdrop for your ceremony? Vineyards dripping with grapes ready for harvest? Snow-covered mountaintops? By narrowing down your potential wedding date to one season (or two) you can cut down your options in half.
This is where the girly side of me comes into play! Todd loves fields and greenery and I'm a total Christmas girl. As much as I love April and May, I knew that my vision of pine trees and snow would be obsolete during those months. So for me, it came down to wanting to create a beautiful winter wonderland setting for the entire day, ideally in a barn in the middle of nowhere.
Step #4: Think twice before getting married on a major holiday.
In addition to Christmas, Valentine's Day and New Year's Eve, you may also want to reconsider tying the knot on religious holidays, event weekends (depending on your location), major sporting events, Father's Day and other holidays of this nature, and September 11th.
Although holiday weddings can be super fun and festive, your wedding date is something you want to celebrate for years to come because of the meaning behind it — not because it was also NYE. Another thing to keep in mind is the significant costs that are associated with holidays weddings. For example, the price of roses during Valentine's Day is unbelievable, so having them at your big day could really put a dent in your overall budget.
But perhaps the biggest factor to consider is your guests. As much as they love you, do they really want to spend a major holiday celebrating you instead of being able to celebrate them? Yes, your wedding is about the two of you, but you also want to make it an event that your guests are excited about and can afford to attend. Hotels, flights and car rentals can all get very expensive, especially during a holiday weekend.
Step #5: Focus on what you want your wedding day to be and how to portray that in a date.
At this stage, you should have your potential dates narrowed down to a month or two, and this is where it gets fun! Within the months that made it to the final round, are there any dates that are meaningful to you as a couple or as individuals? Do you want to honor a family member who is no longer alive by getting married on their birthday or anniversary? Are there any dates you want to avoid?
Step #6: Give yourself plenty of time, and don't rush it!
I have seen full weddings planned in just a few months, and we've all seen how weddings can be pulled together within weeks on TV. However, what you might not be aware of is the cost that it takes to ensure that a big celebration can be executed quickly.
When a bride reaches out to me and asks if we can plan her big day in a short amount of time, I always tell her that anything is possible, but there might be areas that she will have to sacrifice. For example, a custom wedding gown can take over a year to create, depending on what you want. Also, your custom logoed favors, centerpieces, or invitations may not end up exactly how you had planned.
The moral of the story is to make sure you give yourself enough time to plan for the things that are truly important to you, whether it's incorporating lace from your mom's dress to use in your own gown or getting hand-crafted favors from your favorite travel destination.
Step #7: Think about other aspects of your wedding and how they will all play out.
Now, depending on what other aspects of your wedding are important, you might want to keep an open mind to a few dates. What if your dream venue is booked or your favorite photographer is out of town? Better yet, what about the important people in your family? You will want to make sure they can attend!
Tell me: What date are you getting married?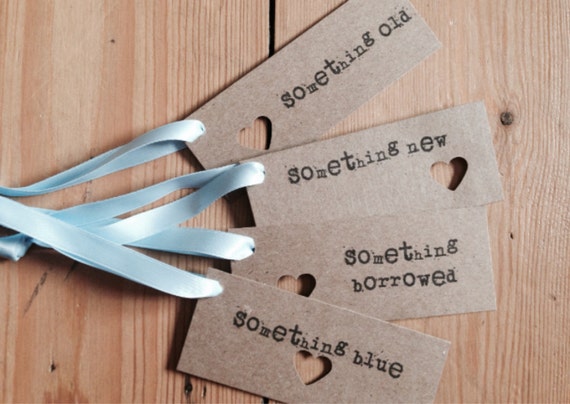 Something Old, Something New, Something Borrowed, Something Blue
"Something old, something new, something borrowed, something blue."
You've likely heard this phrase before, but its origins may be far less familiar. The tradition comes from an Old English rhyme and each object is meant to be a token of good luck for the bride. The final token mentioned in the original poem is "a sixpence in your shoe" and represents a wish for prosperity and good fortune. This is typically forgone here in the U.S., but the custom remains popular in Britain.
These items are usually given to the bride on or before her wedding day by her mother, sister, or member of the wedding party. Anyone can give a bride one of these good luck charms, or she can procure them for herself. The custom is for the bride to incorporate these tokens of love into her wedding day by wearing or carrying them.
If you're a bride or have a dear friend about to walk down the aisle, you'll benefit from this guide explaining the significance of each token as well as some suggestions for how to weave them into the big day.
Something Old
This charm is representative of continuity with the bride's ancestors, her heritage, and the past.
Locket
A locket on your bouquet with photos of loved ones who have passed or who can't attend the wedding. If you already have enough elements on your bouquet, this locket key chain is another way to carry a reminder of the past on your special day.
Upcycled Jewelry
An upcycled pearl necklace can be worn around your neck, bouquet or added to your gown.
Vintage Charm
A vintage accessory like a sophisticated clutch will make a stylish statement and bring the bride good luck.
Religious item
If you have a Bible or treasured book that has been passed down, you can have someone read from it during your ceremony. Alternately, you can tie your wedding rings to the book with ribbon and have your ring bearer carry it down the aisle in lieu of a pillow.
Family heirloom
The most sentimental idea for "something old" is a family heirloom such as your grandmother's earrings or your mother's ring.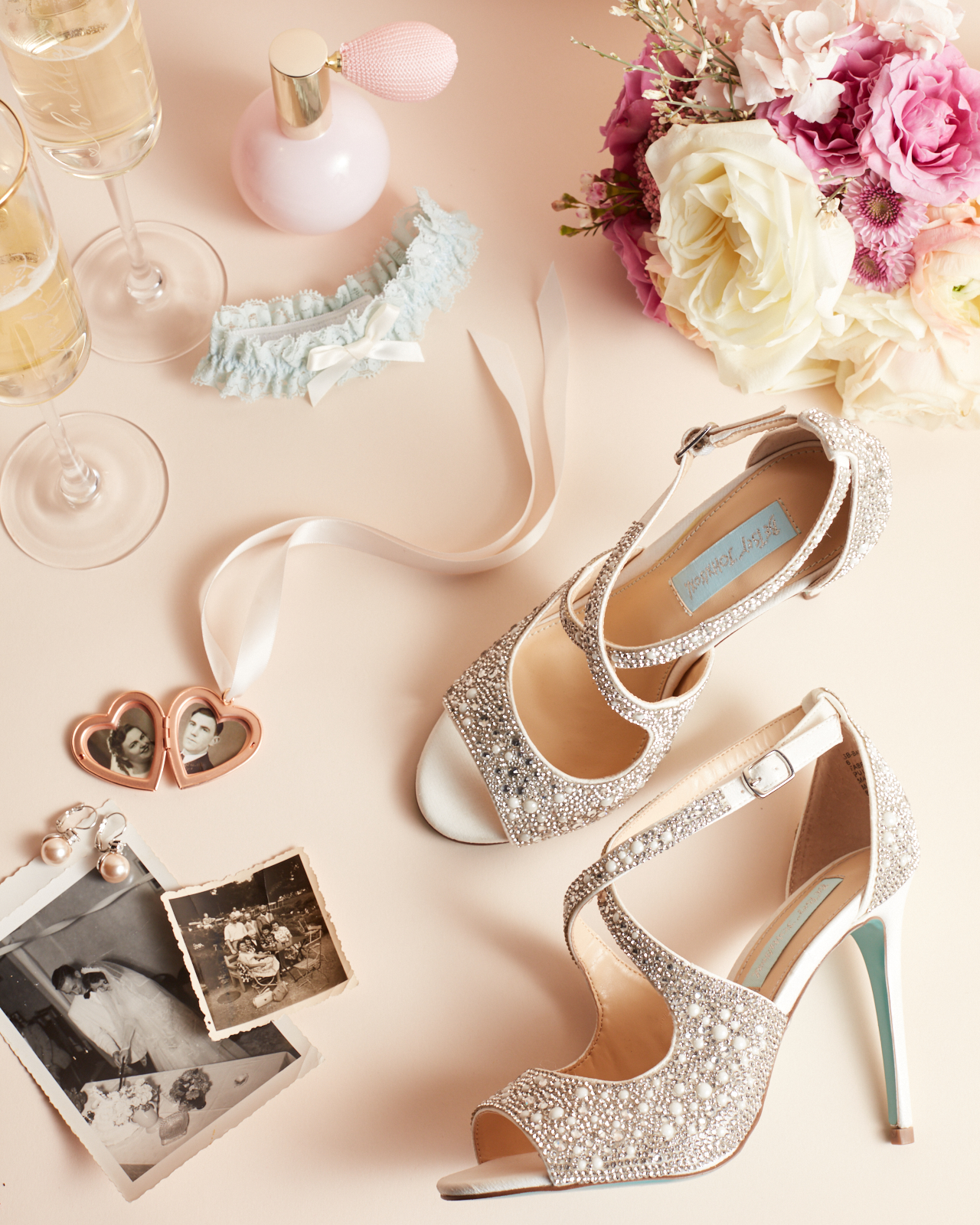 Something New
This charm speaks to optimism for the future and hope for the bride's new life as she is embarking on a new life as a wife. It's also symbolism for new beginnings as a new couple.
Makeup
If you've been wanting to try a new lipstick or blush, buy new colors just for your wedding.
Wedding Dress
Buy the wedding dress of your dreams.
Perfume
Wear a new perfume on your wedding day and instantly be transported back to that special moment you exchanged "I do's" every time you wear it.
Monogrammed items
If you're planning to change your surname, have your new initials embroidered onto your dress or handkerchief.
Meaningful jewelry
Purchase matching bracelets or necklaces for yourself and the important women in your lives and wear them on your wedding day.
Flutes
Toast to your future as a married couple with new champagne flutes monogrammed with your name and wedding day.
Lingerie
New lingerie for your first night together as man and wife will make you feel beautiful and bring you good luck.
Love bangle
Walk down the aisle with a new gift from the groom, like a languages of love bangle. You may want to have a bridesmaid mention this sweet idea to him.
New home keys
Include a key to your new home in your bouquet.
Something Borrowed
This charm symbolizes borrowed happiness, and is typically an item given to the bride by a happily married friend or family member.
Veil
The veil from your friend's wedding will look fresh and new when paired with your wedding dress.
Wedding Bands
Though it sounds strange to use another couple's wedding bands, it's actually a really sweet gesture. If there is a couple you admire or aspire to be, use their wedding bands during vows.
Cake Topper
A cake topper or knife used at your relative's wedding is a classic "something borrowed".
Handbag or clutch
Now is your chance to raid the closet of your happily married fashionista friend! You can borrow that handbag or clutch you've admired from afar.
Cufflinks
The groom should not be left behind. Cufflinks from his grandfather, father or someone special in his life can be work on their special day.
Grandma/Mother's dress
You can alter your mom or grandmother's dress to match your own personal style, or have a strip of lace from their gown wrapped around your bouquet or sewn into your dress.
Vows
If you loved the vows at your happily married friend's wedding, ask if you can incorporate a portion of them into your own vows.
First dance song
If you attended a wedding and loved the couple's song, ask if you can use it for your wedding. It can also be a song that is meaningful to your parents or relatives.
Father's bowtie
A bowtie can be worn several ways: in your hair, attached to the dress and even as a bracelet.
Something Blue
This charm stands for purity, love, and fidelity. Blue was actually the most popular choice for a bridal gown before it became traditional to wear white. The color also symbolizes the Virgin Mary in the Christian faith.
Pretty ribbon/flowers
Adding a blue ribbon or blue flowers such as azure miniature irises to your bouquet is the simplest way to integrate "something blue" into your big day.
Handkerchief
Dry your tears of joy with a Something Blue Handkerchief embroidered with your new name, so you can carry two symbols of good luck at once.
Sapphire
If you want an excuse to wear an additional stunning ring, a sapphire counts as something blue.
Shoes
Weave a blue hue into your wardrobe by wearing blue shoes as you walk down the aisle.
Blue Thread
Have your wedding date and initials monogrammed with blue thread onto the inside of your dress or veil.
Garter
A blue garter is a classic way of adding something blue to your wedding day.
Dressing Gown
Blue dressing gowns make for beautiful photos, and you don't have to worry about whether or not it will clash with your wedding palette. If you want to stick with white, a plush robe personalized with blue thread is just the thing.
Are you gathering the bride's "somethings" for her? Present the special bride in your life with a sentimental token of good luck and best wishes with a gift that represents something old, new, borrowed, or blue. Whether you gift it to her at her shower or just before the wedding, she'll treasure your thoughtfulness and sweet gesture.
What Do Wedding Rings Represent?
A symbol of eternal love, the humble wedding ring has been about for years, older than any of us and still as important as ever. While the design of weddings rings is becoming more modern in many cases, the tradition and symbolism of the ring is as strong today as it's ever been.
The wedding ring is an emblem of love through time, a symbol of devotion and an agreement between two parties to love and cherish one another for the rest of their days. Wedding rings are, of course, circular in shape and this in itself carries a symbolic meaning for the couple getting married.
The Importance of a Circle
A circle has no beginning or end and is therefore a symbol of infinity. It is endless, eternal, just the way love should be. For many the wedding ring is worn on the fourth finger of the left hand. This is because the vein in this finger was believed to lead directly to the wearer's heart. However, in many European countries it is actually customary for the wedding ring to be worn on the right hand.
Wedding rings have been worn since ancient Egyptian times, when they were woven from plants that grew alongside the river Nile. They were later incorporated into the Christian and Jewish wedding ceremonies, and it became common for the bride to be given a ring when she got married. More recently both the bride and groom receive a wedding ring on their wedding day.
Wedding Ring Metal Type
For centuries the type of material a ring was made from or the presence of a precious stone let others know the owner was in a high stately class within society. A king's wedding ring was often used as an emblem to mark a document with it said to then carry the power of the throne.
Platinum has become an increasingly popular metal for wedding rings nowadays, a valuable and prestigious metal choice for wedding rings. It is also naturally hypoallergenic so it will not irritate those with sensitive skin.
Plain yellow/white gold wedding bands are usually considered the traditional form of the wedding ring. These rings became popular because of their simple and practical style. They are still commonly worn, particularly by people who lead active lifestyles or who need a ring that can easily be kept clean.
Rose gold is becoming an increasingly more attractive metal type for wedding rings due to its deep underlying meaning. Rose gold is said to represent love compared to white gold representing friendship and yellow gold which means fidelity.
Diamond Wedding Rings
Wearing wedding bands that are decorated with precious stones is just as historic a practice as the use of the wedding ring itself. Diamond wedding rings are a popular choice because of their beauty and significance. Diamonds have been associated with eternity because of their enduring nature and strength, while there is also an association between diamonds and love. This makes them the perfect stone to symbolise the love of a married couple. Other precious stones may also be worn on wedding bands, either on their own or alongside diamonds. Each precious stone has its own meaning and symbolism.
Personalized Engraving
You can make your wedding bands more personal with something romantic, meaningful or memorable engraved on their inside. Engraving a wedding ring is becoming more and more popular. It gives you an opportunity to say something short and special, something meaningful between you and your partner. Some people go for a simple "I love you" whilst others go for initials and the wedding date.
The beauty of an engraving is that it can be whatever you want it to say, although space is limited so keep it short and simple. There are certain shapes and styles of wedding rings that engraving just won't be feasible.
What will you choose for your big day?!
The Meanings of Wedding Symbols
The act of marriage is full of symbolism. It marks the essential union between male and female to create a nurture new life. The symbolism of wedding customs is shown in the wedding ring, joining of hands, and the presence of small children around the bride. The children are a form of sympathetic magic, and symbolize future children. The custom of throwing grain, rice, or confetti is another fertility symbol. Even the wedding cake can be seen as a fertility symbol, as food is often used as a sexual symbol. The custom of breaking a glass or other small object at the wedding reception has sexual overtones, too, as it symbolizes the consummation of the marriage.
Wedding Cake
The tradition of a wedding cake goes back to Roman times when a cake of meal was crumbled over the bride's head to provide good luck. The wedding cake symbolizes good fortune and fertility. It also brings good luck to everyone who eats it. The wedding cake should be made with an abundance of good quality ingredients to symbolize a long-lasting, rich, and happy marriage.
The bride cuts the first slice of cake to provide good fortune in the marriage. Nowadays, her groom helps in this task, to ensure that he shares the good fortune. This also shows they will share all their worldly goods in the future.
There are a number of pleasant traditions surrounding the wedding cake. One is that the bride puts aside a slice of cake to ensure that her husband remains faithful. A tier of the cake can be put aside for later use as a christening cake. This ensures future children. Any unmarried women at the wedding should take a piece of cake home with them and place it under their pillows. This may produce dreams in which they see their own future partners.
Wedding Gowns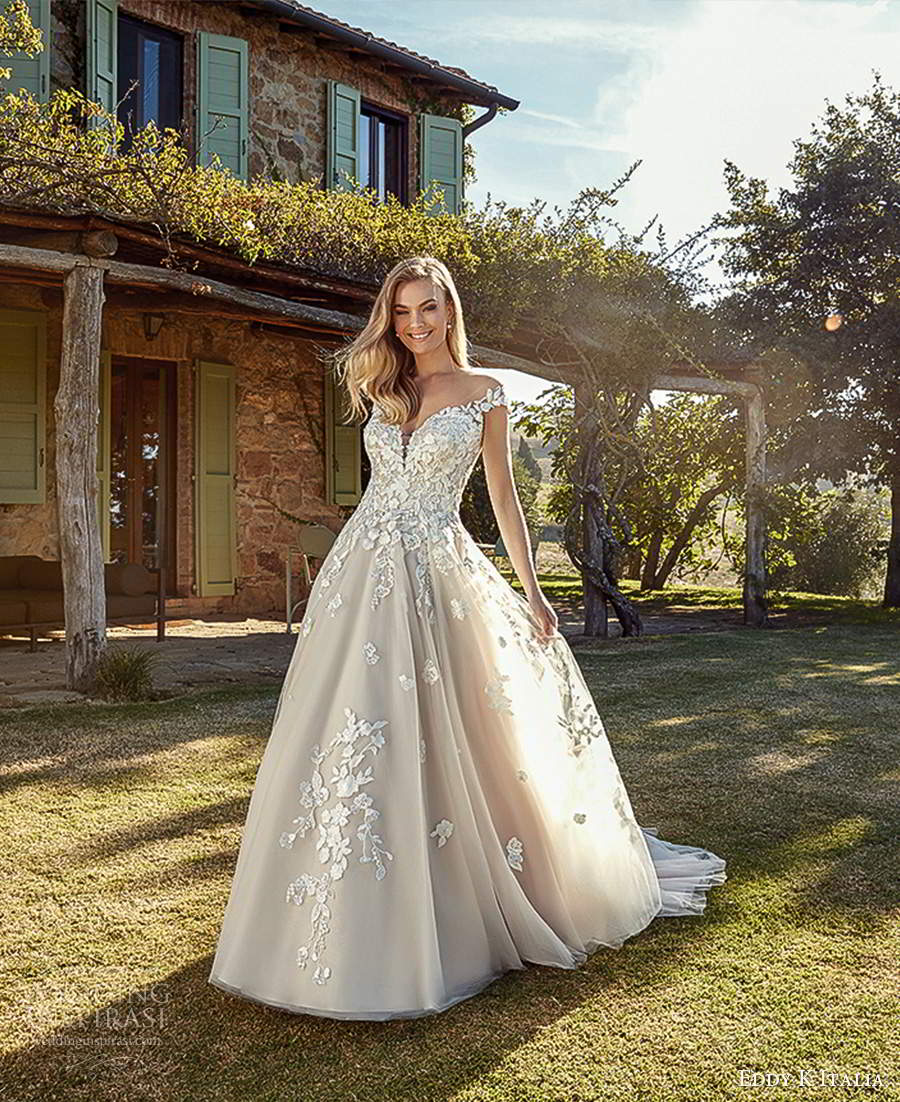 Bridal outfits are extremely important; none more so than the wedding dress. Wedding dresses date back to ancient Egypt, where the bride wore a dress of sheer silk that clung to her body and concealed nothing. Since then, more and more layers were gradually added, mainly for modesty reasons.
Queen Victoria broke with tradition by wearing a white wedding dress. Up until then, royal brides had always worn silver. Of course, after her wedding, every bride wanted to be married in white, as it symbolized purity and innocence.
Nowadays, the bride is free to wear any color she chooses. It makes good sense for her to wear the color that is most becoming to her. An old rhyme from Warwickshire, England rather facetiously discusses different color possibilities:

Married in white, you have chosen all right,
Married in green, ashamed to be seen,
Married in grey, you'll go far away,
Married in red, you'll wish yourself dead,
Married in blue, your lover is true,
Married in yellow, ashamed of your fellow,
Married in black, you'll wish yourself back,
Married in pink, of you he'll think,
Married in brown, you'll live out of town.
There are several variations of this rhyme.
As well as the dress, the bride had to wear "something old, something new, something borrowed, something blue." Because there is one more line to this verse (And a silver sixpence in your shoe), many brides place a coin in their left shoe to ensure that the marriage will be prosperous.
"Something old" is ideally an object that belonged to a happily married old woman. Her husband had to be alive, as the magic did not work if she was widowed. This is an example of "sympathetic magic." The idea is that some of the good fortune that the old woman had experienced in her marriage would be passed on to the new bride.
"Something new" is usually the wedding gown itself. However, it can be anything at all.
"Something borrowed" originally meant something golden. Consequently, it was usually a precious piece of jewelry loaned by a relative. The gold object symbolized the sun, the source of all life, and wearing the borrowed object signified a union between the sun and the bride.
"Something blue" is to honor the moon, the protector of all women.
There are also a number of superstitions attached to the wedding gown. It used to be considered bad luck for the bride to make her own wedding dress. It was also considered to be tempting fate for the bride to try on the wedding dress before her wedding day. Another superstition is that the bride should not look at herself in a mirror once she is completely dressed, before leaving for the church.
Bridal Veil
There are several suggestions as to the origin of the bridal veil. The most popular belief is that the traditional bridal veil was worn to conceal the bride's beauty from any evil spirits who might try to steal her away. Consequently, the veil could not be lifted up until after the marriage had been solemnized. Another possibility is that the veil protected the bride from accidentally encountering the evil eye, which would be disastrous for the success of the marriage. The bridal veil may even have come from the East, where a man could not look at the bride's face until after she was married. Some folklorists suggest that the veil signifies the bride's submission to her husband, but others say it indicates the opposite. The Greeks and Romans used a bridal canopy that was held over the bride and groom to keep the evil eye away. It is possible that the bridal veil is descended from that.
No matter what the origin, the bridal veil is still popular. Some brides like to wear the bridal veil of a friend or relative who is happily married. This is another example of sympathetic magic.
Bridal Bouquet
Flowers symbolize sex and fecundity. Consequently, the bridal bouquet symbolizes joyful lovemaking and fertility. The ribbons around the flowers are believed to bring good luck. There should also be knots, known as "lover's knots," at the end of each ribbon. These symbolize unity and wholeness. Throwing the bouquet is a recent innovation. Whoever catches it will be the next bride.
Flower Boutonniere
A boutonniere, or buttonhole, is a flower or small bouquet worn in the buttonhole of a lapel. Boutonnieres were originally given to wedding guests to wish them luck.
Wedding Ring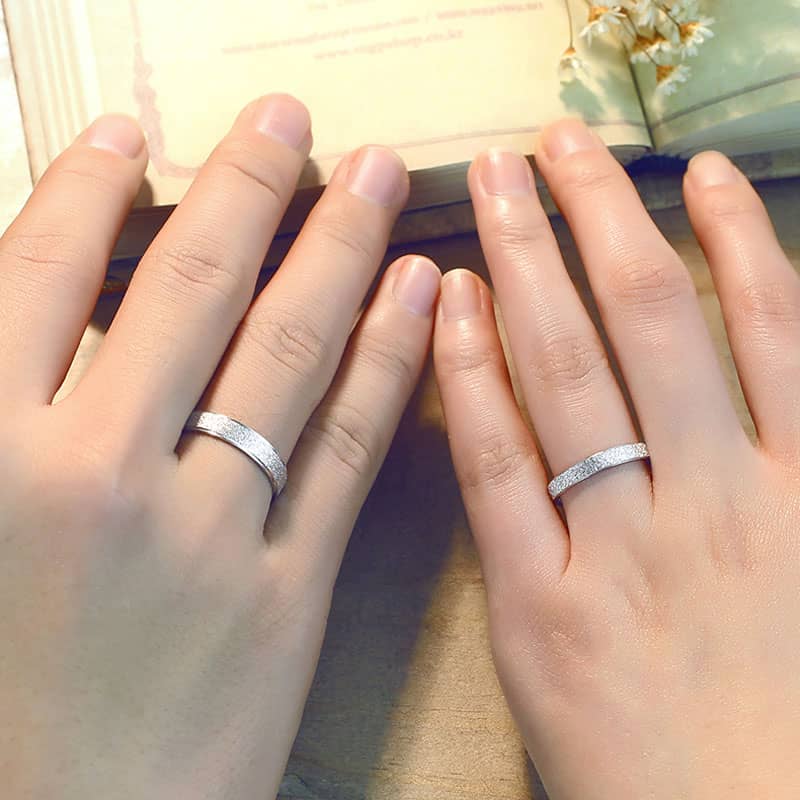 The wedding ring is a perfect circle, with no beginning and no end. It symbolizes union, eternity, and completeness. No one knows where wedding rings originated. In ancient Egypt, married women wore grass bracelets around their wrists. This told other people that the woman was taken, and also signified that she accepted her husband's power and protection. The Romans introduced rings of precious metals, such as silver, gold, and platinum. As well as showing that the woman was married, it also showed that the husband was prepared to trust her with valuable possessions.
The wedding ring has been worn on different fingers at various times. In ancient Greece, the index finger was normally used. In India, it was the thumb. The fourth finger was used for some time, until the third finger of the left hand became generally accepted. This dates back to an ancient Egyptian belief that a vein connected this finger directly with the heart. Once the ring was placed on this finger, the love was sealed in and could never escape.
During Victorian times, it was common for the bridesmaids to push a piece of wedding cake through the wedding ring nine times. This meant she would meet her husband, and get married, within one year.
Rice Throwing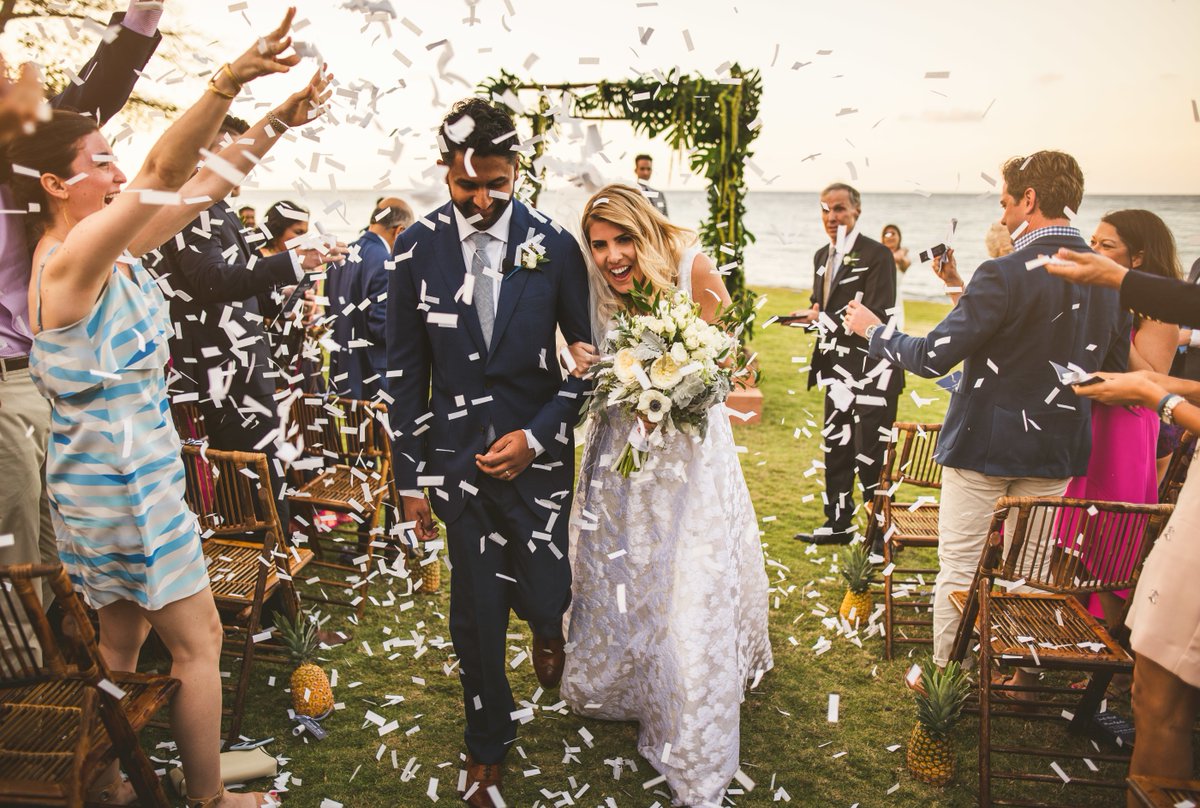 Rice throwing is an ancient custom. It possibly began in the Orient, where rice is a symbol of fertility, prosperity, and health. Consequently, throwing rice over the happy couple was an effective way to wish these qualities on the marriage.
The ancient Romans threw nuts and sweets of various kinds at the bride. The Anglo-Saxons tossed wheat and barley on the floor of the church for the bride to walk on.
Another possible source of this ancient custom is the belief that evil spirits were attracted to weddings. They were envious and jealous of the bride. However, they were also hungry and ate the rice, which kept them away from the bride.
Honeymoon
The word "honeymoon" comes from the ancient Teuton practice of drinking mead, a wine made from honey, for a month (or one moon's cycle) after the wedding. Apparently, Attila the Hun drank so much mead on his honeymoon that he suffocated and died.
The honeymoon itself goes back to the time when a groom captured his bride by force and had to keep well away until the bride's relatives had ceased looking for her. It was a diplomatic move on the new husband's part to bring gifts for his in-laws when he brought his wife home.
Carrying the Bride Across the Threshold
The origins of this practice are no longer known. However, it is possibly related to the old practice of marriage by capture. Another possibility is that by carrying the bride over the threshold, she cannot stumble, as stumbling is considered a bad omen.
How Your Wedding Date Affects Your Marriage, According To Astrology
The day a couple gets married they create a new life together. "Two people become one" and although you hold on to your individual personalities, as a married couple, your relationship has one of its own. Marriage is something that you grow, raise and nurture.
So, it makes sense that your wedding day is the creation of a life — a new life — one that comes with a zodiac sign that you two share with each other. Yep, the day you get married, and your wedding anniversary has an astrological 'birth date' just like your birthday. Surprise!
When you prepare for your wedding, whether it's after you've done the proposal or when you're young and dreaming of the day you find that special someone, you usually think about all of the wonderful things you want at your wedding to make it special.
Flowers, a beautiful dress, and tux, a music playlist … it all adds up to help you create the perfect day for you and your sweetheart.
Have you ever thought about the time of year you'd like to get married? I'm sure to some extent that you have. Some people prefer the beauty of snow and cold weather in winter, while others like how the flowers all start to bloom at once in spring.
Beyond that, most people are familiar with what each wedding anniversary year but not the specific meaning of the time of year their wedding day has for their relationship. Sometimes picking an actual date that's special to you, you probably don't think too much about the time of year — for instance, say, what your horoscope says on the day your wedding falls on.
So, if you wanted to get married in the winter time, you could have either a Capricorn or an Aquarius wedding.
If you prefer springtime, and always want things stable yet new, you could be preparing for an Aries-Taurus cusp wedding.
Whichever zodiac season you get married in, your marriage is going to be influenced by astrology in some way, just like your personality is influenced by your birthday's zodiac sign. Those who get married during Leo season might have more passion and romance than other marriages, for example.
No matter what season you tie the knot, each sign has its strengths. Sure, the strengths are all different, and if you ARE planning your wedding you might want to change your date to fit the sign you like most, but each sign's strengths lead to happy marriages.
Of course, it's still up to you and your partner to make the marriage actually work; I'm by no means saying you can write off your bad temper to being married during Scorpio season, but you get my point.
The meaning of your wedding day just adds to your overall personality as a married couple, and down the line when children enter the picture, a family, too.
And if you are crazy organized and think of everything while you're planning your wedding, knowing your wedding date's zodiac sign might just be something you want to prepare for. So, keep reading to find out what that sign is and just how it says about your marriage.
ARIES (March 21 – April 19)
Getting married during Aries season means you are in for the ride of your life. Couples who marry around this time find that their marriage is full of passion and fireworks — and not just in the bedroom. You challenge each other to get out of your comfort zones and try new things, which makes every day feel like a new adventure, and your influence on one another means you're always striving to be better people.
Aries marriages also see a lot of determination; just because you don't always see eye to eye doesn't mean you're going to give up on each other. On top of that, you don't hold grudges; sure, there might be some big fights, but chances are you'll be in each other's arms by the end of the night, totally forgetting what the fight was about.
TAURUS (April 20 – May 20)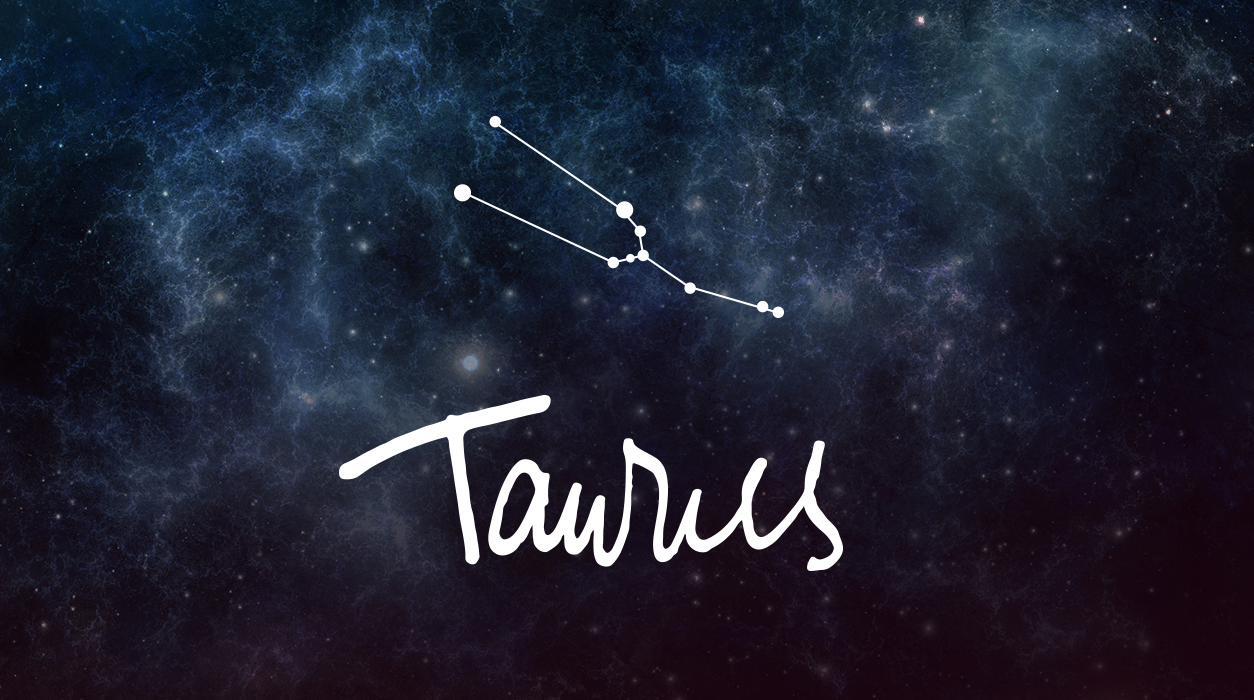 Weddings during the Taurus season tend to produce some of the most down-to-earth couples out there. You rarely have relationship problems that you can't fix and you don't get caught up in what the perfect marriage should be; you just try to make your own marriage perfect. There will definitely be times when you find yourselves acting more stubborn than usual, but it's only because you don't want to go to bed angry.
Your marriage is a solid one, built on a foundation that is stronger than most. In other words, nothing and no one is able to bring it down because you trust each other more than you do outsiders. Taurus marriages value level-headedness when it comes to solving problems and taking the next steps together, rather than doing or saying things on the fly.
GEMINI (May 21 – June 20)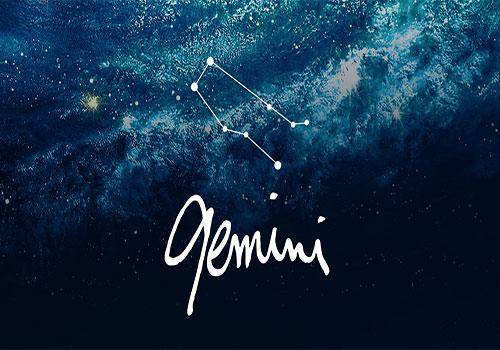 Gemini season marriages tend to be reserved for the couples who are so close, they could be the same person. Marriage works best when you can be friends and lovers, but the two of you are friends for life. Not only do you love to do everything with each other, but you also know what the other is thinking at all times; this makes for a very intuitive and lasting relationship.
You want your marriage to be everything you've ever dreamed about, so all of the crazy vacation ideas and wild promises you made to each other once you were married are now going to come true. Gemini marriages are all about excitement and surprises, two things you are constantly trying to incorporate into your life together. Once you're married, there will never be a dull day together.
CANCER (June 21 – July 22)
Getting married during Cancer season means that you are most likely going to have one of the more traditional marriages of the zodiac. This in no way means your marriage is going to be boring and predictable but rather based on love and commitment (and a whole lot of kids). You depend on each other for everything, including inspirational talks when you're feeling down and someone to prove their unconditional love for you.
While it's true that Cancer marriages can lead to a lot of moodiness and sensitivity, it's only because you want your marriage to be perfect. You might be hard on yourself for not being able to do everything right all the time, but it helps to have a partner who loves you just the same. You might both get caught up in your heads often, so remember that marriage is about sharing and loving, and you'll be happy for life.
LEO (July 23 – August 22)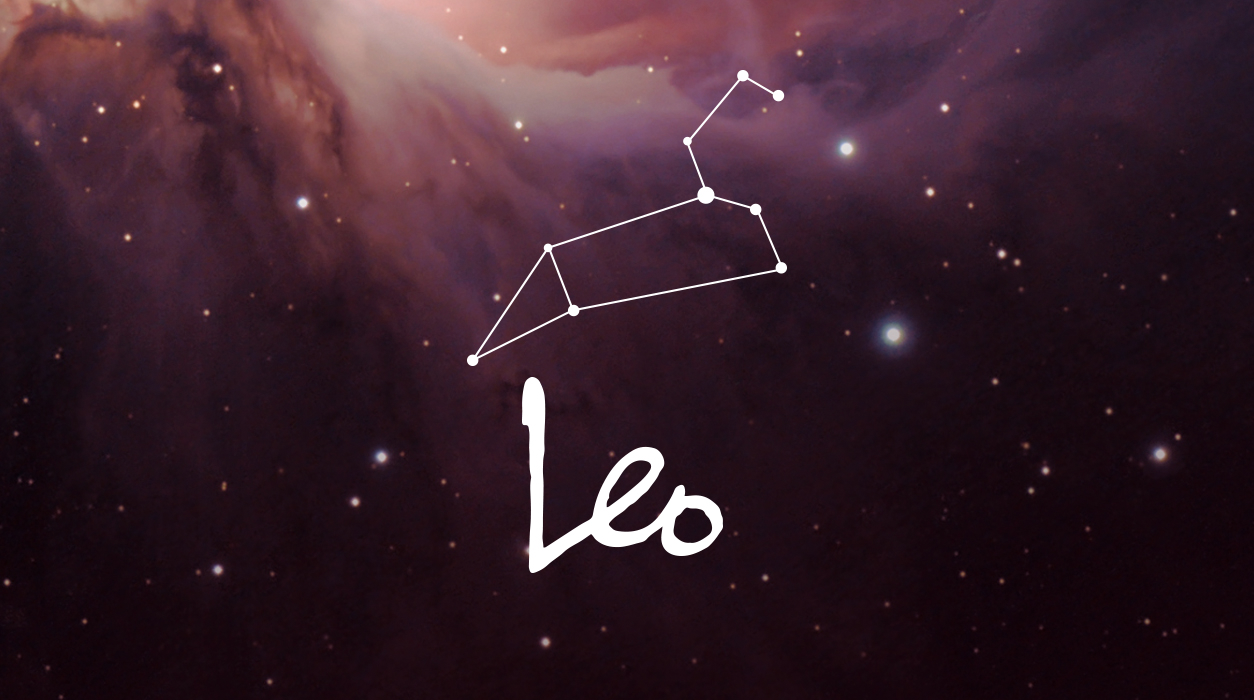 Leo season marriages are not something that everyone can handle, but no one can deny that they aren't incredibly exciting. You're known as the trend-setters not just because of your beautiful home and matching outfits, but because of your strong bond. And not only is excitement vital to you but so are romantic love affairs. It's often that the two of you will constantly flirt with each other; like every day is the honeymoon phase.
You can also bet on there never being a shortage of drama in your relationship; dramatics that only you will understand. People might think that you're just making trouble because you can, but in reality, being loud and honest is just how you deal with your problems. You know that marriage isn't going to be perfect, but you will always strive for it to be strong.
VIRGO (August 23 – September 22)
Getting married during Virgo season is your best chance for having the strongest marriage. Not only are you able to make smart choices for yourself, but in your relationship, as well. You value having a healthy connection with your partner, which usually includes a healthy dose of alone time and time spent together.
Couples married during Virgo season often have such strong marriages because they believe in being very close friends before being anything else. And this connection is apparent to everyone around them, too. In fact, you set the standard for how couples should act after getting married because you do it so well. Consider yourself the poster child for happy, healthy love.
LIBRA (September 23 – October 22)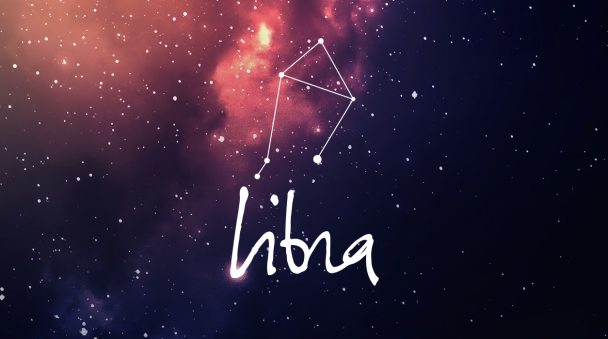 Getting married during Libra season is like having a perfect marriage without even trying (much). You so badly want everything to be perfect, that trying your hardest to make each other happy just comes naturally to you. You always make time for your partner emotionally, but also physically; there's constantly a sense of romance in the air when you two are together.
To outsiders, a Libra marriage might seem a little on the reserved side; there's definitely not a lot of PDA going on. But just because you're not displaying your love for everyone doesn't mean it doesn't exist at all. In fact, you love showing just how much you love each other once you're alone — and even when you're out in public, your warmth radiates off of everyone around you.
SCORPIO (October 23 – November 21)
If there was only one word to describe a Scorpio marriage, it would be electrifying. The love and passion that you have for each other is beyond any other sign. And as soon as you say your vows, you take marriage very seriously, making you one of the most loyal and faithful couples. So, it only stands to reason that if you only have eyes (and love) for each other, that your passion for one another would be out of this world.
A Scorpio season marriage is obviously intense, there's no denying that – and while you two love each other fiercely, it's almost like a love/hate relationship. Yes, you want to spend your lives together, but you also do kind of love that angry sex after a big fight. You're stuck between "can't like with 'em" and "can't live without 'em" which makes for never-ending surprises in your marriage.
SAGITTARIUS (November 22 – December 19)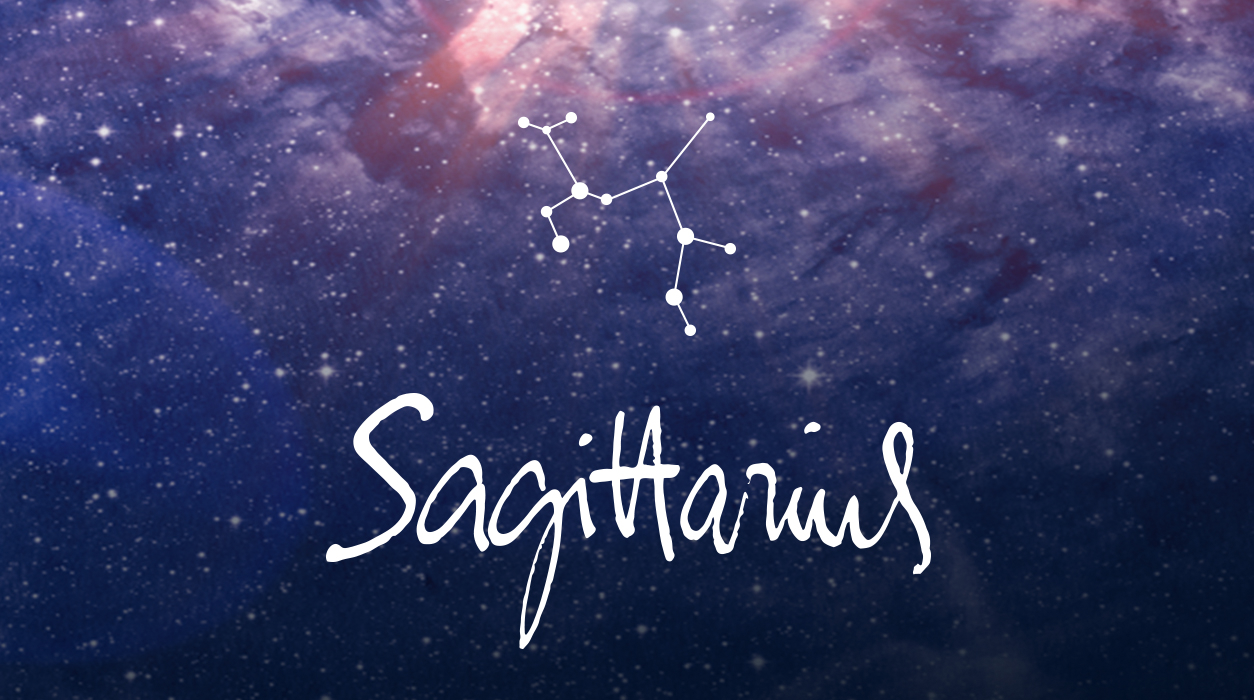 Having a Sagittarius marriage means planning for a life that is never, ever boring together. When you tie the knot during this time, you can almost always guarantee that there will be adventure and excitement around every corner, which only adds to your love for one another. Of course, there will be a few bumps in the road — as with any marriage — but you always try to learn from these bumps and make the most out of life.
A wedding during Sagittarius season means that your marriage will be spirited and friendly; you think of yourselves as best friends who sometimes argue and disagree, but always have love for each other. And, of course, you never worry about fitting into the cookie-cutter mold of what marriage "should" be. You like being the unique couple that does whatever you want without worrying about what others think.
CAPRICORN (December 20 – January 19)
Getting married during Capricorn season means your marriage is going to be nothing but successful, so congratulations. You are both so invested in each other's happiness that it would be impossible for you to think of your relationship as anything BUT successful. Your determination to power thorough arguments and snags only proves how hard you're willing to work to make your marriage perfect.
You try to be a little on the reserved, or conservative, side when you're in public (so no PDA), but you definitely personify the "freak in the sheets" saying. Just because you only ever hold hands and peck each other on the cheek when you're around friends and family doesn't mean your sex life isn't mind-blowing. You like surprising each other in private and you love being the unassuming couple in public.
AQUARIUS (January 20 – February 18)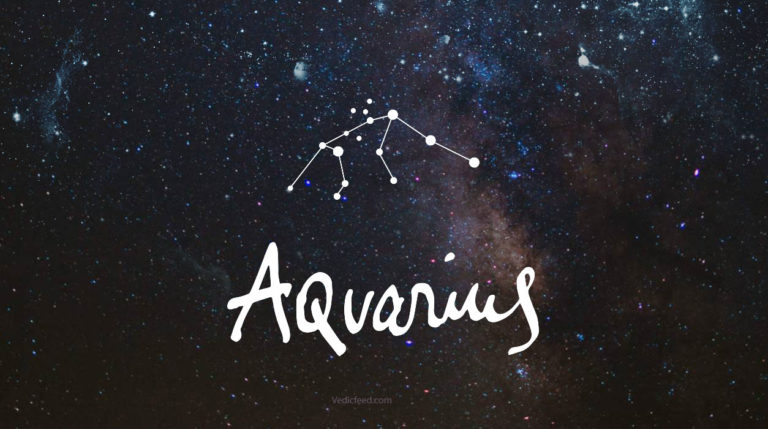 When it comes to Aquarius marriages, there's "marriage rules" and then there's "Aquarius rules." The only thing you hate more than listening to other people's opinions of your marriage is playing by the rules. You believe that since it's your life, then it's also your marriage — and no one else gets to say otherwise, no ifs, ands or buts.
More than partners, you two are best friends. Building your relationship on friendship only makes you feel better about taking it to the next step and tying the knot. You like having a unique marriage because it means you get to try out some more eccentric approaches to family, love (and sex), and handling problems. It might confuse some, but it makes total sense to you.
PISCES (February 19 – March 20)
If anyone can make marriage look like a romantic movie where everything goes right, it's a Pisces marriage. Not only are you two totally in love, but to be quite honest, you're the closest thing to soulmates there is. You always try to inject a little romance into your everyday lives, whether that means breakfast in bed, making out like teenagers or just using your words to express how much you love each other.
There's definitely a sense of curiosity in your marriage, which means you are always looking for new things to learn together and about each other. You can get a little overly sensitive at times, but it's only because you want to be as honest with your partner as possible. You also have a relationship built on karma, which means you try to treat each other how you would want to be treated, which keeps pettiness far away.
Have fun choosing a date that fits your personality to a tee! I can't wait to work with you on planning your personalized ceremony for your unique relationship.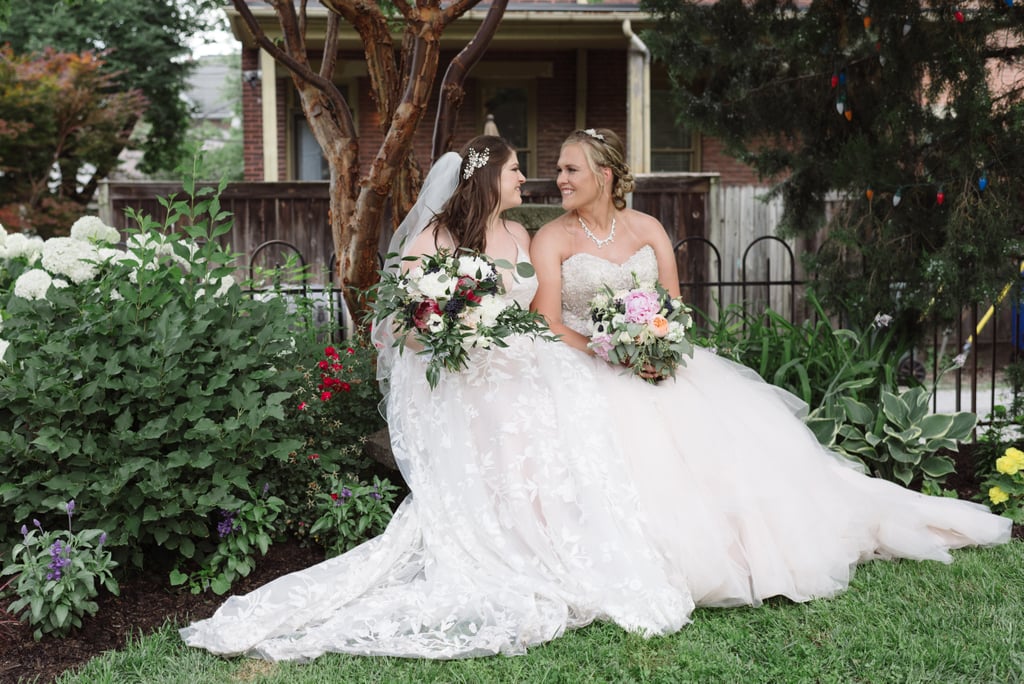 Planning Your LGBTQ Wedding
As an LGBTQ couple, you may have a few questions about your wedding. How does tradition fit in to your planning? Who should propose? Do you have to wear white? Who walks down the aisle? How do you plan a shower? The answers to these questions will help you plan the celebration of a lifetime.
THE PROPOSAL
When it comes to popping the big question, you may have already had a conversation about marriage. If that's the case, hopefully you have an idea of what to expect. If you haven't had this conversation yet, both of you may be waiting for the other to propose. It's important to discuss what your expectations are. One person can propose on a romantic Friday evening and the other can plan to propose the next day at mid-afternoon outing. They could both be a surprise or they can be expected. There could even be no proposal at all! Some couples may mutually agree that it's time for them to marry and simply set a date.
When it comes to popping the big question, you may have already had a conversation about marriage. If that's the case, hopefully you have an idea of what to expect. If you haven't had this conversation yet, both of you may be waiting for the other to propose. It's important to discuss what your expectations are. One person can propose on a romantic Friday evening and the other can plan to propose the next day at mid-afternoon outing. They could both be a surprise or they can be expected. There could even be no proposal at all! Some couples may mutually agree that it's time for them to marry and simply set a date.
If you are planning a proposal, who gets the ring? That's up to you! You could each present rings to each other upon engagement or wait for the wedding day; you could propose without a ring, or you could even get tattoos on your ring finger that symbolize your lifelong commitment to each other!
PRE-CEREMONY
Choosing your Wedding Party
Whether you're gay or hetero, there is no rule that dictates that you can only have women or only have men in your wedding party. Your party should consist of the people that are closest to you – your truest friends. If those friends happen to be all female or all male, that's fine! But if you want to include the opposite sex in your wedding party, then by all means, do it! Don't feel restricted by tradition.
That being said, the attire of your wedding party should be cohesive. The outfits don't need to match each other exactly, but as long as they share some commonalities – like color or color scheme, silhouette, and length. Just like with the mismatched bridesmaid dresses trend, suits and dresses don't have to match exact colors as long as they are within the same schematic.
Because you and your fiancé may have separate parties, you can each choose to represent one color from your overall scheme or differentiate your attire in a different way. For instance, one party may wear lavender while the other wears plum. Or, your party could wear mismatched dresses and gray suits while their party wears matching skirts and tops and black suits.
Planning the Shower
I recommend that any couple should choose only an engagement party or a bridal shower if they're getting married in less than a year. In this case, you could simply throw a party to celebrate your engagement. Just be sure to be registered before sending out invites so you can indicate that this is a gift-giving occasion by including your registry list. If you'd prefer to throw a shower with games, prizes, gifts, etc., then you can decide whether you want both you and your fiancé to be present or if you'd rather host separate parties. Either way is completely acceptable, but be aware that, while some guests may be invited to both parties, they should only be expected to give one gift.
ATTIRE
When it comes to choosing your wedding attire, keep in mind that this is your day. You should wear what you feel comfortable in and what makes you look your best. If you absolutely despise dresses or are rarely seen in heels, don't subject yourself to these "traditional" staples! Create a look that screams "you!" Whether that's a maxi dress and strappy sandals or suspenders with jeans – you do you. We do suggest wearing something slightly more formal simply to isolate this day from any other and to stand out in photos, but that's completely your choice!
There are ways to stray from tradition even if you do decide to wear wedding dress. Instead of white, consider adding a pop of color with a dip-dyed gown or underskirt! Blush dresses are all the rage right now, or you can choose a gown in the color that looks best with your skin tone. If you want white, consider a tea or knee length dress, a high-low, or a convertible gown!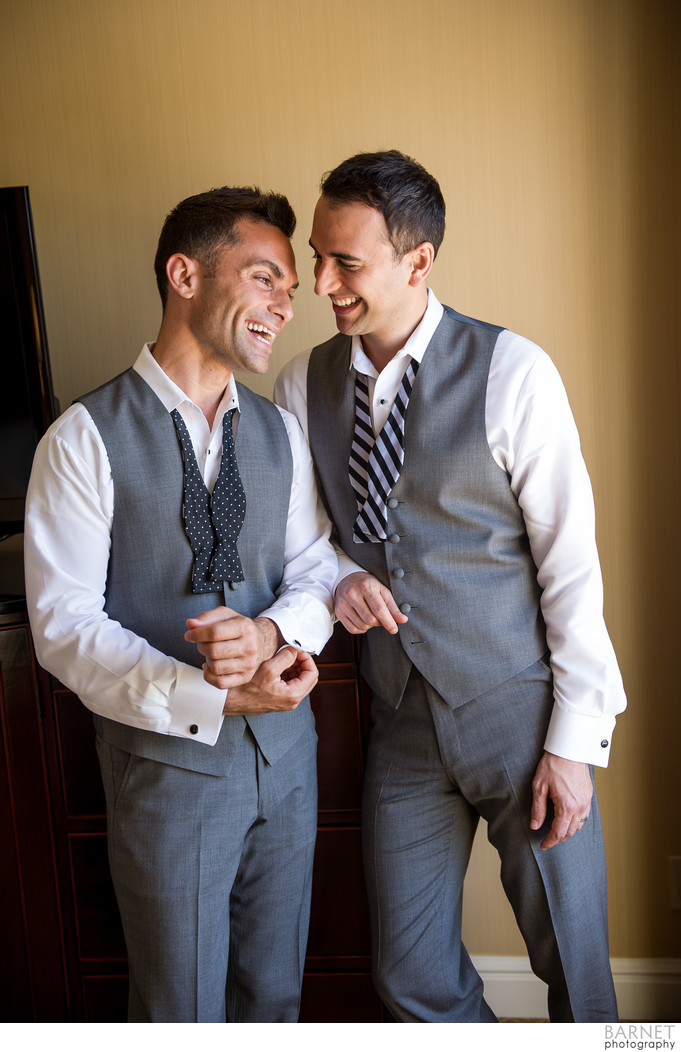 Can he or she help me get ready?
There is no right or wrong answer to this question. Some of the benefits of getting ready separately is the suspense and the surprise. The suspense of waiting will make this day all that more special and memorable for you and your loved one. The surprise of seeing each other for the first time that day completely done-up and looking flawless is an emotional and beautiful moment you'll share forever. However, waking up by each other's side and getting ready together will help you envision waking up together every day for the rest of your life and may make this day – the beginning of your forever – even more special.
OTHER PLANNING ADVICE
Since same-sex marriage is legal in every state of the USA (woohoo!) changing your name will be the same as any heterosexual marriage. You can download a printable to see how to go about doing that in your county. Deciding whose name to take – or if you should change your name at all – is the difficult question. You can each decide to take each other's name and hyphenate it to represent both of your family histories. One of you may decide to take the other's name and drop your own last name. Or you may decide to each keep your own name. One factor to consider is the possibility of children in your future. If you each keep your own name, whose name will he or she be given? This is something you should discuss as a couple to decide what's important to you.
Inviting Family
Unfortunately, some LGBTQ couples may still deal with family members who don't accept their sexuality. If this is the case, you may be questioning whether or not to invite them. While I think it's always best to be the bigger person and extend an invite, there are a few questions to consider.
Will this person cause drama?
If you expect that this person will cause a scene at your wedding celebration, they probably shouldn't get an invite. Your day should be focused on you – you don't want them stealing the scene at this beautiful occasion.
Will this person's presence make you happy?
Your wedding may not seem like a wedding if your mother, grandparents, or uncle doesn't attend. If you know that your wedding day just won't be complete without your entire family or you think this person can put aside his or her differences for the day to make you happy, then invite them! If you know that they'll ruin your day and make it all about them, tear you down, or hurt your feelings, an invite should not be extended.
No Rules
The best part about planning an LGBTQ wedding is that there are no rules! You can completely craft this day around you! Create your own ceremonial rituals, choose to invite the people you want there and the people you want to stand by your side, wear what you want, celebrate how you want to! For almost any question you have when planning, the answer is almost always "It's up to you." There is no tradition, so you can add your own personality to every single detail.
Heartfelt Ways to Honor Deceased Loved Ones at Your Wedding
Although your wedding is meant to be one of the happiest days of your life, it can also bear a touch of sadness if you're celebrating it without a cherished loved one by your side. It may be difficult to find the right balance between acknowledging your lost loved one and fostering an air of celebration on your big day. While you'll never be able to replace your late loved one, there are many heartfelt ways to incorporate their memory and spirit into your celebration.
How to Honor Loved Ones Who Have Passed at Your Wedding Ceremony
Whether you're saying "I do" on the beach or in the church you grew up attending, there are many opportunities to honor a lost loved one at your wedding ceremony.
Save them a Seat
A subtle yet meaningful way to pay tribute to those who have passed away is to reserve a seat for them at your wedding ceremony. Consider making the gesture more visual by adding a framed photo or personal items, such as your grandfather's cherished baseball hat or your mother's pearl necklace to the seat. Lastly, tie it all together by adding a simple flower such as a lily, rose, or carnation — all of which are commonly used to pay tribute to the deceased. When you peer out into the crowd as you're about to say your vows, the seat will help you remember and feel connected to your late loved one at that moment.
Honor Them in the Program
Many couples provide their guests with a wedding program that details the day's events. This program is an ideal spot for you to add a note acknowledging loved ones who aren't able to celebrate with you. Use your wedding program text to list your lost loved one's name(s) and explain the ways you've chosen to honor them throughout the wedding. You may even opt to include a photo or written text further describing the missing guests and their relationship to you and your partner.
Hang Wind Chimes
If you're saying "I do" outdoors, consider hanging a set of memorial wind chimes at the venue. Each time the wind blows, you'll hear the soft chime and be instantly reminded of your lost loved one. This subtle yet sentimental sound will be a source of comfort as you stand in front of your friends and family and exchange nuptials.
How to Remember Loved Ones at Your Reception
You've said "I do" and now you're ready to start the celebration! Your wedding reception is a meant to be a joyous event, and therefore you may be unsure of how to pay tribute to a lost loved one at the celebration. However, Instead of ignoring their memory for the rest of the evening, find a tribute that feels right to you. Consider one of the following heartfelt displays to naturally incorporate the memory of a departed loved one into your celebration.
Toast in Their Honor
Don't be afraid to talk about your lost loved one during your wedding reception. While you might fear that discussing them will bring an air of sadness to your big day, it'll be a cathartic experience that will be appreciated by guests. Use your speech as an opportunity to share special memories, funny stories, or words of advice given to you by the deceased. You'll find that writing the perfect wedding toast is simple when it comes from the heart.
Create a Memorial Table
If you have multiple lost loved ones to honor, you may want to feature a thoughtfully decorated memorial table at your wedding ceremony. Choose a quiet location, removed from the celebration, for guests to privately pay homage to the deceased. Include a mixture of photos and sentimental items that will help visitors connect with the departed's memory. Consider sprinkling the table with petals from your lost loved one's favorite flowers as well as lighting candles in their honor. For example, a display of your father's treasured pocket watch, a smiling photo of your partner's beloved grandmother, and petals from your aunt's favorite flowers will make for the perfect wedding memorial piece.
Enjoy a Special Dance
While a father-daughter and mother-son dance are a featured tradition at many weddings, they aren't always possible. If your father or mother is no longer there to participate, consider hosting a special dance in their honor. For example, if you're unable to dance with your father, ask another family member, such as your brother, uncle, or cousin to share the special dance with you. You can even choose your dad's favorite song by the Beatles and make a heartfelt announcement to your guests before starting the dance. If you need some inspiration, a well-known wedding song may be the perfect choice to complement this special moment.
How to Incorporate Lost Loved Ones Throughout Your Wedding Day
Perhaps you want your loved one's presence with you from the time you walk down the aisle until the moment you drive away as newlyweds. The following unique wedding memorial ideas will allow you to incorporate your loved one's memory into your entire day.
Accent Your Wedding Dress
Your wedding dress might be your something new, but that doesn't mean it can't feature a subtle tribute to your late loved one. Consider incorporating an element of your lost loved one's clothing into your wedding dress. You can easily have a piece of your mother's wedding dress added to your own dress — ensuring she is by your side as you walk down the aisle. If you're worried about it clashing with the modern style of your dress, you can more subtly incorporate the desired piece of fabric by having it sewn into the lining of your dress.
Accent Your Bridal Bouquet
Your personalized wedding bouquet is meant to be a reflection of your unique style and interests, but it can also function as an opportunity to include a memory of a lost loved one. Consider wrapping lace from your grandmother's Sunday's best dress around the base of the bouquet. The added touch of your father's cufflinks or your mother's favorite earrings can provide comfort and solace as you walk down the aisle. However you choose to incorporate your loved one's memories, don't forget to remove the ornaments before you toss your bouquet into a hungry crowd of bridesmaids.
Add Something Borrowed to Your Bridal Look
Use items that remember the deceased to help you tick off elements of the timeless tradition of including "something old, something new, something borrowed, and something blue" in your wedding. Wearing jewelry that belonged to a lost loved one is an excellent way to add a meaningful, vintage touch to your look. Whether it's your grandmother's bracelet or your late aunt's earrings, the borrowed jewelry will allow you to tastefully incorporate their memory into your bridal look.
There is no one-size-fits-all guide on how to honor loved ones who have passed at your wedding. You and your partner need to decide on the wedding memorial idea that is right for you and your celebration. Use your loved one's personality and interests as inspiration as you create a thoughtful wedding remembrance that both you and guests will appreciate.
Wedding Symbols That Represent New Beginnings
No matter what kind of wedding you're hosting, there's a good chance that your celebration will feature symbolic details. Classic ceremony elements represent different things. A good example is the exchange of rings, which serves as a sign of your eternal commitment to your significant other. While some symbols will work their way into the day without much thought from the couple, many pairs choose to incorporate specific traditions into their affairs because they appreciate the meanings behind them. If you're looking for symbolic ideas for your big day, consider sprinkling your affair with emblems that nod to the significant change in your life.
There are many different themes that you can honor at your wedding, but we love the idea of celebrating your fresh start with representative elements. And, as it turns out, there are tons of ways to do so in your décor, itinerary, and more.
The following list offers symbolic ideas to help you highlight the idea of new beginnings throughout your wedding. In the mix is a variety of inspiration—some of it subtle, and some more blatant. There are ideas for your ceremony and reception, your food, your flowers, and your favors, and even your guest list and event date. Believe it or not, symbols of your new chapter can be a part of nearly any aspect of your nuptial festivities. Here, explore all of your options when it comes to representing your transition into marriage. Whatever you choose, you'll add more depth to your celebration, and your guests are bound to cherish the significance that your pick holds.
Cherry Blossoms
Cherry blossoms bloom in the spring, and are therefore seen as a sign of renewal. Take it one step further by also choosing a spring wedding date—the season symbolizes rebirth, so choosing a springtime date is extra special.
Bears
Bears awake from hibernation refreshed. In that vein, the animals are sometimes equated with newness. Use them as motifs throughout your celebration—this couple chose them for their cake toppers.
Doves
Doves are often released for important life milestones, and they're especially popular at weddings as a way to represent the couple's new journey together. Before you commit to the tradition, however, make sure that you can do so humanely. Only work with handlers who assure that the birds will return safely to their homes post-event.
Butterflies
Butterflies are the product of a caterpillar's metamorphosis, making them a beautiful symbol of rebirth. You can incorporate them into your affair in a number of ways, like carrying them down the aisle in a beautiful bouquet.
Doors
Doors are passageways, which means that they represent transitions just like becoming a married couple. Instead of an arch, consider a structure made of open doors for your ceremony backdrop.
Bonfires
Bonfires are staples at various celebrations, so they have a number of different meanings. One I think best applies to a wedding is the idea of burning the old to make way for something new. Light one at the end of your reception (with the appropriate permissions, of course) as a nod to your new future together.
Sprouts
Growth and newness are frequently linked together, which makes young plants symbolic. These favors featured small sprouts to signify a new life.
Seeds
You can also use seeds to represent newness. Give them to guests to throw for your exit toss or offer them as favors for attendees to plant at home.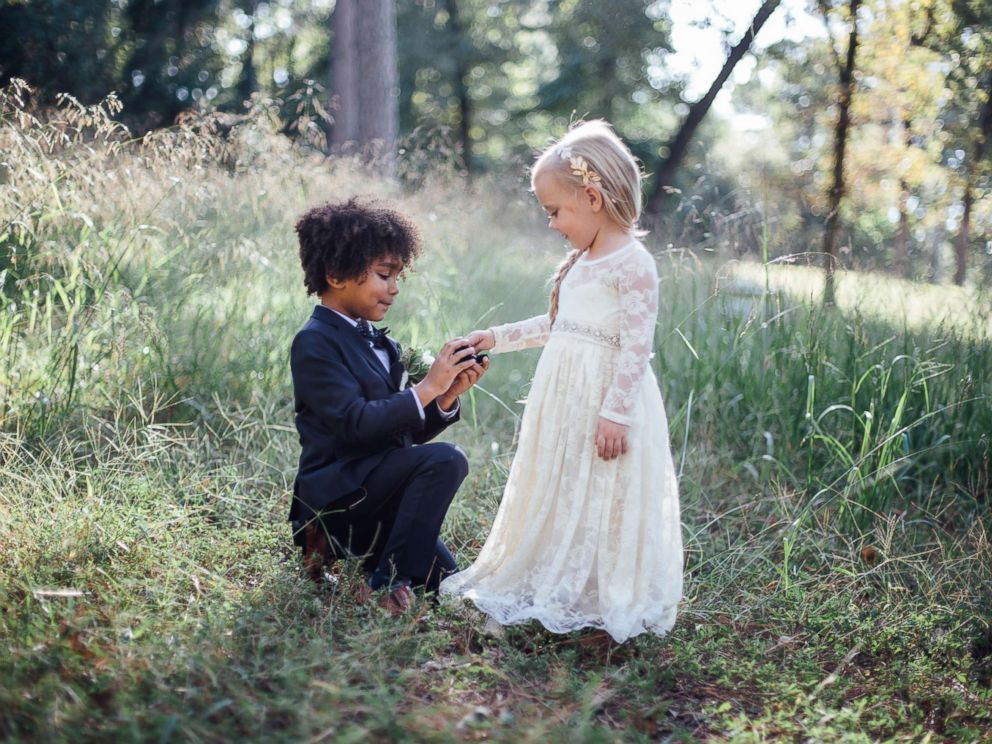 Kids
Children have a whole life ahead of them, so they're often considered to be sweet symbols of fresh starts. The idea makes your ring bearer and flower girl's roles even more special. It also makes the case for inviting other kids to your wedding.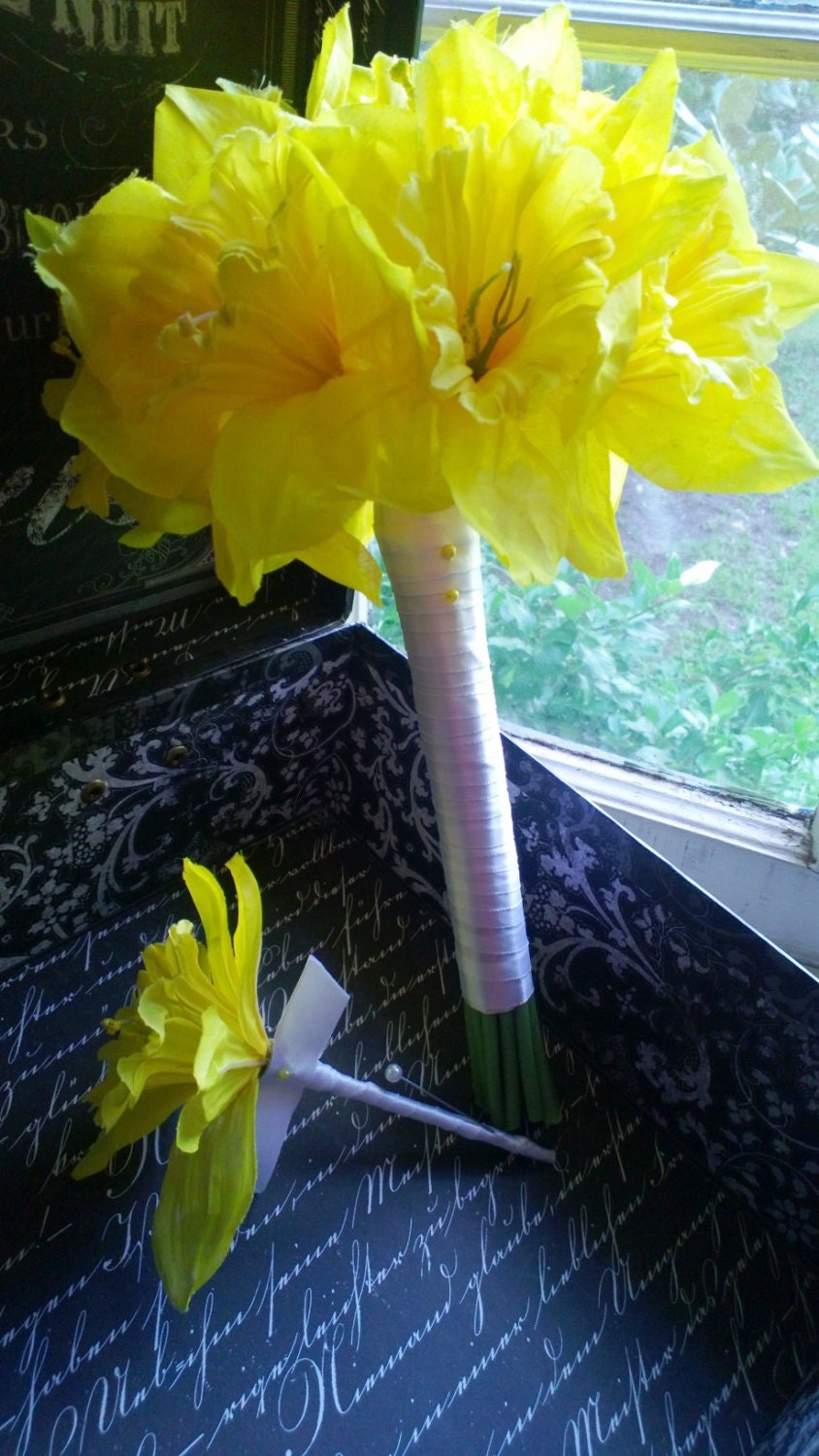 Daffodils
Daffodils are one spring's earliest flowers, so they're a common representation of new beginnings. Use the blooms in your centerpieces, bouquets, boutonnières, or other floral aspects of your wedding.
Phoenixes
Phoenixes are emblems of rebirth because of the mythology surrounding them. According to legend, they periodically burn, and then rise again from their ashes. This wedding cake nodded to the fantastical creatures.
The Sunrise
The rising sun represents the new day and a fresh start. This couple chose to tie the knot at sunrise. If you know that the same move won't sit well with your guests, you can always take portraits by yourselves in the early morning.
New Moon
The new moon represents the start of a fresh moon cycle. That's why couples—including this one—choose to wed during the phase.
20 Pretty Spring Wedding Ideas That Will Make You Swoon
There's something extra sweet about saying "I do" in the springtime. The trees and flowers are budding, the sun is shining longer, and everything seems new again. Spring wedding style is inherently elegant and romantic, with a focus on fresh and lighthearted elements that reflect the joy of the season—but what exactly does that mean when you're trying to visualize how to design your wedding? This informational and inspirational guide has everything you need to know, from spring wedding colors and spring wedding flowers, to beautiful ideas you can recreate for your own event.
Spring Wedding FAQs
Why should you have a spring wedding?
Spring is known as the season of rebirth because after a long (and oftentimes dreary, depending on where you live) winter, everything magically becomes green and fresh again. Spring weddings can range from early March to mid-June. The spring months continue to be a very popular choice for weddings across the country, but they've seen some heavy competition from the fall months (especially October) in recent years.
What are the best colors for a spring wedding?
Traditionally, a spring wedding color palette is all about pastel hues or airy, cheerful colors. Think of the colors you see in bloom — pink, blue, yellow, purple, and green are just a few that come to mind. A good recipe for creating a balanced color palette is to choose two main colors, and then pair them with a neutral (white, gray, black, cream, etc.) for the most visually pleasing combination.
If pastels or bright colors aren't your thing, I totally get it. If you prefer richer tones, for example, red, plum, or emerald, choose one as your main color, and then accent it with a neutral and a "muted" pastel, such as French blue, mauve or sage green to achieve a happy medium. Anything too dark will typically seem out of place for a spring wedding.
What are the best spring wedding venues?
If you're planning a spring wedding, celebrate the natural beauty and renewal of the season by choosing a botanical venue. Some of our favorites include conservatories, arboretums, gardens, and greenhouses. In the spring, these locations will have an abundance of flowers and plants in bloom, creating a picture-perfect backdrop for your wedding.
What wedding flowers are in season in spring?
If you're having a spring wedding, then consider yourself spoiled when it comes to your wedding flowers — and we mean that in the best way possible! Not only do you have your pick of flowers that are readily available year-round (hydrangeas, roses, lilies, orchids, dahlias), but you're also in luck when it comes to some of the most coveted blooms, including peonies, that can be difficult or expensive to find out of season. Other spring flowers include tulips, muscari, anemones, daffodils, lilacs, hyacinths, hellebores, and poppies.
Work with your wedding florist to create arrangements that really play up the beauty of the flowers. For weddings on the formal side, stick with a few types of flowers and uniform centerpieces on your banquet tables. If you want a more carefree look, don't worry too much about the arrangements looking perfect or identical. Centerpieces that have a slightly undone appearance will give off a picked-from-the-garden vibe that is inviting and peppy for a spring wedding.
You can even play around with unique vessel options for the arrangements. Garden-inspired elements work especially well with spring wedding style. Instead of traditional vases, have your florist display the flowers using terra cotta pots, wooden baskets, galvanized pails, or even cute vintage watering cans.
Wedding Ideas for Spring
If you're ready to start planning your wedding décor, congrats, you've made it to the fun part! Here are some of our favorite spring wedding ideas to spark your creativity.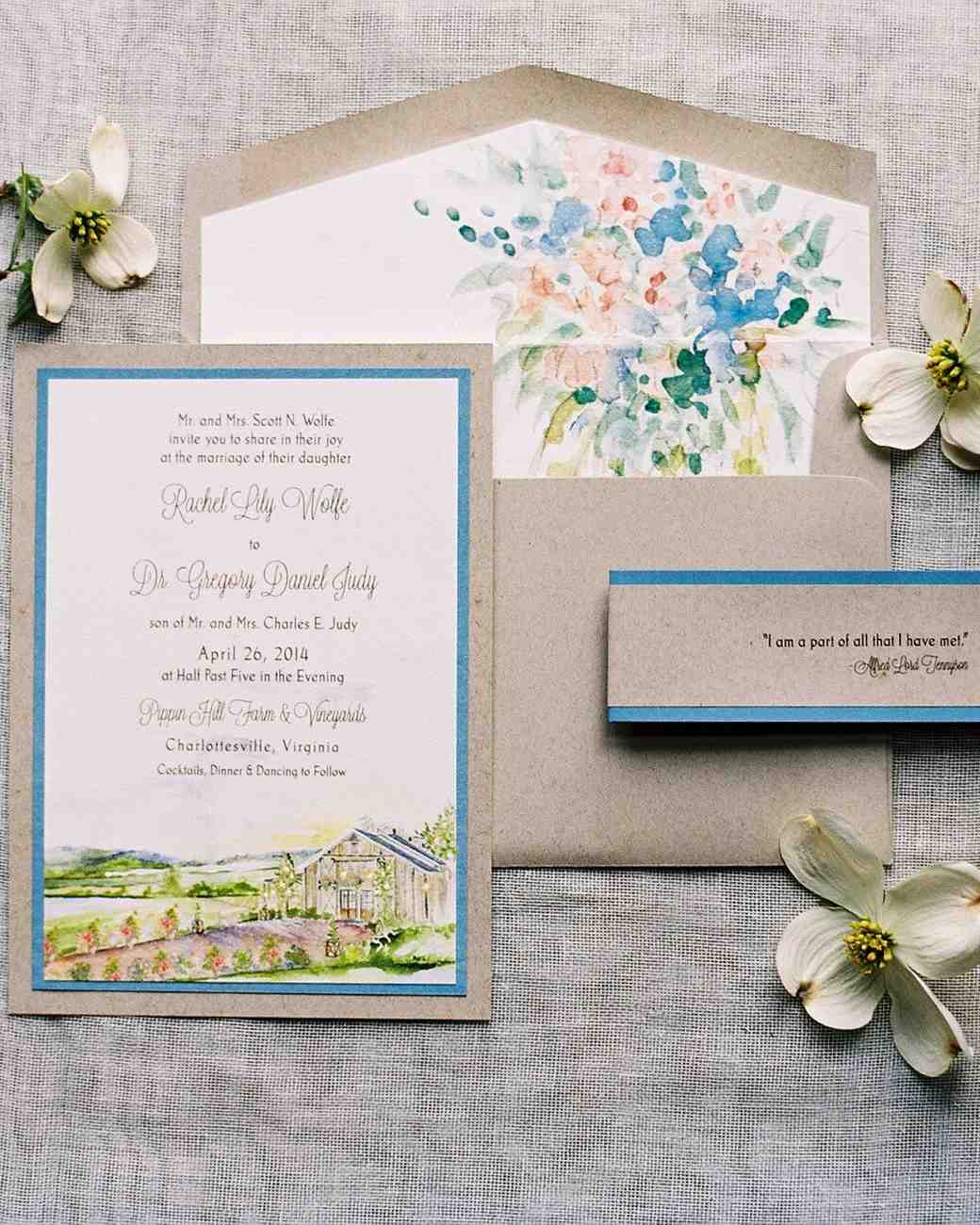 Watercolor wedding invitations
What better way to announce all the details of your special day than with a beautiful watercolor invitation suite? Details like flowers, monograms, calligraphy, and custom crests are all fitting for a spring wedding theme.
Wedding flat lay
There's a good chance that your photographer will style a wedding flat lay (or several) when taking photos of your rings, accessories, and other day-of details. Colorful flowers and petals that match the rest of your arrangements are the perfect addition to their photos.
Floral high heels
With a spring wedding, there's no such thing as too many flowers. Complete your wedding day look by adding floral print or embroidered shoes for a bit of elegant flair.
Pastel wedding dresses were made for springtime nuptials. Blush is a popular go-to for many brides who want a colorful wedding dress, but I also love this baby blue gown from Digio Bridal featuring an airy skirt for a touch of sweet romance!
Loose, oversized wedding bouquet
Carry a free-flowing bouquet filled with seasonal spring flowers, like Japanese magnolias, roses, sweet peas, and ivy vines. The loose, imperfect design gives the arrangement a pretty garden-inspired vibe.
Flower ceremony backdrop
This flower curtain can be recreated with almost any type of structure or flower, which makes it one of the most versatile wedding ideas for spring. A wooden frame and colorful flowers will create a romantic and rustic look, but you could also use a sleek square frame , branches, and metal arches.
Pastel bridesmaid dresses
Soft colors and flowing fabrics are both popular options for spring bridesmaid dresses. If blush and blue feel too overdone for your style, consider outfitting your bridesmaids in sage green or lilac dresses instead.
Embroidered veil
An opulent embroidered floral veil is not only classic, but it's spot-on for a spring wedding theme. Plus, you can use a veil to accessorize an updo or long hair.
Bridal flower crown
If you're not into wearing a wedding veil, add fresh flowers to your hair instead for a pretty seasonal touch. This beautiful flowing wave looks gorgeous finished with a halo of assorted rosebuds and assorted spring flowers.
Greenhouse wedding venue
Remember when I mentioned the idea of getting married at a botanical venue? If you choose a blossoming garden or conservatory, you can get away with using less décor, thanks to the existing flowers, plants and other details that are already filling the space. This gives you more room to allocate your budget to specific items, like a custom cocktail bar or renting those vintage tufted chairs you've always dreamed about.
Planted floral aisle
This stunning idea is one of my favorite ceremony décor options for any time of the year, but especially for a spring wedding. Using a mix of flowers, greenery, and hidden vessels, your florist can create the illusion of "planted" arrangements that look like they're growing all along your aisle. Voilà: instant enchanted garden vibes.
Floating candles
Whether you add them to your altar, reception entrance, sweetheart table, venue walkway, or any other spot that needs a decorative boost, these floating candles are a simple but chic way to amp up the romantic ambience.
Seed packet escort cards
Year after year, this is one of the most popular spring wedding ideas. Individual seed packets, especially vintage-style designs, come in handy as alternative escort cards or cute favors at a garden-themed wedding. Display them using clothespins or a wheelbarrow to complete the cottagecore look.
Colorful glassware
Looking for a way to instantly brighten up your reception tablescapes? Add colored glassware! You can find plenty of options from local event rental companies, whether you want new or vintage items. Don't worry about the glassware matching perfectly—as long as the pieces are in the same general color palette, an assortment of designs and sizes will only add to the whimsical feel.
Patterned dinner plates
If basic white china feels to blasé for your liking, round out your place settings with patterned plates instead. For a spring wedding, I suggest floral prints and chinoiserie, but your venue, caterer, or event rental company might have more to choose from.
Taper candles
Next to rose and peony-filled centerpieces, there's nothing more romantic for your reception tablescapes than taper candles. You can find them in almost any color imaginable (your florist or event planner should be able to recommend a few sources) and display them in tall hurricane vases if your venue requires open flames to be covered.
Cocktails garnished with flowers
When thinking about the big picture, don't forget about the small details. The garnish on your signature cocktail might not seem like a big deal, but the simple addition of an edible flower can make an ordinary glass of champagne feel extra-fancy.
Flower-covered wedding cake
For spring wedding cakes, it's no surprise that flowers are one of the most popular decorations. Ask your florist to set aside a few extra flowers that your wedding cake baker can use for decoration — roses, ranunculus, peonies, dahlias, and greenery are all excellent options. If you don't want to use actual flowers, sugar/gum paste flowers are just as pretty. Ruffled tiers, ribbons, floral-painted fondant, and naked or semi-naked cakes are all gorgeous options, too!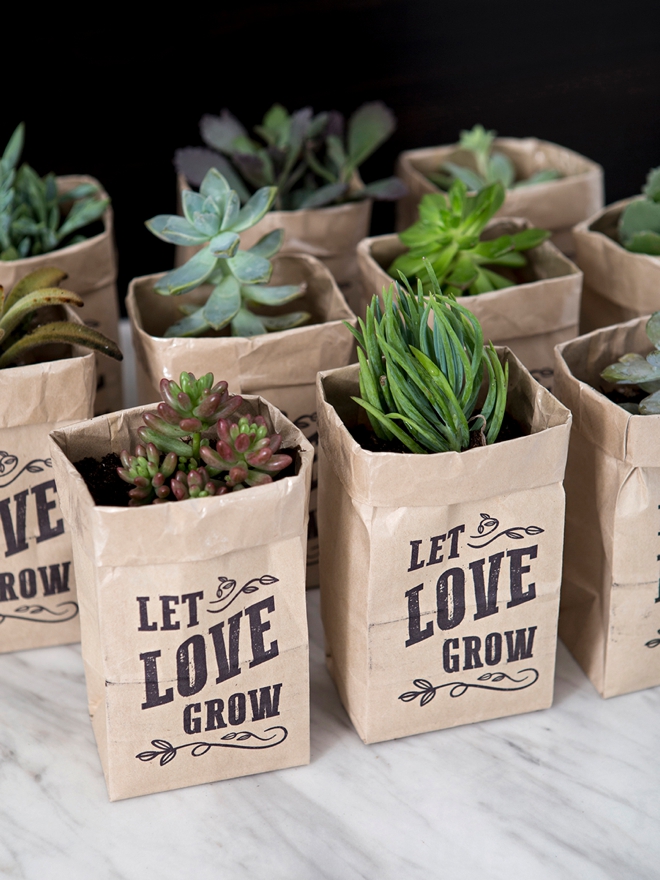 Succulent wedding favors
Plant-themed favors are one of our favorite ideas for a spring wedding. These miniature potted succulents are adorable (and low-maintenance) favors, but you could also give your guests packets of seeds based on your favorite flower or vegetable.
Wedding Symbols for April Brides
Everyone loves an April wedding—with gorgeous spring blossoms and cool temperatures, April is the perfect time to gather friends and family in a celebration of marriage. The second month of spring brings warm feelings and loyal love to all who wed in April.
The name April comes from a Latin word, Aprilis, which means 'to open' and is meant to represent the blossoming flowers and trees that emerge throughout the month. April's symbols include the diamond gemstone and both the daisy and sweet pea flowers. An April wedding symbolizes eternal growth and celebrates a budding new life together.
The Greeks linked April with their beloved Greek goddess, Aphrodite, who symbolizes love, beauty, and desire in classical mythology. She was representative of the sentiments of affection and attraction that bind people together. Her holy birds included doves and swans, both of which are frequently used during wedding ceremonies to represent loyalty in marriage and devotion to one another.
The stone of April is a diamond—known for its everlasting beauty and representative of love, pride, and courage. The diamond is the most popular of all the gemstones and is also the most hardy and expensive. While diamonds come in a variety of colors, the April diamond is most commonly clear and white. Wearing a diamond on your wedding day is said to bring out courage in your groom and pride in your bride while giving you good luck and protection from misfortune.
If you're looking for meaningful flowers to add to your bouquet or reception table centerpieces, consider April's two blossoms: the daisy and sweet pea. The daisy symbolizes innocence, loyal love, and purity, while the sweet pea represents blissfulness. Both flowers come in a variety of colors to match your color palettes and add special meaning to your floral arrangements.
"Marry in April if you can, joy for maiden and for man." April is a month of love and growth both individually and as a couple. An April bride will have joy and happiness on her special day, especially on these lucky dates— the 2nd, 4th, 12th, 20th, and 22nd.
Congratulations on your big day!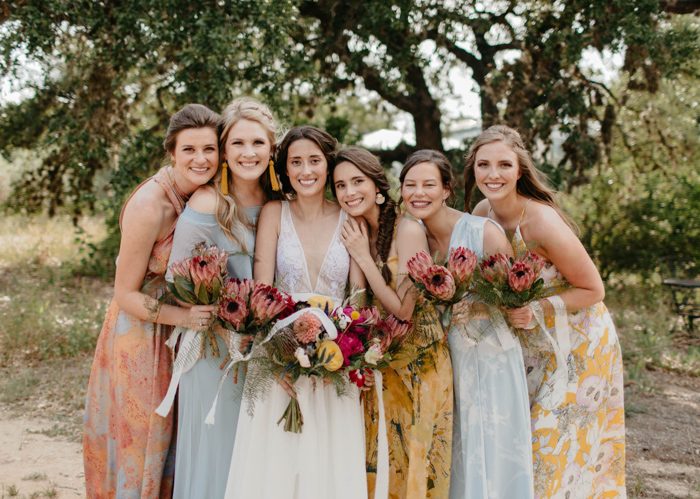 What to Wear to a Spring Wedding in March
Spring weddings are so lovely, with something fresh in the air as flowers are starting to bloom and the sun is beginning to shine. In addition, guests are likely not attending several weddings that time of year and which will add to the excitement of your big day. While a perfect Spring day can be great for a wedding, they are hard to come by and weather is often unpredictable.
Preparing For Weather In March
In March, you could have snow of the ground one day and a warm seventy-five degree day the next -, there is just no way to know. But, no need to fret as a wedding guest, because I have outlined what to wear to a March wedding so you are prepared for just about anything.
First off, layering is important and gives you quite a bit of flexibility day-of. It allows you to have a few different looks and be prepared and comfortable all day. Begin with a good base and go from there.
Dressing For A Spring Wedding
Formal
Women: Typically for formal, black tie, or black tie optional, weddings floor length gowns are best. Sleeveless floor length gowns will allow for more flexibility. If the dress is constructed of a heavier fabric, it can be paired with a pashmina as needed. This can be wrapped around you for a little extra warm or carried with a clutch as an accessory. If your dress is more lightweight it can be paired with a sassy fur jacket or wrap. Depending on the neckline of the dress, you can pair this with some fabulous statement earrings and be ready to shine.
Men: If the wedding is slated as black tie or black tie optional, I recommend a tuxedo or formal suit for the latter. Under the collared shirt, opt for a tank top to help keep cool under all the layers. Make sure to have a good pair of socks (merino wool if possible) to help keep feet at a regulated temperature as well.
Semi- Formal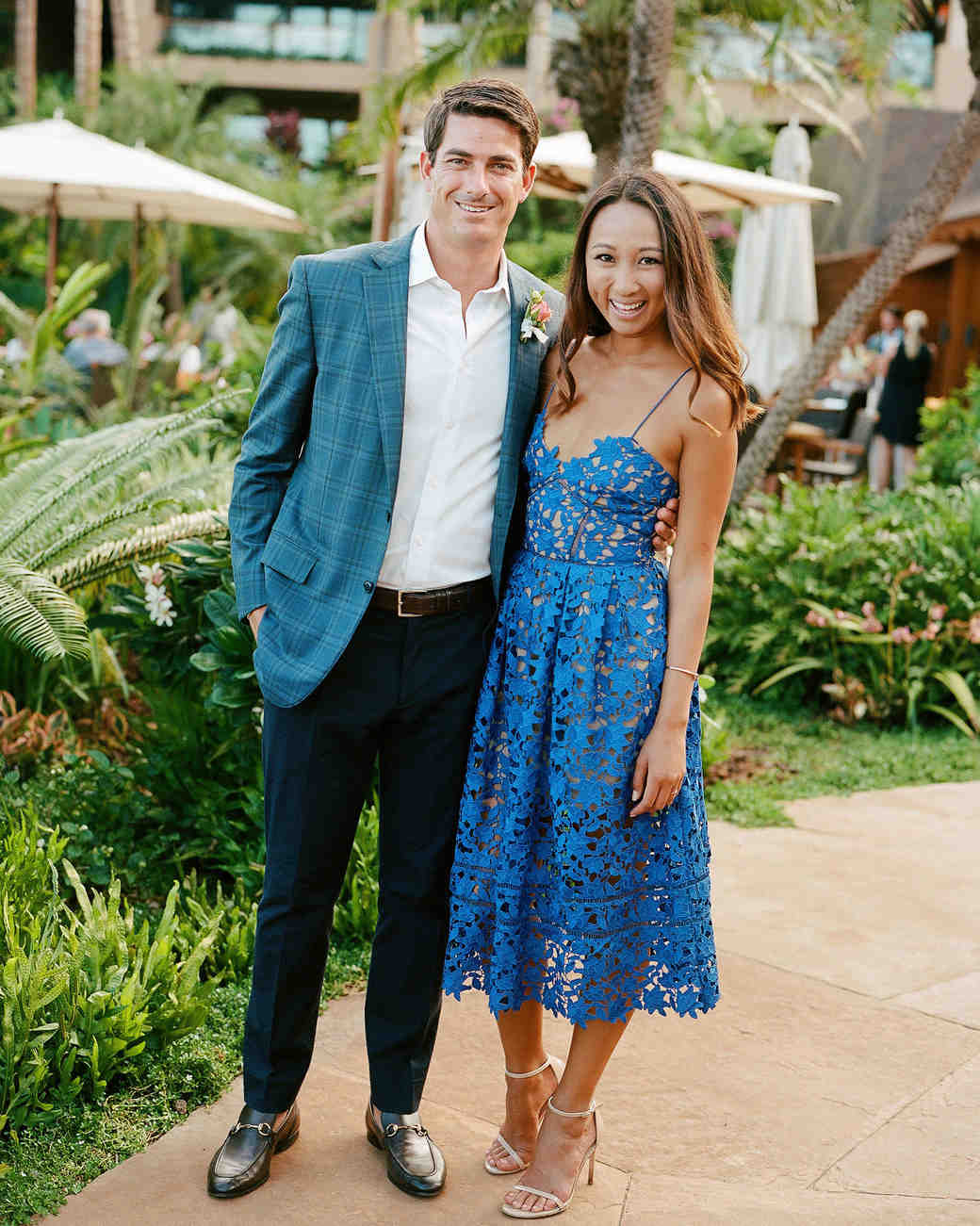 Women: One of my favorite bases is a good skirt, below the knee. This can be paired with a light sleeveless or capped sleeve blouse (tucked in). Finding a lightweight sweater or jacket to wear on top will be perfect to allow for weather and temperature changes throughout the day. This can easily be removed if the day is warmer or inside the reception becomes too hot.
If you are someone who is chilled easily, wear tights for a little extra warmth. Later in the night when the dancing heats up, the tights can easily be removed and tucked into any clutch. Pair this look with closed toed heels and a statement necklace.
Men: A suit is a great option for a semi formal event. It is always better to show up a little over dressed than under. Grey suits are a great choice (darker for the evening) and the option to remove the coat throughout the day allows you flexibility. If you are worried about being over dressed, start with a tie and if no other guests are in a tie, simply remove the tie and stash in a bag.
Casual
Women: If the wedding has a little bit more of a casual feel, knee length dresses are a great starting point. From t-shirt dresses to cocktail dresses there is a wide variety that can be worn. Similar to above, pair with a jacket, sweater or scarf. If the wedding is outside or you are unsure, pair with flats to keep the look casual and functional. Lastly, if you so dare, go for a jumpsuit. They are fun, often lightweight, sassy as can be and a perfect transition piece.
Men: Slacks and a button down are perfect for a casual wedding. Pair a light colored pant (grey, khaki, etc.) with a nice button down collared shirt. Under the shirt, wear a tank top in case it gets warm or you spend the evening dancing. Bringing a jacket or sweater will allow you to be prepared for a cooler day. And same as above, a good pair of wool socks will go a long way.
Figuring Out The Dress Code
Spring weddings are super fun and with these few tips you should be prepared for just about anything. If you are unsure of the formality of the event you are attending, take a peek at your wedding invitation. If it is being held in the evening or at a ballroom or country club, you can count on it being a bit more dressy. Is the event in the afternoon or at a garden or more understated event space? You can definitely dress on the more semi-formal or casual side.
The invitation will be a good guide of how to dress and any other important details to consider. Also, take a peek at the couple's website for hints regarding formality. Regardless of what you wear, the most important thing is to be a good wedding guest. Show up on time, send a gift in advance, follow your seating assignment, and dance the night away.
Amazing St. Patrick's Day Wedding Ideas
St. Patrick's Day is a cultural and religious celebration in Ireland, commemorating the patron saint of Ireland with public parades and festivals. Because St. Patrick's Day occurs during Lent every year, one tradition is that the restrictions on eating and drinking alcohol are lifted for the day, thus leading to the popular culture perception of alcohol consumption on this holiday. No matter your relation to the holiday, you can celebrate the Irish culture and heritage with a beautiful themed wedding. From shamrocks to corned beef to green tablescapes, there's plenty of amazing ways to incorporate a St. Paddy's Day theme into your wedding day.
A green shamrock carefully placed on top of a twine-wrapped table setting is a great addition to your wedding reception. If you can't find fresh shamrocks, plastic will do too.
Green bridesmaid dresses look beautiful when paired with fresh wildflowers and plenty of green foliage, paying homage to the traditional St. Patrick's Day color.
This Lucky in Love banner is easy to DIY and channels the luck of the Irish to your wedding day and marriage! Hang it up over your dessert table, buffet table or wedding cake and save it to decorate your new home together.
Incorporate the St. Paddy's Day theme throughout your whole wedding with green accents to your wedding day attire. Add a green jacket and sash to your wedding dress, and have him wear a matching green shirt and boutonniere! And of course, a Just Married sign made of clovers is the perfect accessory for your big day.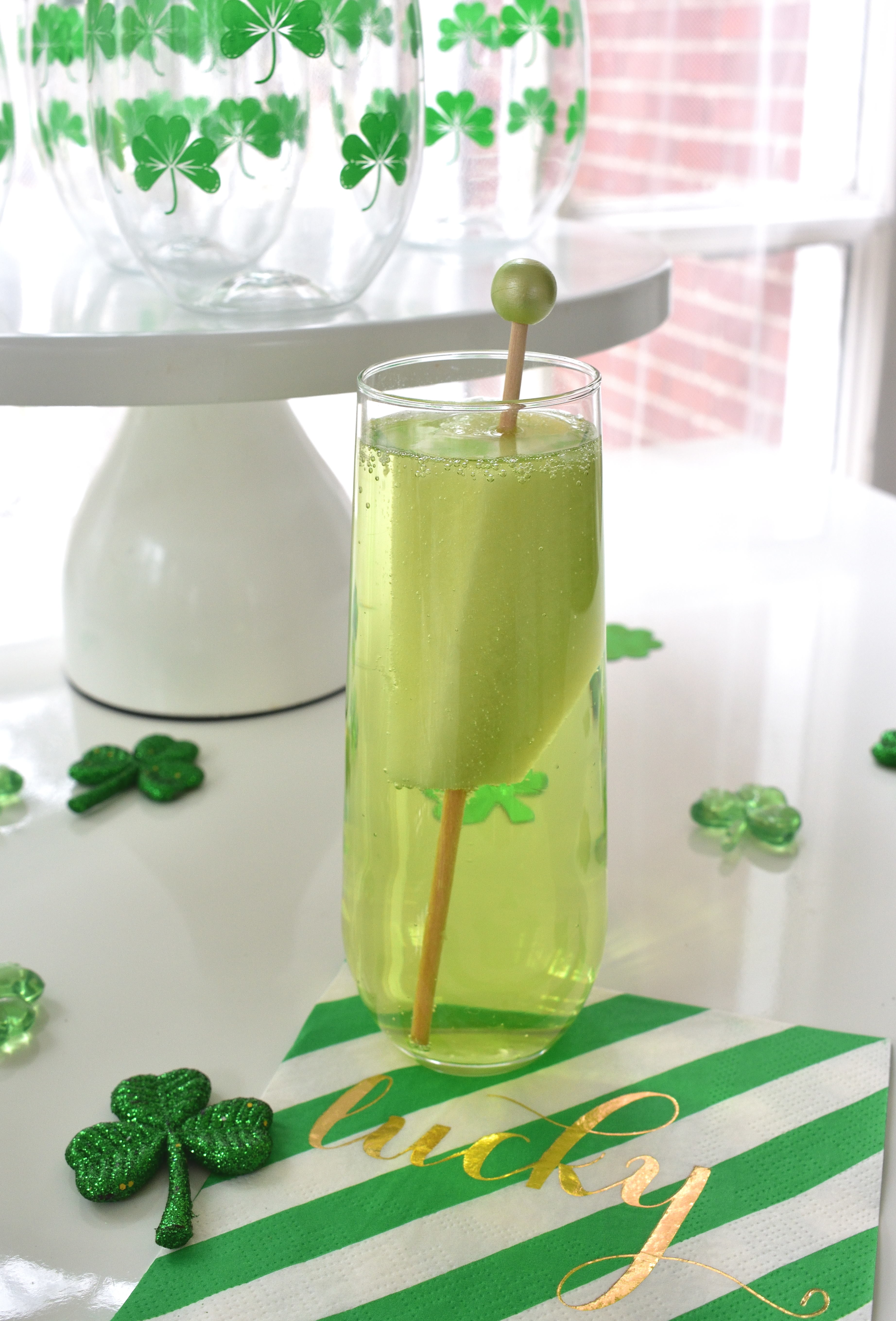 What St. Patrick's Day wedding would be complete without a green cocktail? This Sparkling Shamrock Cocktail is a mixture of your favorite champagne and Midori, which is a green melon-flavored liqueur. Garnish with honeydew melon balls, which also happen to be green!
Macarons were one of the most popular wedding desserts last year, and these green ones make the perfect display for your gorgeous engagement ring. Create a tower of macarons in assorted colors and flavors, or ask your caterer if they can dye them all green to fit your theme!
If you're planning on including your pooch in your nuptials, either as the ring bearer or another attendant, you can dress him up with a green shamrock bow tie! Everyone will love how dapper he looks in his formalwear.
These chocolate stout cupcakes with Bailey's Irish cream cheese frosting look so delicious we won't judge you if you want to do a trial run before your wedding! Top them off with green sprinkles and you've got yourself the perfect St. Paddy's Day dessert.
A bouquet of green carnations is simple yet striking, and would look absolutely stunning in your bridesmaids' hands as they walk down the aisle. Wrap your bouquet in white satin to differentiate from their dark green satin.
If your groom or his groomsmen need a little good luck charm on the wedding day, these clover cufflinks are the ideal accessory. Emerald green and gold are commonly associated with St. Patrick's Day, so these cufflinks will perfectly match your wedding's color scheme.
Combine two of the best indulgences, beer and cake, with this Guinness groom's cake. Make it a truly tasty treat by having chocolate Guinness flavored cake on the inside and delicious Irish cream cheese frosting to decorate!
Offer an Irish buffet of goodies, from mini shepherds pies to fish and chips and Irish whiskey caramels to Guinness pudding. We suggest serving everything in mini form so guests can try a little bit of everything!
When you're putting together your floral centerpieces, what better flower to include in an Irish-themed wedding than Bells of Ireland? These pretty green stalks look great in clear vases alone, or paired with white peonies or roses.
Whether you are honoring your Irish heritage or you want to celebrate your favorite holiday, St. Patrick's Day can be a wonderful theme for your wedding. You can add small touches to your wedding décor, such as table settings, place cards and green desserts, or you can make it a big part of your day with your color palette, reception decorations, centerpieces and your outfit. No matter how many Irish-themed touches you add to your wedding day, having a St. Paddy's Day themed wedding is the perfect good luck charm for your marriage.
Wedding Symbols for March Celebrations
March is the first month of spring, and like the season, March is known for new beginnings, growth, and happiness. Daffodil flowers, lucky shamrocks, and aquamarine gemstones all represent March and can bring special meaning to your wedding day. Emily Dickinson once said, "March is the month of expectation, the things we do not know." A March wedding can bring great expectation and continual surprises for newlyweds.
March brings rejuvenation and a chance for new beginnings. Getting married between March 1st and 21st brings romance, creativity, and full imaginations to your lives. Couples married between March 21st and 31st experience independence, adventures, and boldness in their relationships. The first month of spring weds couples who honor their identities both as individuals and partners. March newlyweds seek rejuvenation as individuals and growth as a new family.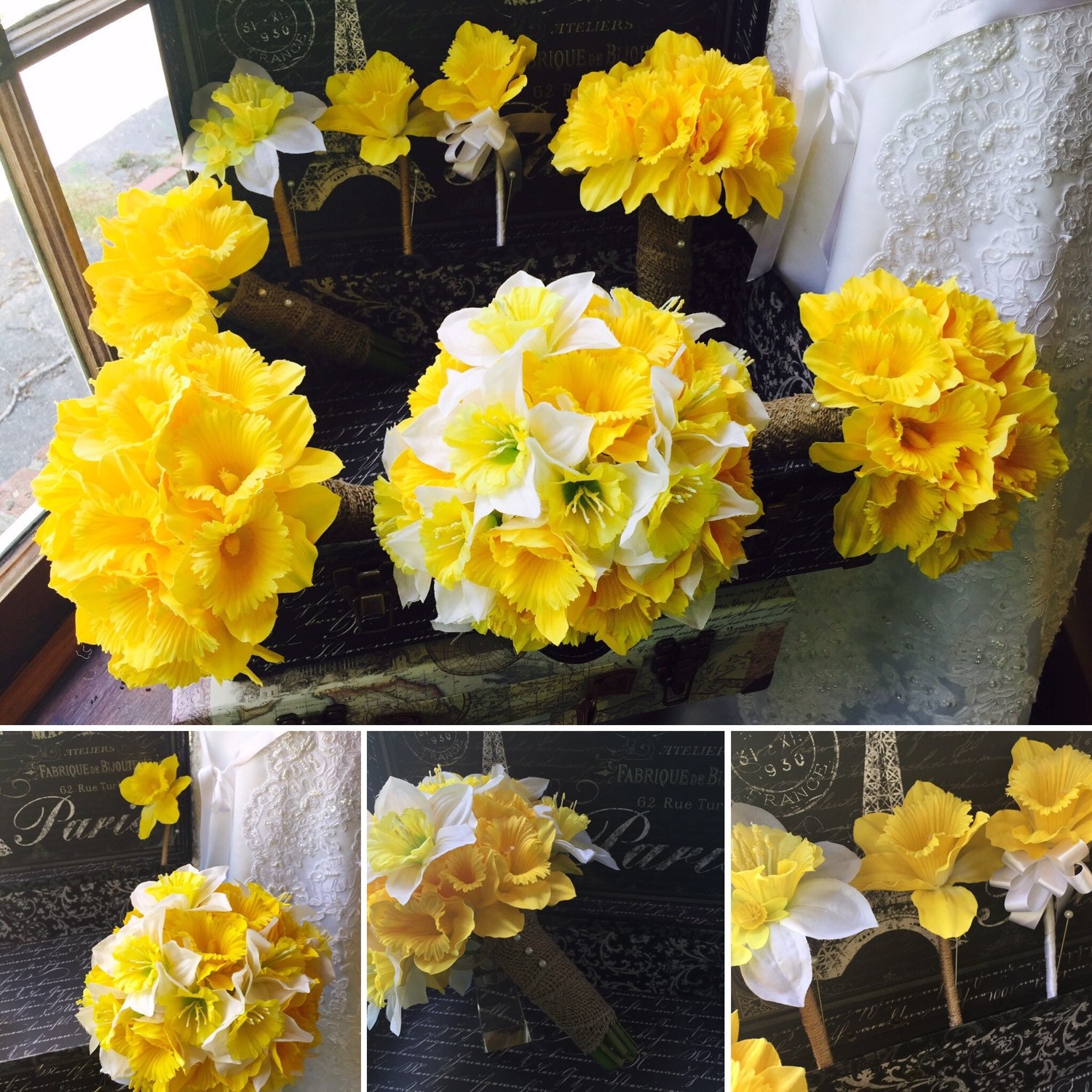 March is widely known for it's springtime flower, the daffodil. The daffodil stands for forgiveness, trust, honesty, and true love; a great reflection of what awaits in your marriage. Daffodils are some of the first flowers to blossom in spring. They represent rebirth and new beginnings.
The shamrock is also a well-known flower associated with March. Shamrocks are known for their ability to endure any challenge. They are stubborn in their determination, and extremely lucky! While you don't have to incorporate daffodils or shamrocks into your March wedding, they hold great symbolism for aspects of successful marriages: trust, honesty, true love, endurance, and determination.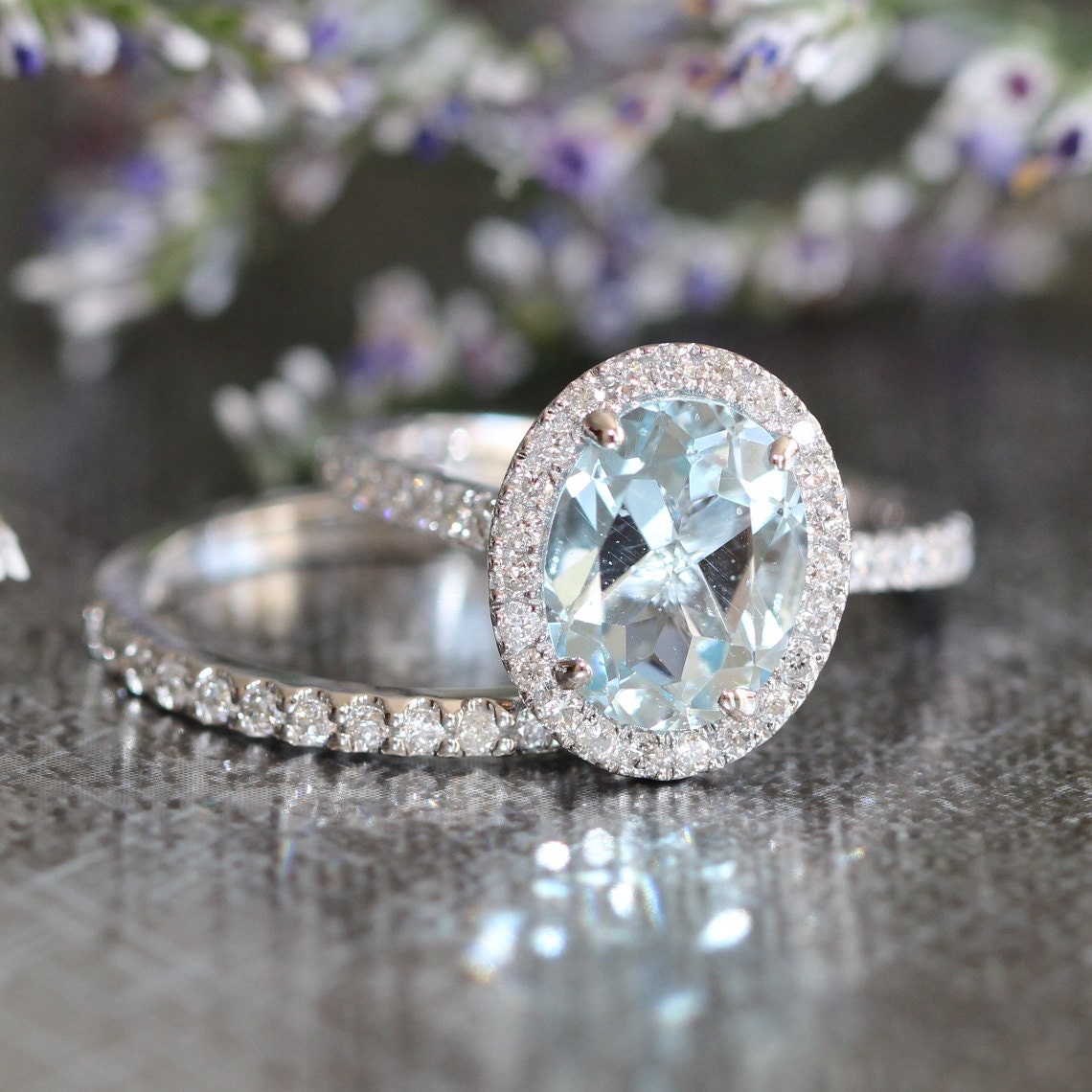 The gemstone of March is an aquamarine. Literally translating to mean "water-sea," it was named because of the beautiful blue color that emulates the color of sea water. Ranging from medium to light blue, the aquamarine represents youth, health, and hope for your marriage. This gem was also used to protect sailors on sea voyages, and can be a symbol of a safe voyage through marriage for you and your husband. Likewise, the pale color blue symbolizes the ability to keep a cool temper and remain calm in all situations. The aquamarine gemstone embodies a calm voyage for the entirety of your married life.
Congratulations for your upcoming special day!
Your Wedding's During March Madness? Don't Fight It…Include It
Mid- to late-March is one of the smartest times for a budget wedding, but it's also prime time for NCAA March Madness. If it's just hitting you now that your guests are going to be disgruntled about missing the games, if you're disgruntled about missing the big game, or you're worried that everyone's going to be watching the games on their phones during the reception…here's how to drop the stress and work March Madness into your wedding weekend. Your bracket-obsessed guests will love you for it, and your day can become even more you when you're both college basketball fans as well.
Theme your desserts.
It's too late to change your wedding cake into a UConn-blue confection (if you'd even want to) but you can get or make college-color and –logo cupcakes, cake pops or cookies to add to your dessert bar, or serve at your welcome cocktail party, rehearsal dinner, or after-party.
Name Your Drinks
Having signature cocktails is a big trend at the bar, so give your drinks hoops-themed names, like 'The Layup' or 'The Half-Court Shot.' If you have favorite players or coaches, name drinks after them. Syracuse fans could serve the 'Orangeman' creamsicle cocktail.
Make a Team Spirit Photo Display
Separately from your elegant family photos table, make a photo display of you and your friends at college games, with your faces painted, cheering a big win. Perhaps this can be an easy, free décor feature at a wedding weekend event, like a barbecue at your house (with the games on TV, of course.)
Watch the Game on Your Phone
At the rehearsal dinner, put guests at ease by saying, "We not only allow watching the game on your phone, we encourage it!" They'll love not having to hold the phone under the table, getting the evil eye from their spouses.
Wedding Party Introductions
Make your introduction into the reception just like the start of a game. Play stadium music, and have the emcee introduce each member of your bridal party, and you, by 'name, position, and alma mater'…which is really fun when the ring bearer walks in while the announcer says, 'Jacob Smith, ring bearer, Park Elementary Schooool!"
Copy television sports 'player' introductions with an easily-shot and friend-edited video showing each of your bridal party members in serious, 'game-face' saying their name, position and alma mater.
Bouquet Toss
Borrow a friend's child's Nerf basketball hoop set and toss your bouquet to make a basket, if you weren't planning to toss it to the single ladies.
Garter
Wear a garter in your school colors
Go Ahead and Watch the Game
Accept that guests will watch the game on their phones during the reception. Don't get angry about it. Guests don't have to be 100% focused on you the whole time, but have the emcee say before big moments like the toast, "May I direct your attention to the dance floor for the happy couple's first dance?"
Consider having the television on at the bar during the reception. During the later hours of the reception, when it's just dancing and dessert time, guests will love your consideration, and also love getting the chance to watch a game with friends they haven't seen in a long time. Yes, they're going to cheer and get loud, but that's just how it goes. It's not going to work asking a friend to 'shush' them, but the site manager can approach the group to ask them to dial it down if they're getting too loud or using R-rated language at bad ref calls.
College Alumni Friends
Take photos of your alumni friends to send in to your college alumni newsletter…many colleges' social pages feature alumni groups at weddings.
March Madness might not have been in your wedding dreams when you first started planning, but when you adjust and bring in basketball elements now, with easily-planned last-minute details, your wedding becomes a tremendous success for all.
Timing is Everything
How Dates and Times Affect Wedding Costs
The term wedding season refers to the months from the late spring to the early fall when the weather is beautiful and most engaged couples choose to get married. As with any other type of season (swimsuit season, ski season, Halloween candy season…), everything is more expensive when it's at the height of its popularity and at a discount during the off-season. Consider the basic economics concept of supply and demand: if there is a high demand for something with a limited supply, the price of this item will be much higher. This concept can be applied to the cost of your wedding – if you want to get married during the most in-demand time, the price of everything will be substantially higher than if you were to get married during a less popular time.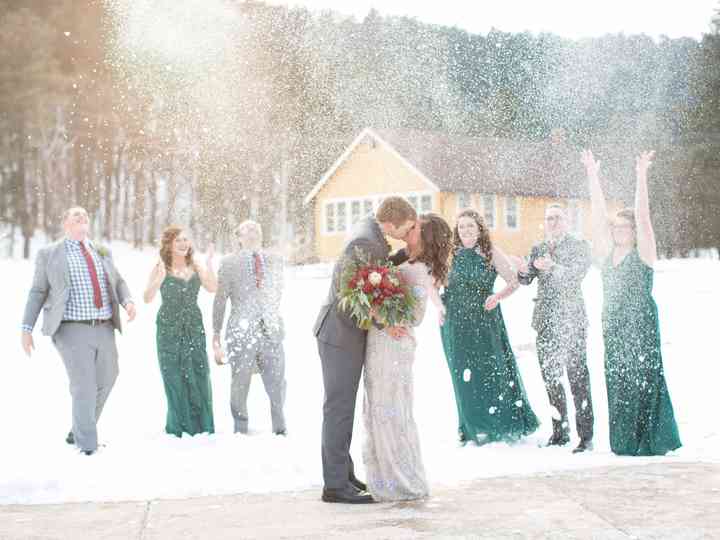 The Least Expensive Time Of Year To Get Married
As mentioned previously, late spring to early fall encompasses the most popular time to get married. This means that if you are planning a wedding between May and October, you can expect vendors to charge more and to be booked quickly. February and December are also in-demand months to tie the knot thanks to Valentine's Day and Christmas. Therefore, the cheapest months for your wedding would be January, March, April and November. During these months, vendors are typically more available and less expensive. If you're planning on getting married indoors and the weather won't impact your day much, then having your wedding during this off-season is a great way for you to save on your overall budget.
The Cheapest Day Of The Week For Weddings
Saturday is the most popular day of the week for weddings because it is the day that most people have time to attend. Friday evening receptions require people to rush to the event after work and Sunday weddings are tough to make if people need to travel from out of town. Monday through Thursday usually aren't considered by many couples because they think that asking their guests to take time off work to attend their wedding is too much to ask. This means that ceremony and reception venues, as well as most other vendors, will have less expensive rates on weekdays and Sundays.
Although Saturdays are the most convenient day of the week for guests to attend, you shouldn't necessarily rule out a weekday or Sunday wedding immediately. If you are having a small wedding, your guests may be able to request the day off with enough notice. Or, if you're having a destination wedding and you already know your guests are willing to travel, then having your ceremony on a weekday could be a huge money saver versus having it on a Saturday.
If you want to keep your wedding on a weekend day, Sunday brunch celebrations are a wonderful wedding trend we love. Vendors will be less expensive, your guests will be able to attend without having to give up their Sunday nights and you get to serve delicious brunch food and mimosas.
The Best Time Of Day To Tie The Knot
I've already established that Saturdays from May through October are the most popular days to get married, and as such are generally the most expensive. But what about the time of day? The traditional wedding reception includes dinner for each guest, either as a plated meal or buffet style. On top of the meal, you'll probably also include drinks and hors d'oeuvres during a cocktail hour and alcohol for the remainder of the night. Food and beverages quickly add up to be one of the biggest expenses for weddings, and the time of day that you choose to hold your celebration can greatly reduce the total cost.
Breakfast and lunch are lighter meals that cost less than dinner. Guests tend to drink less during daytime gatherings, so your alcohol bill will be lower as well. Another popular wedding trend is to have an early afternoon wedding that ends with a cake and champagne reception rather than serving a full meal. Or, you could host a late afternoon wedding that is followed by a happy hour-style cocktail party, serving hors d'oeuvres, finger foods and drinks. By carefully choosing the time of day and type of reception you'll have, you will be able to spend a fraction of the cost on your wedding.
So When Should I Get Married?
Now that you understand how dates and times can greatly affect how much things cost in your wedding, there are a few things that you should consider. For example, is staying within a certain budget your number one priority? If so, then choosing an off-peak date and time would be a great option for you. If you have some flexibility with your budget, then you can shop around with vendors to see how much their rates vary from date to date.
Your guest list should also be considered when planning an off-peak wedding. If your guest list is rather small and consists of people that would be willing and able to take time off work to come celebrate your love, then a weekday wedding might work well. If you have a large guest list, or have many people attending from out of town, then you may want to stick to a Saturday wedding for convenience. However, opting for a morning or early afternoon event would be a great way to cut costs.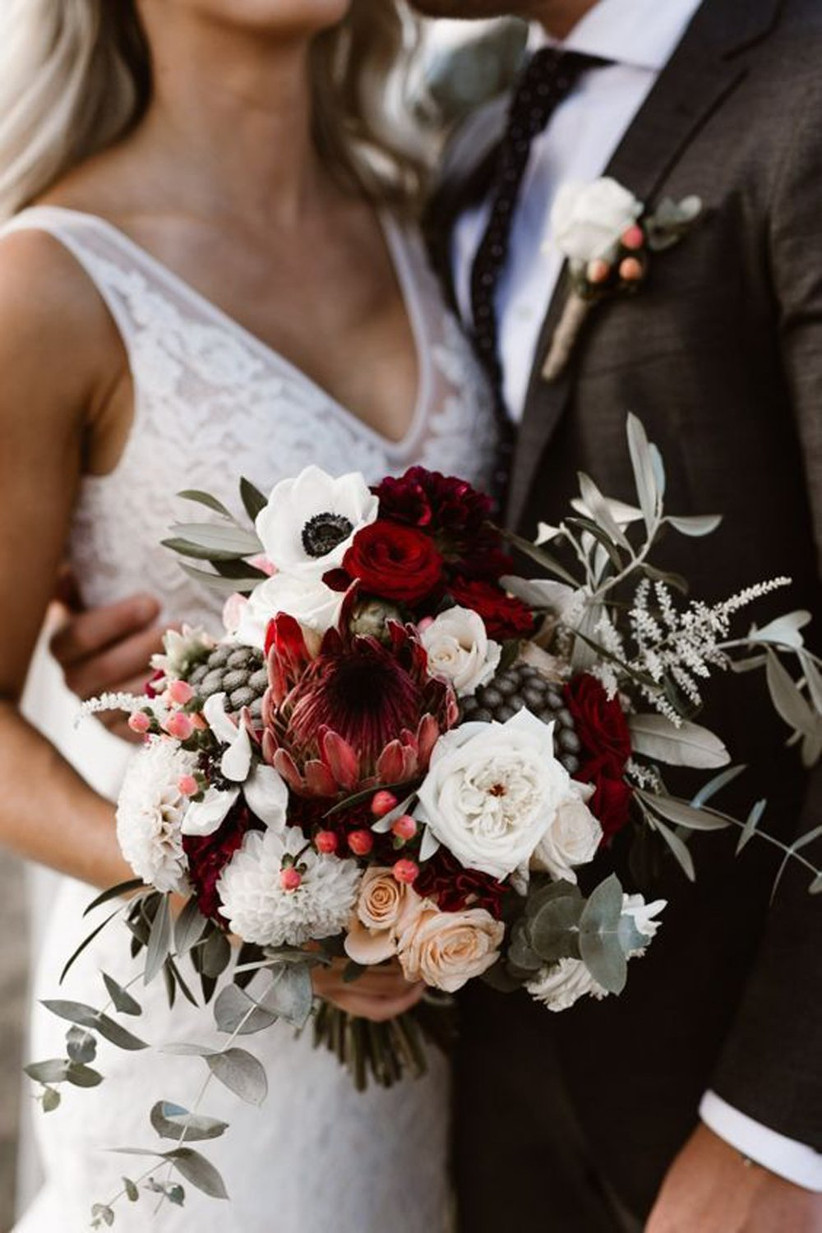 Remember that although certain times and dates are off-season for weddings, reception sites such as hotels may be busy during the week due to conventions and trade shows. Check with your vendors to see if your wedding will be competing with business travelers; if so, rates won't be as low as you're expecting. You'll also want to choose flowers that are in season for the date you've selected. Wedding flowers that are currently in season will be far more affordable than those that are not in season. There are many different factors to consider when choosing your wedding date. While budget and convenience are huge, you shouldn't sacrifice too much in order to make your dream wedding come true. Find a happy balance between budget, timing, convenience and availability for all your vendors and guests and you'll be set to marry on the perfect day.
Wedding Symbols for February Brides
February weddings have a special charm no matter what the weather is where you live. You could have a sparkling, snowy ceremony or a warm beach side reception, but either way, February is the month many of us associate with love, and the perfect time for a wedding.
Just like every other month, February has a lot of symbols and is associated with beautiful gemstones like amethyst or flowers like violets. Whether you choose to use these in your wedding or not, it's always interesting to learn about the month that will be meaningful to you from your wedding day on to forever!
In Scandinavian countries, February is known as the "month of the pearl." This is taken to mean that you and your husband will have a rare and valuable love throughout all your days. Marry in the first half of this month, between February 1st and 15th, and it's said that your future children are sure to be devoted and caring toward you. Tie the knot in the last half and you will supposedly have good luck throughout your lives together.
February is a unique month because of the possibility of a leap year. A wedding on February 29th is considered especially lucky, along with nuptials scheduled for February 6th or 18th.
The stone of February is amethyst – as you'll know if you have a friend or family member with a birthday in this month. Wear it on your wedding day and it's said to bring you clarity, tranquility, and wisdom, along with helping you leave the past behind and embrace your new future.
If you're looking for bloom inspiration, the flower of February is the violet. The symbols say when using violets in your bouquets or decorations, you'll be known for your sympathetic and patient nature, which will carry with you into your marriage.
Congratulations and best wishes with the finishing touches on your wedding!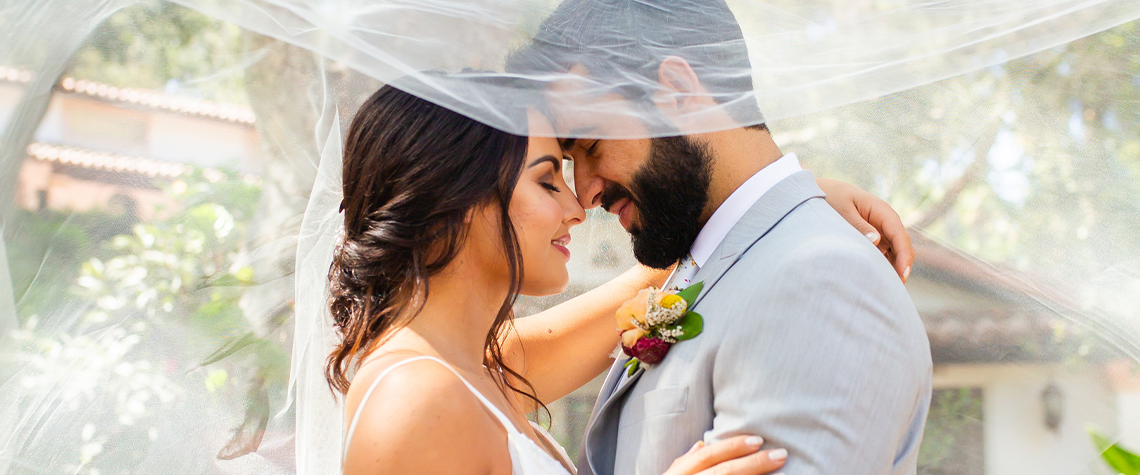 The Best Day to Get Married
The calendar year is full of holidays, and you (and your guests) lead busy lives with work and family obligations. Settling on the best day to get married is more challenging than expected, especially at certain times of the year.
Let my guide simplify things for you. I've got answers to the most common questions about wedding dates, as well as tips on choosing the right one, steering clear of holidays, and lucky wedding days. Break out the calendar, grab a pencil, and let's get started!
What's the best day to get married? Your questions, answered:
1. What day of the week is best for a wedding?
Hands down, Saturday is the most popular day of the week for weddings. Many people have off from work, and it gives out-of-town guests Friday evening and Saturday morning to travel. It also gives you and your guests Sunday to recover from the festivities before it's back to work or honeymoon time.
Today, however, people are increasingly choosing weekday weddings. They're more affordable than Saturday and Sunday weddings, and the venues couples want are more available.
2. What are the most popular months for weddings?
September, October and November are increasingly popular wedding months, and the number of fall weddings have overtaken classic spring and summer weddings. Of course, May or June weddings will always be popular.
Still, keep in mind that people get married throughout the calendar year. From destination January weddings in Colorado to backyard summer bar-b-ques in New York, there is no wrong month to get married. These three questions can help you and your beloved narrow down your wedding month:
Is there a month that has special meaning for you? Perhaps you met during a hiking outing with friends and would like to go hiking with guests in the days before or after your wedding. A wedding in June or September gives you the best shot at cooperative weather. Or, perhaps you want to honor the birthday month of a family member who passed away. Choose your favorite time of year, or a significant date to help zone in on your perfect wedding month.
Are you throwing a wedding on a budget? Generally, the deep winter months (January, February, and March) are the most affordable for weddings. All the better if you're a couple who cherishes cozying up in the winter months or enjoy winter sports together.
Is your venue of choice booked during the summer or spring? Popular wedding venues book early for spring, summer, and fall weddings. If you're flexible, your venue of choice may be able to accommodate you in February.
3. Can you get married on a Monday?
Yes! Monday is a great day to get married, especially if you're throwing a wedding with a tight budget. Weekday weddings are typically more affordable, with Monday being most affordable and increasing in expense as you get nearer the weekend. Of course, the differential will vary between venues — high-end venues are high-end every day of the week.
If planning a Monday wedding, remember many government holidays fall on Mondays. Some of them may cause scheduling conflicts and issues with long weekend traffic or booked hotel rooms. If you want to get married at town hall, official Monday holidays are definitely out.
4. Can you get married on a holiday?
Getting married on or near a holiday can seem like a good idea. Family is perhaps already gathered, there's a festive vibe in the air, and most venues come already festooned with cheerful holiday decor. However, the downsides come to mind the moment you start pondering the possibility of a holiday (or holiday-adjacent) wedding.
Pros of getting married on a holiday:
It's easy to remember your anniversary date.
Your family may already be gathered together to celebrate.
Friends and family may get particular holidays off from work, so they won't have to use as much vacation time traveling to and from your wedding.
You've got a themed wedding already built-in.
In the future, you get to celebrate two special events in one (your anniversary plus the holiday).
Cons of getting married on a holiday:
Friends and guests may already have plans to spend time with their family during the holiday.
It's an expensive time of year, and your guests may not have extra for your wedding.
Major holidays are a stressful time to get married. Stores, restaurants, roadways, and hotels are crowded.
Your wedding date may feel less special in comparison to a major holiday.
5. Can you get married on Christmas Eve or Christmas?
Even if you don't celebrate Christmas, December 24th and December 25th are tough wedding dates for many reasons. Some of your invitees may prefer spending these days with close family, even if you give them plenty of notice. Travel can be seriously snarled at this time of year. And, finally, many venues may be closed on these dates so their staff can enjoy the holiday, or booked for holiday parties.
That said, you might be able to pull off an intimate wedding with your closest friends on Christmas or Christmas Eve — just be sure to talk to everyone about your plans and make sure the key players are excited by the idea. Another idea is to plan a destination wedding in Costa Rica, where late December is an ideal time to visit. Your small group of close family and friends will have a Christmas to remember.
6. Can you get married on New Year's Eve?
Yes. People love celebrating New Year's Eve with friends and family, but they're also usually more flexible with their plans for this holiday. Why not ring in the New Year with your nearest and dearest after tying the knot? Many venues will even have their holiday decorations on display through the New Year.
Some key considerations if you have a New Year's Eve wedding:
Make sure the venue is willing to host your celebration past midnight. Your guests shouldn't have to welcome the New Year in transit or get stuck organizing a mini-celebration at the hotel bar.
Make a clear countdown plan with your wedding planner.
Make sure everyone has a designated driver. Combine New Year's with a wedding and chances are some people will over-imbibe. Hire a limo or van to take out-of-town guests from the venue to the hotel. Or, purchase rideshare passes your guests can access with a special link.
Offer your vendors an extra tip for working on the holiday.
Don't forget that there are holiday travel challenges during the entire holiday season, which extends to January 2nd.
7. Can you get married on New Year's Day?
There are significant downsides to getting married on New Year's Day. Your guests may have overdone it during their New Year's Eve celebrations. Similarly, your vendors and catering staff may have celebrated later than planned and be off their game on your big day. Finally, many businesses are closed, making last-minute errands a challenge.
8. Can you get married on July 4th?
Yes, but there are more cons than pros to choosing this date. On the pro side: July is a popular month for weddings, your guests may have time off from work, and venues may offer you a discounted rate because it isn't a competitive date.
On the negative side: People often plan long weekends or mini-vacations around July 4th. Also, depending on the location of your wedding, this can mean clogged roads, busy airports, and booked hotels.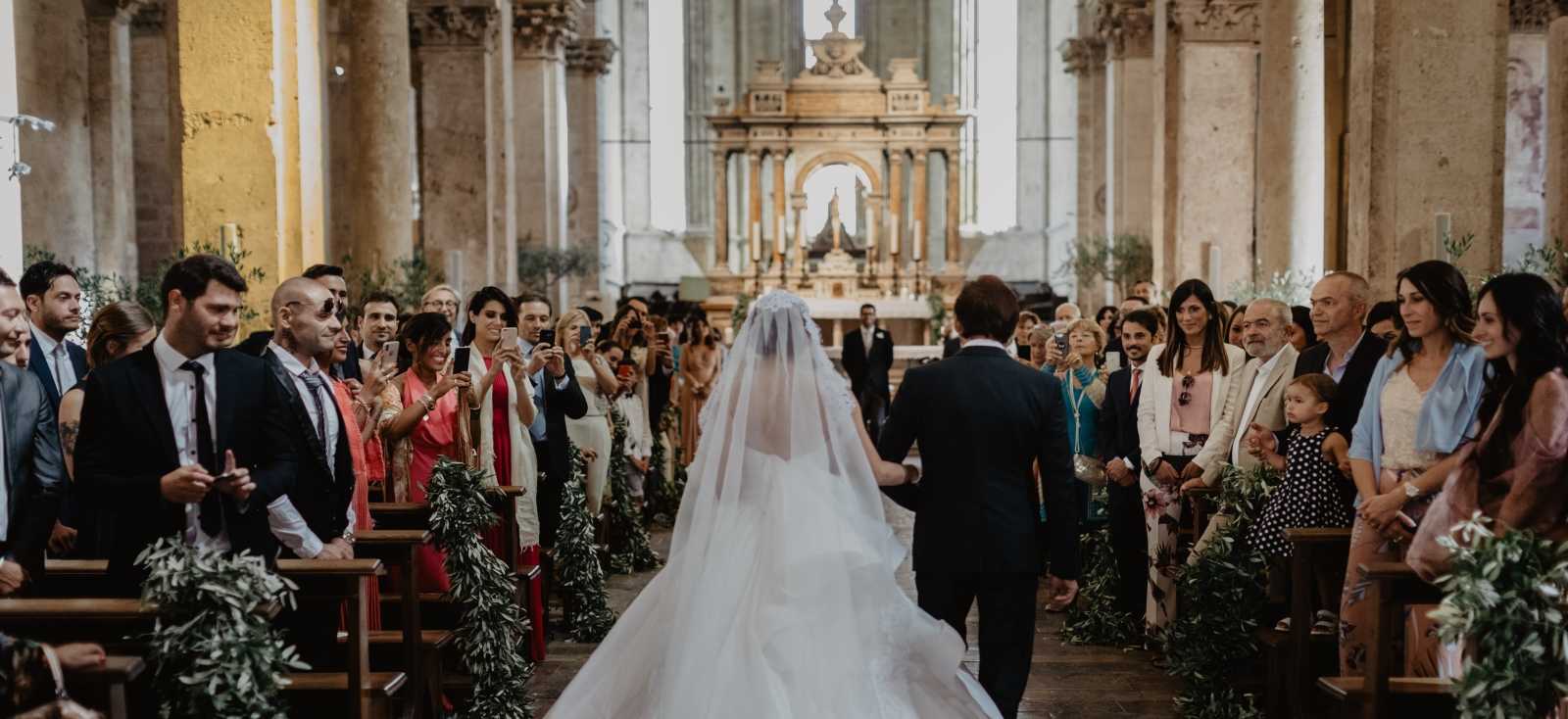 9. Can you get married on Good Friday? Or on the Sabbath? Or during Ramadan? Or during Sukkot?
For religious couples planning a wedding — whether they are Muslim, Christian, Jewish, Buddhist, or another religion — the question of wedding dates and holy days arises. Are you allowed to get married on religious holidays in your tradition? These dates can also be an issue for couples who aren't religious, but have close friends and family who observe the holidays. Finally, in many instances, getting married in your house of worship on a religious holiday probably won't be possible because of scheduled services.
Ultimately, this is a decision you must make based on your beliefs and your religion's holy days. Talk with close family and friends, and seek guidance from a trusted religious leader, and you'll figure out which dates to remove from the running.
10. What are some of the luckiest and unluckiest days to get married?
Do you or your partner have a superstitious streak? Folklore, culture, and ancient superstitions give meaning (positive and negative) to specific dates. It's also possible you think sharing your wedding day with another special day is lucky — or unlucky. Your preferences will be personal, but superstitions to consider include:
Numerology. Dates with strong numerical patterns are considered lucky, such as 2/21/21, 11/11/20, or 2/22/22.
Special dates. Your engagement date. The anniversary of your first date. The birthday of a loved one. The date a loved one died. These important dates may be ones you feel strongly about selecting or avoiding.
Phases on the moon. Weddings held on a full moon are thought to be stable, happy, and prosperous. In some folk traditions, a decreasing, or waning moon, is considered unlucky timing as this is a time for endings.
Ides of March. This day (March 15) marks the date of the assassination of Julius Caesar. But unless you're a fan of Shakespeare, "Beware the Ides of March" probably has little meaning. Theater buffs may even find this an auspicious day to get married.
Leap years. Every four years, the month of February has an extra day. Various superstitions arose around the date (February 29), including the belief that marriage on a leap year would end in divorce.
Friday the 13th. This date is associated with terrible luck and a well-known scary movie. In certain cultures, however, the number 13 is considered lucky.
Black Friday. The Friday after Thanksgiving is a challenging day for a wedding because people are recuperating from their Turkey stupor and may still be with family. It's also a busy day on the roads because of holiday shoppers looking for deals.
Birthdays. You won't likely forget an anniversary down the road with a wedding on one of your birthdays. But, be considerate of the birthdays of close family and friends, and deliver a special cake and round of 'Happy Birthday' to anyone having a birthday on your wedding day.
11. What other days should you keep in mind when choosing your wedding date?
Getting married on Fat Tuesday (AKA Mardi Gras) is probably only an issue if you live in New Orleans. And, while a holiday like Halloween is a popular wedding date for some people, it might be an issue for guests with young children or a passion for cosplay.
Pick the wedding day that's right for you!
Some of the dates on this list aren't official holidays, but are nevertheless celebrated widely. Only you can decide the best day to get married, based on your preferences and personal history. If you met your future spouse on St. Patrick's Day, then that could be the best day for your wedding!
Keep in mind: Picking a wedding date that works for all of your guests is impossible — and you shouldn't try. But it's smart to discuss the above dates, as well as significant personal dates, with close family and the wedding party before choosing your special day. This will avoid conflicts, complaints, and possible April Fool's jokes on your wedding day — if that doesn't appeal to you and your beloved.
11 Must-Do's to Book a January Wedding
January may well be the most popular wedding month for couples who want to celebrate their special day with sparkling snow, chilly air and a crystal sky. Everything about a winter wedding seems magical, just like a fairy tale movie, but if you want your wedding in the winter, you'll have to pay attention to the calendar. I've collected the 11 most important things you must do to claim your date for an enchanting January wedding.
1. Start A.S.A.P
As much as possible, start planning your wedding 12 full months prior to the date, or at least the first minute after he puts that ring on your finger. That way, you'll be able to grab more chances and opportunities because when it comes to January weddings, the earlier you start, the better.
2. Work with a Wedding Planner
Hiring a wedding planner will make everything go more smoothly. He or she will most likely name a few companies that can provide January reservations for you. However, there are several factors that you need to consider when choosing a wedding planner in order to ensure that it's a team effort and that you can confidently rely on him or her to assist you.
3. Chat in Person – No Obligation
Schedule coffee meetings with 2 or 3 different planners. These initial consultations should be no charge—so if someone wants to charge you for a consult, move on. Don't rely on a phone call no matter how well you feel you hit it off. Always have a face-to-face meeting before booking.
4. Watch for Holiday Cards
Widen your range of options as much as you can. Some companies send holiday cards to their potential clients, or your wedding planner could look for you. If you have professional contacts, you should start talking to them as early as possible.
5. Keep Looking Even During Holiday Season
Even if you're busy enjoying the holiday with your friends and families, don't forget to keep scouting for January booking opportunities. The majority of non-winter wedding brides don't work on their weddings during the holidays. Therefore if you use this as an advantage, you may be able to grab the first and best reservation you find! This is something else your wedding planner can help you with while you take care of family things.
6. Scout Wedding Blogs & Websites
Most wedding venues have their own blog and website. To stress less, just sit in front of your computer and search for possible January venues and vendors. If you're lucky, you just might find one with lots of promos and discounts during the holiday season.
7. Pay Attention to Advertisements
This is one time those pesky pop-up ads may work in your favor. Pay attention especially if they're about wedding reservation and bookings. This is one great way to snag January wedding booking opportunities because most companies nowadays are posting advertisements in order to spread their brand and find more potential clients—like you!
8. Arm Yourself with Information
You should know it's not only you who wants to get married in January. Those brides who don't have their hearts set on a June wedding with orange blossoms sometimes dream the exact opposite and begin to imagine gently falling snowflakes. Be aware of the competition and especially if you know next to nothing about booking wedding reservations, do a thorough search and talk to your wedding planner.
9. Consider All Worst-Case Scenarios
It's crucial that you ready yourself for unexpected circumstances and worst-case scenarios. It may sound silly, but what the company you chose suddenly goes into bankruptcy and has to cancel your reservation? And of course, there's always the risk of accidents due to the weather. As much as possible, deal with multiple companies, or if you prefer, go for a more traditional wedding scenario with a tried and true company. It might be worth it to sacrifice a little originality for wedding day peace of mind.
10. Picture Your Wedding Day—Realistically
One of the most important reasons you may want to get married in the month of January is the magical atmosphere and the fairy tale scenario of winter all around as you walk down the aisle. However, do not rely on daydreams only. You have to be realistic and thoroughly visualize your wedding day taking place in January—including everything that can possibly go wrong—and then decide if it's worth investing the serious money involved with a wedding.
Take a good, hard look at all of the disadvantages—snowstorms, closed down airports, icy roads, overcast skies, power outages, insufficient heat in reception and ceremony venues—not to mention VIP guests who may object to a wedding in the dead of winter and not want to come, no matter how much they love you.
It's no fun, but you really do need to play devil's advocate and listen to all objections thrown at you by friends and family. You may decide to go ahead with your January plans anyway, but at least you'll have prepared yourself. There may be important people missing, or timelines rearranged by the weather, but at least you won't be stranded on your wedding day, totally lost on how to solve a problem you never worked through ahead of time.
11. Deal with a Reputable Company
Before you sign a contract or any written paper regarding any booking for your January wedding, triple-check the company's credentials. A wedding is a serious investment so run a background check—or have your wedding planner do so—and read reviews, blogs, and posts to help you evaluate each company's reliability.
Walking down the aisle in January may make your wedding day as sparkling as the snow outside. But you need to act fast and be thorough, so follow these tips and make your winter wedding day as glittering as that diamond ring on your finger!
We're Engaged, Now What!?
Congratulations on your engagement!
There are exciting times ahead but right now, you're just crazy in love, right?
But that's when they get ya..
Like it, or not you are going to be on the receiving end of a lot of advice and it will all start from the moment you announce your engagement.
So I wanted to give you a little heads up before you start planning anything.
You see, by the time my couples get around to booking me for their wedding ceremony, there have already been dozens of decisions made, promises sealed with handshakes, expectations set with immediate family and dollars shelled out.
And THAT part is okay – everyone's priorities are different.
Generally, couples will set a date, book a venue, and start pulling together a guest list long before we sit down to talk about their ceremony.
The part that saddens me is when brides and grooms sit in my meeting room and bemoan their decisions…as if they weren't their own.
Their wedding is already (and we're talking as fast as a couple of weeks after getting engaged) not what they want.
Because, very early on, they felt the weight of their family, friends and social expectation and caved into it before they listened to their own instincts or sometimes even asked each other what they want.
But what if we turned the wedding planning thing on its head; what if the journey WAS the destination?
What if I told you that you are ALREADY setting the tone for your marriage TODAY?
Would it change your attitude towards your engagement?
What if every decision you made about your wedding planning depended on only three things.
1) Enjoying your engagement and the planning process.
This means trusting your gut instincts.
Asking yourself, "Am I enjoying chatting with and feel comfortable around this photographer, makeup artist, venue manager, celebrant, florist?"
If the answer is 'no', then get out of there.
Is wedding planning taking up every single conversation that you and your fiancé have?
Yes? Then back off, or hire a planner, push the date back, delegate some tasks or simplify; MAKE IT FEEL GOOD.
Protect your engagement experience and your relationship, by prioritizing how you check things off your 'to do' list.
Because, if it doesn't feel good, it doesn't feel good.
And why are you doing this, if it doesn't feel good?
2) How do you want to feel on your wedding day?
You're getting ready the morning of the big day; how do you want to feel?
Pumped? Calm? In control? Relaxed? Giddy with excitement?
Each one of these feelings is linked inextricably to decisions that are made LONG before the big day, such as the people you choose to have in your bridal party, where you get ready, when you get ready, how you get ready and the suppliers/vendors you've hired.
Do you have to have music, or do you prefer peace and quiet?
Would you love to do a morning yoga session with your girls?
Do you need to get a jog in every morning to feel human or do you need industrial quantities of caffeinated beverages?
Do you feel energized in a group or are you more of an introvert?
Determine who you are, what you like and how you want to feel before you make the big decisions about your wedding.
The answers to these questions will be your compass and help to guide you in making the hundreds of little choices you will need to navigate in the coming months.
3) How do you want your guests to feel on your wedding day?
I say this to my couples all the time: "If you didn't care about your friends and family and how they feel, you would have gone to the registry office."
Am I right?
So, if you are going to the effort of planning a wedding where 2-200+ guests are assembled to celebrate your relationship, think a little about how they feel; put yourself in their shoes.
When they arrive at your ceremony will there be someone to welcome them?
Will you have signage, shade, water, music, a program to tell them what's happening?
Between your ceremony and your reception how will you communicate to them where to go, what they can do, if they're needed for official photos and when/where to meet at the reception venue?
I know what you're thinking: "aren't these points all covered with the invitation?"
And yes, but none of your guests will be holding an invitation on the day itself.
The list goes on and on and it is possible to get carried away with ultimately insignificant points and plans that no one else is even going to notice. But the core question I want you to come back to is this, how would this make my guests feel?
I'm guessing you are aiming for a mixture of happy, entertained, loved, included and relaxed.
But write it down.
Seriously.
Because, when things get crazy in your planning, having a written list will help you keep focused on what really matters.
So, before you make any more decisions about your wedding, maybe check in on:
1) how you are feeling right now,
2) how you want to feel on the day, and
3) how you want your guests to feel
Congratulations and good luck in your planning process! Remember I am here to listen and help in the planning process from your booking date until your wedding day.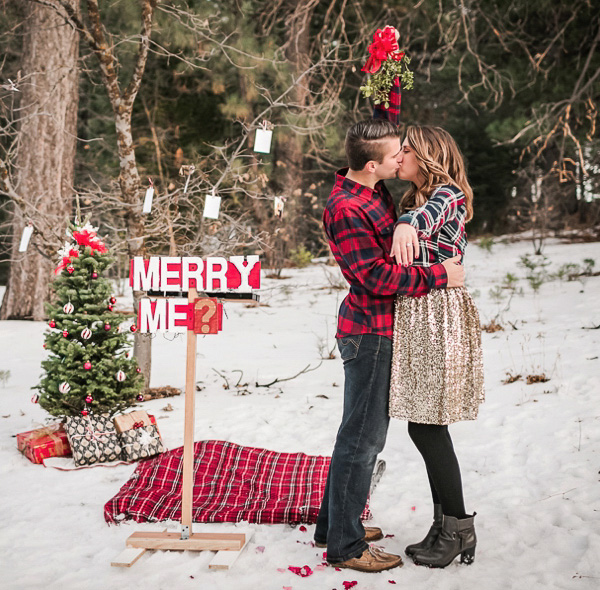 Perfect Ideas for a Christmas Proposal
It's my favorite time of year…for proposals!
The holiday season is just packed with perfect moments to pop the question.
The first snow fall, decorating the tree, and digging into your stocking, every day is filled with excitement and magic, even if you're a grown-up!
But with all the build-up, celebrations and anticipation, planning the perfect Christmas proposal can be tricky.
While fiances-to-be are often on the look-out for a surprise proposal over the festive season, and with so many proposals happening over the holidays, you want to make sure you have a sweet story to share.
So to help you plot an utterly romantic, memorable, and personal Christmas proposal, I've come up with ideas for making it even more special…
In The Snow
I love the idea of a proposal in the show, whether you're just out for a stroll, building a snowman (pop the ring on the stick hand!) or by leaving a proposal message in the snow outside your beloved's window.
Here is an amazing story I read when I was thinking about this post.
"An extra special version of this Christmas proposal was done by a friend of mine who's a helicopter pilot.
He treated his girlfriend to a helicopter ride over her hometown for Christmas, and as they flew over her house, her family were in the garden, with a massive "Will You Marry Me" written in the snow."
Now, we don't all have a helicopter at our disposal, but pretty romantic, right? Candles or rose petals on the snow work just as well.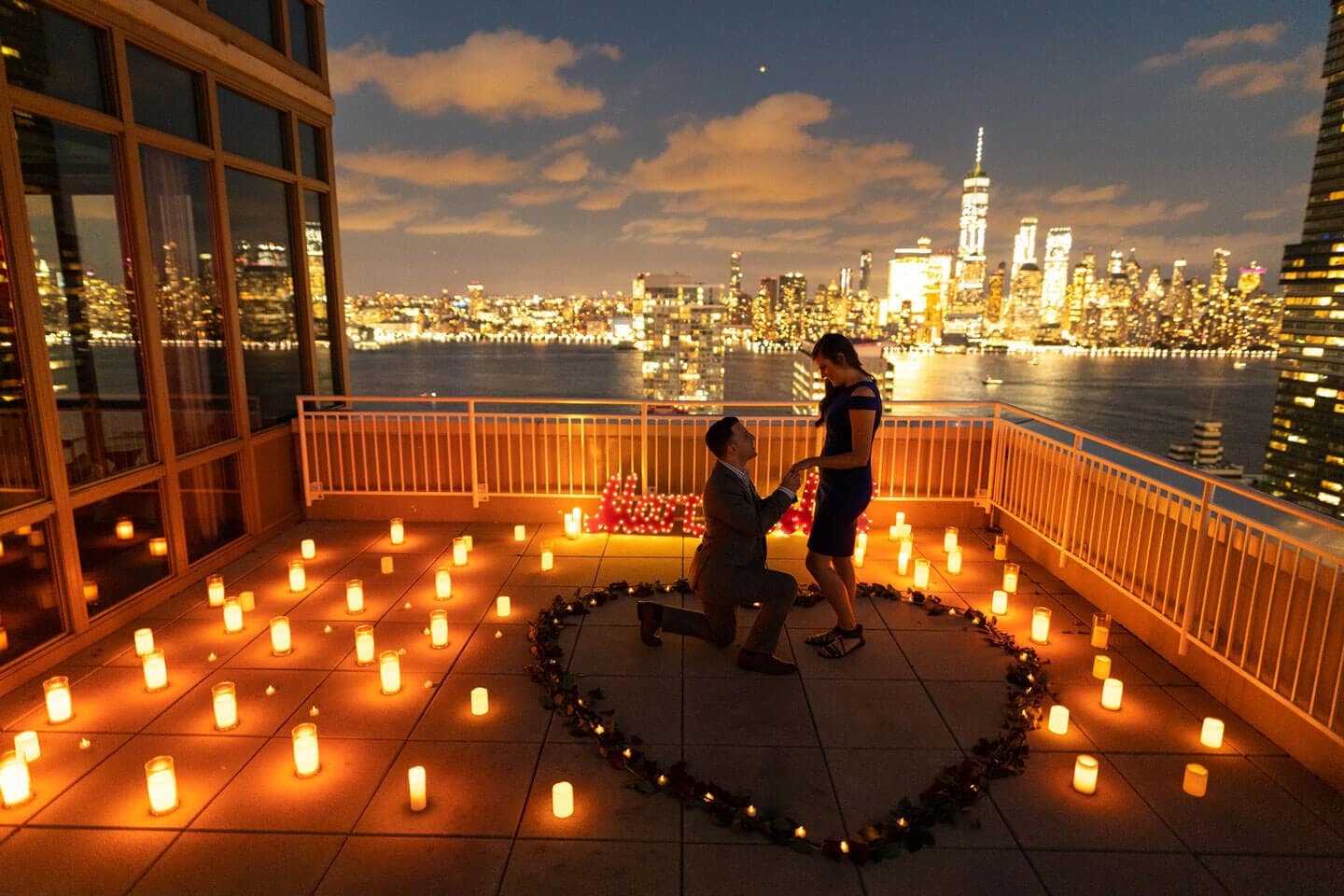 A Night in The City
There a few things more exciting than a night out in the city before Christmas. The lights, the buzz, the crisp weather, and lots of people rushing about and celebrating the season.
Book a nice restaurant, perhaps take in a show, and maybe even book a room in a swanky hotel. Tell your other half to get dressed up for a night on the town.
Then, at the perfect moment, whether it's outside a beautiful festive window, under a Christmas tree, or as carollers start to sing, pop the question.
The perfect proposal for a glamorous, cosmopolitan bride and groom.
Winter Picnic
I just love the idea of a picnic proposal, it's thoughtful and shows a little preparation while at the same time, being really intimate and low-key.
But you don't have to wait for summertime to plan a picnic.
You could plan an indoor feast by the fire, with lots of candles and pillows on the floor, or you could brave the elements with plenty of blankets, hot drinks, and maybe even a fire pit.
Either way, a winter picnic makes a very special story to tell forever.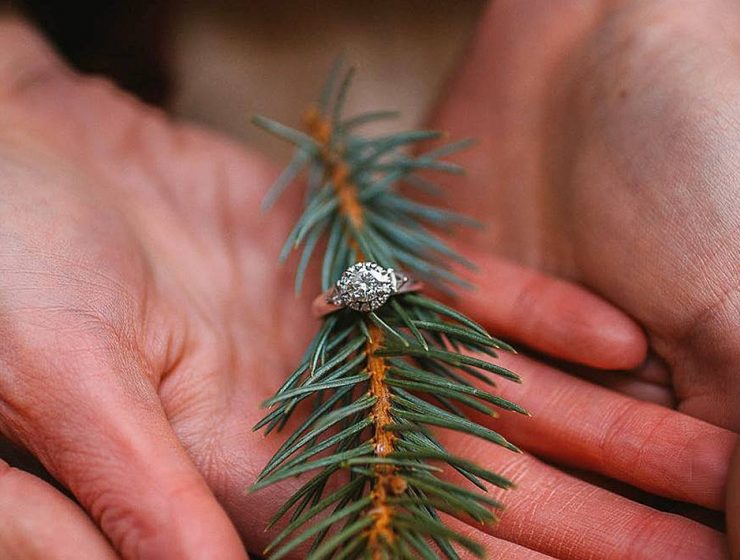 On The Tree
This is a classic Christmas proposal that, just like my favorite festive movies, never gets old!
My Dad placed an ornament on the tree when he proposed to my Mom back in the 1970's. My Dad placed the ring inside of a beautiful silver ball ornament with red velvet lining. My parents still hang their special ornament on the tree every year.
Or of course you could opt for the most sparkly decoration of all, and hang the ring itself on the tree instead.
Effortless, but so effective!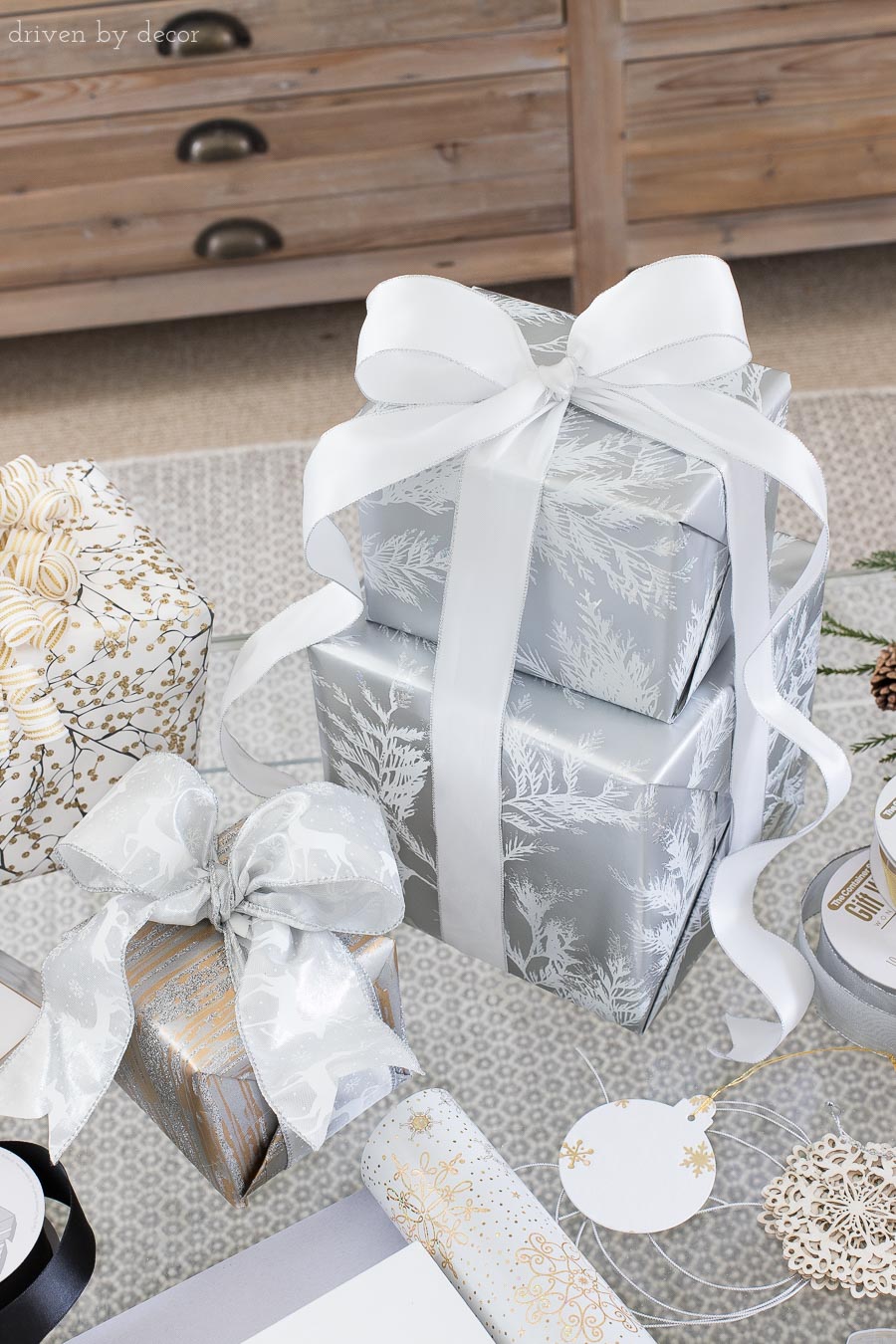 Big Box Little Box
If talk of marriage is on the cards, a lot of ladies are on the lookout for tell-tale signs of a holiday season proposal.
Throw them off the scent on Christmas morning, by presenting them with a really big box. You could cushion the ring box safely inside or for even more of a tease, you could adopt the Russian doll tactic, and build up the excitement as each parcel gets smaller.
My absolute favorite Christmas was when my husband ended up being my Secret Santa during our family gift exchange! He placed a beautiful "promise" ring inside of a larger box and completely surprised me!
We all know the best gifts come in small packages!
Into The Woods
A winter walk in the woods is such a sweet opportunity for a special proposal.
You could go for something pre-planned with solar lights or faux candles in a clearing (please don't light candles in the woods!), a picnic or a big banner. Or perhaps something impromptu in a pretty spot is more your style?
Don't live near the woodlands? A tree farm or tree lot proposal is a super romantic, utterly adorable alternative!
Drink Up
Hot drinks are a big part of festive nesting. Mulled wine, hot chocolate, chai latte, pumpkin spice, we love the lot!
Why not incorporate your other half's favorite winter beverage in a Christmas proposal?
From writing a note on their Starbucks cup, leaving a message at the bottom of their drink, using an adorable proposal mug, or asking them in a chocolate dusting with a personalized stencil, there are so many sweet, novel and cozy ways to pop the question with a cup this Christmas.
On The Ice
Question poppers take note: there are few places more romantic to pop the question, than in the center of a Christmasy ice rink.
With the string lights and the festive soundtrack, many ice-skating rinks are a fairy tale backdrop!
Some rinks offer date night skates especially for couples, you could speak to your local one about playing a special song as you pop the question or perhaps even arrange a private session on the ice!
Sweet Love
'Tis the season for stuffing your face. Mince pies, gingerbread, s'mores and selection boxes, seriously, we can't get enough.
If your other half has a sweet tooth, why not add a festive treat into your proposal?
Decorate a cookie with a diamond ring, dress your gingerbread man as a bride, or simply stick the sparkler in a s'more.
Just make sure your other half gets the message, before they take a bite!
Carollers At The Door
This is perhaps one of my favorite ideas for a Christmas proposal, and there's a couple of ways to do it.
You could rope in some local carollers (whether they're a choir of your pals or a real group of singers) to arrive at the door and serenade your partner, before you pop out to pop the question – Glee style!
Or, you could take a scene from one of my favorite Christmas movies, Love Actually, and arrive at the door playing a sweet festive tune on a radio or smart phone, and without saying a word, tell your partner how much they mean to you, and ask them to marry you with paper signs.
I'm turning to mush at the thought of it!
Name In Lights
My last one is so festive, so romantic, and 100% guaranteed to get you a yes!
Lights are an integral part of creating a festive atmosphere, so including some in a Christmas proposal is a must.
I've seen guys who've written Marry Me across a building in fairy lights, I've seen it written in candles on the snow, and I've seen it in light-up letters.
Whether you fill a bandstand with fairy lights or simply add a few candles to the mix, create the perfect feel to your big moment with lots of lights this Christmas.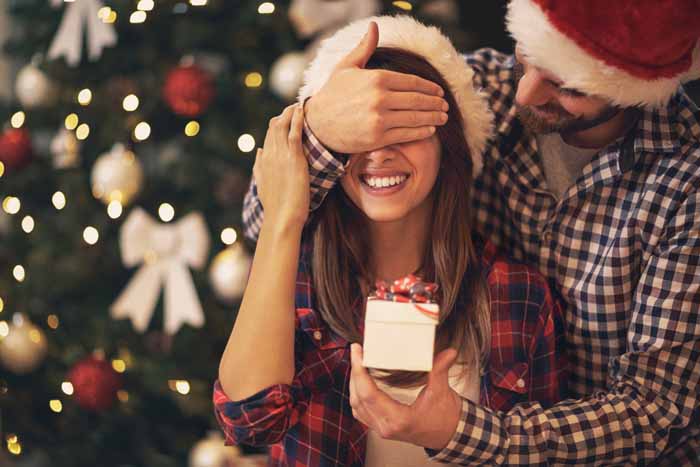 Aren't they such sweet ideas? I don't think anyone could say no to a single one of them!
Were you proposed to at Christmas? I'd love to hear the story in the comments section!
10 Tips for Planning a Winter Wedding
Winter weddings are beautiful, unique, and tough to plan. While getting married in the winter can be an advantage (it's off-season for many venues and vendors and you may get some discounts!), it can also be really hard to nail down the logistics. I'm here to give you some of my best tips on how to plan a snowy wedding or winter elopement.
1. Wear the right winter footwear.
If you're planning to have your winter wedding or elopement ceremony outdoors in the snow, take this opportunity to find a stylish and warm set of snow boots. You can change out of these for the reception but you'll be so happy you have warm toes during your ceremony and photo session.
2. Invest in lovely winter wedding accessories.
This is your excuse to get that beautiful fur coat or shawl you've always wanted! Accessories like a wool coat or shawl not only look great for outdoor winter wedding photos, but they keep you nice and toasty warm. Also, don't forget about your bridesmaids! Purchase them scarves or shawls in your wedding colors as bridesmaid gifts that they can wear for the outdoor portions of the day. They'll be happy to have a warm layer that looks good in photos and keeps them warm! I stayed warm with my Nonnie's gorgeous mink stoal, given to her by my Poppie as a birthday gift and then handed down to me.
3. Keep your guests (if you have any attending) comfortable.
Think cozy blankets draped over ceremony chairs or a basket of hand-warmers as people arrive. If you choose to have your winter wedding or elopement ceremony outdoors, be sure to consider the comfort of your guests. Make sure you have a warm place for them to gather (and maybe a hot cocoa station!) before any following festivities begin.
4. Keep everything in one location.
When planning a winter wedding, look for a venue or ceremony location that doesn't require too much travel between the ceremony and any other places you'd like to take photos or gather at afterwards. This way you won't be required to travel on dangerous snowy roads and will keep the whole day flowing if there happens to be inclement weather. Also be sure to have a backup location in case of any unforeseen weather circumstances. Some of my favorite winter wedding venues in Connecticut are Wood Acres Farm, Aria, The Waterview, Bill Miller's Castle, Saint Clements Castle, Villa Bianca and La Bella Vista.
5. Find a venue with lodging nearby.
Similar to number four, the more you can keep you and your guests from having to drive themselves, the better. If your ceremony location isn't close to lodging, consider hiring a shuttle or car service to transport you and any guests that might be attending to the nearest hotel with or town with lodging. Here are some beautiful venues with lodging available for you and your guests, The Connecticut River Valley Inn, Heritage Hotel, Crowne Plaza, Courtyard Marriott, and Winivian Farm.
6. Embrace winter ambiance.
Think candles, dried flowers, woodsy foliage, and lights hanging from above. Maybe you're getting married in a rustic cabin and can drape lights from the ceiling beams, or fill your ceremony space with tea lights and tall candles to set the stage for the perfect winter wedding vibe. There are so many unique and beautiful ways to decorate your ceremony space in a way that celebrates the season! You might also consider carrying a bouquet of dried or seasonal foliage to showcase all of the beauty of winter. Hire a professional florist to help your vision come to life.
7. Lighting is everything.
Due to the fact that the sun sets early in the winter, be sure to plan your ceremony at a time of day when there will be enough light. On that note it is also best to do a "first look", so that you'll have enough light to take all of those winter wonderland photos you've been dreaming of!
8. Have a coat check and boot storage.
If you are having guests attend and your ceremony is outdoors, this is a must! Many guests will likely wear snow boots if standing in the snow and want to change into more comfortable shoes once they get inside. Set up a coat rack and rubber mat for guests to store their outerwear when they enter the reception space. This will keep coats and clutter out or your reception space and allow more room for your guests to be comfortable.
9. Send your guests off with winter favors.
There are so many fun ways to celebrate winter and sending your guests off with winter wedding favors allows for so much creativity! Some of my favorite ideas are personalized mugs with hot cocoa fixins, a s'mores kit, or even cozy winter blankets in your wedding colors.
10. Near a ski resort? Plan a post-wedding ski session!
If you love to ski and got married near a ski resort, why not plan a post-wedding ski session? Your photographer can come up with you for a couple of hours the day after your wedding or elopement and capture you having fun on the slopes and celebrating your first day as newlyweds!
Thanks for reading and I hope this gives you a lot of great ideas for planning a winter wedding! If you're getting married in the winter and looking for an officiant, be sure to ask about my winter wedding special! I offer all couples getting married in the winter months a discounted rate. Email abushelandapeckweddings@gmail.com for pricing and availability. I look forward to hearing about all of your winter wedding plans!
Incorporating Children Into Your Wedding Ceremony
Weddings are always special because they celebrate the joining of two people, but when one or both of you have children, the ceremony then becomes a celebration of a family—which is very special in its own right. When you are thinking about how to incorporate your children in your wedding ceremony, there are a lot of unique and fun ways to make them a part of the big day. Here are a few unforgettable ways to get your kids involved in the ceremony. Use all of them or combine them in ways that fit with your wedding and your family.
1. Have the Child Be a Flower Girl/ Ring Bearer
Assigning your kid(s) to be the flower girl or ring bearer is the most traditional way to get a child involved in the ceremony (and one of the easiest ways if the child is young). Though these roles are traditional, you could modernize them by having the flower girl or ring bearer hold up a sign that says, "Here comes mommy," or frame a picture of the whole family for him or her to carry down the aisle.
2. Make the Child a Bridesmaid/ Groomsman
Who says that bridesmaids or groomsmen need to be of a certain age and height? Put your little guy or gal in a matching tux or dress, and have him or her stand right next to you at the ceremony. This is a great way to get older kids involved that may be a little too old for a flower girl or ring bearer role.
3. Write Your Kids Into Your Custom Vows
If you are writing your own vows, a really sweet and special thing to do is to incorporate your kids into them. Vow to always protect a new stepdaughter or stepson as your own, or talk about how your child has bonded the two of you together. If you don't consider yourself the wordsmith, I can help you with preparing blended family vows or vows that mention children. Be careful though—mentioning your children in your vows is certain to not leave a dry eye in the house.
4. Have Your Kids Walk the Bride Down the Aisle
If you are going the traditional route of walking down the aisle, have one or all of your kids do the honors. Not only is this is a prime photo opportunity, but it also makes for a memorable moment in your ceremony. Having a child or all your children walk the bride down the aisle puts them front and center on the big day and symbolizes all of you coming together as a family.
5. "Hire" Your Kids to Be Photographers
Is there anything sweeter than the perspective of a child? In addition to a hired photographer, assign your kid to take photos of the wedding day from his or her point of view. With the imagination and height of a child, you are sure to get some hilarious and adorable photos that you'll cherish for a long time.
6. Perform a Unity Ceremony
Many couples choose to perform a unity ceremony to essentially celebrate two becoming one unit. Including children into a unity ceremony will symbolize all of you bonding together and will undoubtedly be a highlight in the wedding. In fact, you could pour sand, pebbles, or even favorite kinds of candy into one single vase for something more kid-friendly. Ask your kids for input on this part of the ceremony and get as creative as you can. You'll be surprised at what they might be able to come up with to celebrate you coming together as a family.
7. Have Your Child Perform a Reading
If your child is of reading age and feels comfortable with it, ask him or her to perform a reading at the ceremony. You can find classic, easy reader passages that are appropriate for weddings in "Winnie the Pooh," "The Velveteen Rabbit," or "The Secret Garden." You could also ask him or her to get really creative and prepare something especially for the ceremony—a poem or a small essay—that you can later have framed.
8. Get Them to be Helpers With Wedding Décor
Weddings are a lot of work for everyone involved and can often detract from family time once it gets down to crunch time. To help your kids feel a part of the wedding and to get some much-needed help, ask them if they would be willing to help you with wedding plans. Have them give you input on everything from the flowers to the cake to the ceremony. Kids would also love to help out with any craft or DIY projects for the wedding. Having handmade kid decorations at your wedding will be charming and make the event a true family affair. If you have really little ones, ask them to draw pictures of the two of you to decorate the venue, which will really give your guests the "aww" factor.
If you're incorporating children into your wedding, and especially if you're inviting kids to the wedding, make sure you plan some activities to keep kids busy throughout the reception!
11 Adorable Ways to Include Your Pet in Your Wedding
Prepare for extreme cuteness!
In an ideal world, every couple would have their pet, clad in a delightful miniature formal outfit, accompany them up the aisle (they are part of the family, after all!) but unfortunately, this isn't always practical. Pets at weddings pose many, many challenges, so couples are often forced to get creative in how they include them in their day. If you happen to be getting ready at home, you can have your beloved furball appear in a few photos without much fuss (make sure to add this to the wedding photo checklist you give your photographer!), but if not, a fun photo display or cake topper will do the trick!
Eager to help with all of your pet-related wedding dilemmas, I've put together a list of options for loved-up pet owners, including a handy guide to having your fluffy sidekick attend your wedding. Ready to see some sickeningly cute photos of pets at weddings?! Of course you are!
1. Have your pet attend your wedding
Now, before you get drunk on the idea of a hamster ring bearer, hear us out. Whether your pet will be able to attend your wedding depends hugely on a number of variables, including the location of your wedding, the wedding venue and, of course, on your pet! Dogs tend to be the easiest pets to manage at weddings, but I've seen couples bring their horses, goats and rabbits along on their big day too!
If you're considering having your pet at your wedding, you have to ask yourselves a number of questions first:
is your wedding venue located within a few hours' drive of your house?
can your ceremony space accommodate your pet?
can your reception venue accommodate your pet?
does your accommodation allow pets?
does your pet behave well in new environments?
does your pet behave well around large groups of people?
are there other animals at your venue that your pet might like to chase/eat?
is one of your guests willing to take care of your pet during the day?
can you source pet-friendly confetti (because, let's face it, your pet will attempt to eat it)?
is it possible to hang your decorations up high so your pet can't get to them?
can you include your pet's attendance on the invitations so any guests will allergies can prepare accordingly?
If you answered "no" to any of the above questions, having your pet attend your wedding is probably not going to be practical. But don't fret, because there are lots of other ways to include them in your day!
2. Have a petsitter bring your pet to the wedding for a brief visit
If you can find a good petsitter in the area or you know one who is willing to travel with you, this is a great option for couples who just can't imagine their big day without their little (or large) furball by their side! You will still have to check that your pet is allowed at your ceremony and/or reception venue, but this way, your pet will be looked after at all times but get to take part in the day and appear in a few photos without giving you a logistical headache!
3. Mention them in the ceremony
One of the easiest ways to pay tribute to your beloved pet is to mention them in your ceremony, either in your self-penned vows, or by dedicating a special animal-themed poem to them. You could also reserve a seat for them up front with a framed photo – that way, they're there in spirit!
4. Have them made into a cardboard cutout
My favorite thing about this option is that your pet will be able to appear in your wedding portraits (sort of!). You'll find lots of sellers offering custom cutouts on Amazon, but a local printer might be able to do it for you too.
5. Include them in your stationery
There are literally dozens of ways to have your pet star in your wedding day through the medium of stationery – plan a little photo shoot for your Save the Dates, hire an illustrator to incorporate their fuzzy faces into your invitations, or print an illustration on menus, signage, napkins or brown paper doggie bags (get it?!) if you're having a sweet table.
6. Decorate your venue with photos
The simplest idea on this list is probably incorporating photos of your pet into your day, whether it's in a cute display telling your story so far, or in free-standing frames dotted around the reception space. If you're having an engagement shoot, you could bring you pet along and use those images, but even if you're just having a smartphone photo shoot at home, we highly encourage purchasing a little outfit for your pet for the occasion! Everyone loves a dog in a bow tie!
7. Incorporate them into your cake
I can never resist an animal cake topper and if it's a tiny representation of your beloved pet, all the better! You can ask your baker to render them in icing, or commission an Etsy seller to make one in clay or wood. I've seen lots of cool styles where the pets are climbing up the tiers or peeking out from under the icing, too.
8. Make a charity donation to an animal shelter
This one's a particularly sweet idea if you got your pet through a rescue and rehoming charity, but actually, it's a lovely sentiment either way. Simply make a donation to your chosen charity in honor of your fluffy companion and then find a cute way to let your guests know about it! Lots of animal charities will print up cards for you, using a photo of your pet, that you can then leave on the tables – or of course, you could have your own cards or signage printed up!
9. Pay homage with pet-themed décor
You can really be as subtle or as elaborate as you like with pet-themed wedding décor! I've seen everything from cow centerpieces to rabbit-shaped candles and even a glitter box (like a glitter station, but you know, modeled after the place where your pet poops), so this is one area where you can really let your imagination run riot! If you've only got a few tables (or loads of pets) you can use pets as inspiration for your table names, and we also love the idea of a pet-themed photo booth!
10. Wear them on your sleeve
If you really want to keep your pet close on your wedding day, you could pay homage with some special cuff-links. Selected Etsy sellers can customize cuff-links with a photo, but a paw print or illustration featuring your pet's breed would be just as cute! Brides can go for a similar effect by attaching a charm with a photo of their pet to their bouquet, and we think both of these ideas would be great to do as a thoughtful wedding gift for your soon-to-be spouse!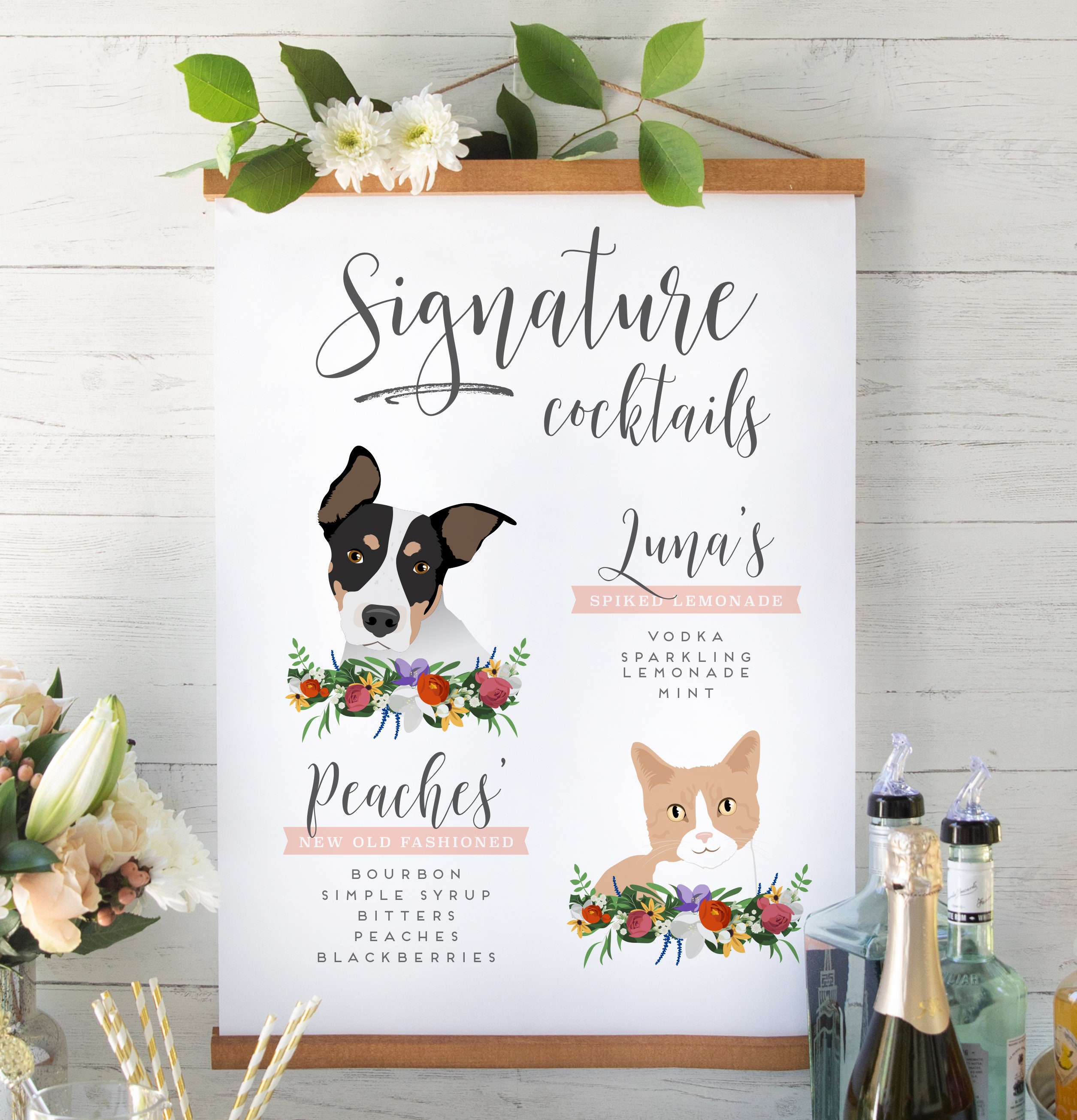 11. Name a cocktail after them
If your venue or caterer offers the option of bespoke cocktails, why not get them to whip up something inspired by your precious furball or furballs? Granted, your pet might not have an affiliation with any particular spirit (at least, we hope not!) but this isn't really the point – having an illustration of your pet grace a frankly adorable cocktail menu is!
Have fun planning your special day and remember I'm here to help with personalizing your ceremony for your unique relationship!
Nontraditional Wedding Ideas for Modern Couples
Not so keen on hosting a "traditional" wedding? You're not alone. Lately, I've been seeing more and more couples take a less typical route for their nuptials, and honestly – I'm all for it!
After all, no two couples are ever the same, so it makes sense for your wedding to be just as unique as you and your partner. If you're the kind of couple looking to deviate from tradition, keep reading for nontraditional wedding ideas I love for a modern celebration.
Make It A Surprise
If a traditional ceremony just isn't your style, why not ditch the formalities and host a surprise wedding instead?
Surprise weddings are a low-key, fun and spontaneous option that removes all of the pre-wedding fuss. No need to worry about seating plans, rehearsal dinners or nosy questions – simply get your guests together under the guise of an engagement or birthday party, before surprising them with your nuptials!
Shake Up The Timeline
Who says your wedding day needs to follow a traditional timeline? Instead of the typical afternoon ceremony and evening ceremony, feel free to shake up the order of events to suit your own wedding vision and preferences!
For example – maybe you'd prefer to host a morning ceremony followed by a leisurely long lunch with your loved ones. Or, perhaps you's prefer to kick things off with afternoon drinks before hosting your ceremony under the stars.
Choose An Unconventional Location
Your wedding venue will ultimately set the tone for your entire celebration, so don't be afraid to think outside the box as you begin scouting locations! Draw inspiration from your own personal style and relationship to find the perfect non-traditional location.
For example – if you guys love all things art and history, maybe a museum or gallery would be the ultimate backdrop for your day. Or, if you both share a love of industrial styling, why not hunt for a factory or warehouse space that can be completely transformed?
Some other non-traditional wedding venue ideas I've seen and loved include libraries, breweries, plant nurseries, greenhouses, backyards, and barns. The options are endless – you may just have to do some extra digging to uncover the perfect hidden gem!
Go Digital
If traditional wedding invitations just aren't your style, why not opt for digital invites and a wedding website instead?
Not only are digital invites a great way to streamline your RSVP process, but they're also a more affordable and eco-friendly option, too. Plus, your wedding website is the perfect platform to communicate all of the important details to guests and address their FAQs upfront, saving you a bunch of time (and stress!) along the way.
Set A Unique Theme
Designing your day around a unique "theme" is another great way to set your wedding apart! Instead of the traitional round tables, white marquee and floral centerpieces, go completely outside the box with a styling theme that sets the tone for your celebration.
From glitzy Gatsby-inspired receptions to warm Christmas gatherings, bring your chosen theme to life with beautiful decor, props, and signage. You could even take it a step further and have your guests dress up accordingly for a costume party to remember! I'm all about unique wedding concepts that tell a story.
Ditch The White Dress
Not every bride dreams about donning a traditional white dress, and that's totally okay! Draw inspiration from your own personal style and create a unique bridal look that feels authentic to you – whether that means a colorful dress, floral two-piece or sequined jumpsuit. There really are no rules when it comes to wedding day attire, so focus on choosing an outfit you feel amazing in, no matter how untraditional it may be.
Your Day, Your Way
One final tip: If you're choosing to deviate from typical wedding traditions, you might find friends and family questioning your decisions. But don't forget – this is YOUR day, so you have the creative freedom to do it completely your way from start to finish.
And honestly? With so many weddings to attend throughout our lifetime, I think a nontraditional celebration is often appreciated for something a little different
At-Home Date Night Ideas to Keep Your Relationship Fresh
Changing things up can help you connect in new ways. Find an idea that inspires you.
Dust off your recipe books (or search online for your favorite fancy dish) and spend an evening whipping up a restaurant-quality meal for two. You'll both gain confidence in the kitchen and get to impress each other with your newfound culinary skills.
Sometimes, just changing your preferred eating locale can be enough to switch things up. Get a baguette, cheese, grapes, and any other charcuterie items you like and spread out a blanket on your living room floor or in your backyard. Sit down and dig in.
Sign up for a tasting club or just select a few bottles of your own and play sommelier. Swirl your glasses, see if you can detect tasting notes, or simply determine which vino is your favorite.
You could also hide the labels and see if you can guess which wine is the cheapest and the priciest based on taste. And if wine isn't your thing this kind of tasting can work just as well with cheese.
Turn your kitchen into a mock "Cupcake Wars" situation and try to wow each other with delicious fresh-baked goods. Even if your creations don't turn out to be as Pinterest-worthy as the recipes, they'll still taste great. (And your kids will enjoy the leftovers the next day.)
Grab whatever art supplies you have on hand — markers, crayons, watercolors, or even the random pens from your junk drawer — and challenge each other to draw the same still-life scene.
Try setting up a tableau on your kitchen table with fruit or whatever items you have around the house. As an added challenge, you could try drawing each other's portraits next.
This one takes a bit of an investment but your family will reap the benefits all summer long. Set up a projector on a blank wall in your backyard and have an al fresco movie night complete with popcorn and comfy blankets.
Even if you've been exercising at home during quarantine, many people aren't the dance-cardio-jazzercise types. But stepping outside your comfort zone together can be a great way to bond and remember to not take yourselves too seriously. Extra points if you get decked out in sweatbands and leg warmers.
Chill out with a more low-key exercise experience that can invigorate your body and your mind. After challenging your bodies with the different postures, you can get the full blissed-out experience by doing a short meditation following the workout.
Dig through your bathroom cabinets for moisturizer, face masks, and any other beauty product you may have been saving for someday. Put on robes, slice up some cucumbers and lemons to make spa water, and have a night of relaxation.
You may even be inspired to trade off giving each other massages, adding an even more romantic element to the activity.
Maybe there's a piece of furniture you've wanted to repaint or a room in your home that could use a little refresh. Channel your favorite HGTV duo and take on a little home DIY that will give your space a nice makeover and help you both feel a sense of accomplishment.
Now's a great time to reevaluate your respective wardrobes since there's a good chance that you're only wearing a portion of your clothes at home.
Make this task fun by doing a fashion show to help each other decide what to keep and what to toss. No judgment if you do a little online shopping to fill up that newly empty closet space.
Whether you're both avid gamers or total novices, playing games together can bring out your competitive sides and really spice up your dynamic. You can play as a team to complete a mission or against each other to see who earns bragging rights.
Chances are that you have a few old games lying around your home. Break 'em out and see who's got the chops to win at Life, Sorry, Trouble, or what have you.
Then, play them with your kids the next day and show them what you guys did for fun before TikTok existed.
Who knows when we'll be able to go out to a packed club and dance the night away. But you can have the experience in your own home if your local spot is offering livestream DJ sets (like The Wildcat Lounge in Santa Barbara, California).
Deck yourselves out, make some cocktails (or mocktails!), and get down right in your own living room.
There are a number of worthy causes needing assistance both because of the pandemic and because, well, life.
Flex your altruistic muscles together by researching how you can make a difference in your own community or with larger-scale organizations you really believe in. You'll feel more hopeful and connected by giving what you can to those in need.
Not being able to do much of anything can give you new perspective on what you really miss most about pre-pandemic life. Use this time as an opportunity to sit down together and think about the things you both really want to do, together and as individuals, when the world opens back up.
Add some greenery to your home or yard by planting herbs or fruit-bearing plants. You'll have fun getting your hands dirty and making your space feel more lush — plus, you'll get to harvest your handiwork and impress your kids when you don't have to buy berries or basil at the grocery store.
Sure, you probably can't party like you used to, but you can take a brief trip to the past by playing beer pong or flip cup on your kitchen table. Show off your skills with just each other and then challenge your kids to play (using water or juice, natch) as a family bonding activity the next day.
Grab some Solo cups and one of your kids' rubber balls and pretend you're at your local bowling alley. It may seem a little silly but once you get into the spirit of the game you'll both have a blast.
Pick a theme or a decade — and dress up in costume if you so choose — then settle in for a blast to the past. We could all use a little escape from the present so deliberately choosing entertainment set or made in another time will give you both a must-needed reprieve from 2020.
Poker, War, Gin Rummy, Go Fish — all you need is a deck of cards and you have a full night of competition ahead of you. You can also play these games online if you want to make it a double date situation and bring some friends into the fun.
Break out the tent and sleeping bags, roast marshmallows on your stove, and pretend to camp in your backyard or living room. You'll feel like kids again and you'll more fully appreciate a night's sleep in your own bed more than you could ever imagine.
Reading the same book allows you to have deep conversations about something other than the pandemic, your work situation, and all the other stressors going on right now.
Books can be a great form of escapism and allow you to see each other's intellectual sides as you talk about the characters or content of what you've chosen to read.
Go out in the backyard late at night and spread out a blanket. You don't have to do much other than look up. The act of stargazing will remind you that what you're going through day to day is small compared to the vastness of the universe.
Yep, it's silly but sometimes silly is what your relationship needs. For added spice, play naked.
Working together on a task like this could take weeks, giving you both a sense of joint purpose. As you sit side-by-side you'll organically talk and connect in ways you wouldn't have just zoning out to the TV.
Decide that you'll only light candles (or the fireplace) for the whole night. Your home will instantly feel more romantic, no matter what you decide to do next.
Set up a few different holes for your at-home by using cardboard to make ramps and cups for the holes. The journey of creating the course will be just as fun as playing it. Plus, it will make for a great activity with the kids the next day, too.
Play sleepover games like Never Have I Ever and Truth or Dare. Chances are that your responses will organically lead to some intense (in a good way!) conversation, shaking you out of your routine end-of-the-day talks.
Sit down with some paper and pens and think about what you really appreciate about each other. Putting your feelings into words, and sharing your letters, will bring you closer and create a stronger sense of intimacy in your relationship.
Some of the world's biggest museums (and aquariums and zoos) are offering livestream events and tours during the pandemic. Check out the event calendar (like this one for the Smithsonian) and choose something that speaks to you so you can feel like you've taken a trip without leaving the house.
Use your smartphone and create a short film together. You could do a stop motion with your kids' toys, film a puppet show, or take videos of your pets. Debut your work to your kids in the morning or share online with your friends.
Dig out the scrapbooks and photo boxes or flip through your digital images for a trip down memory lane.
If you've been putting off making a wedding album, framing pictures for your home, or creating photo books of your kids, now's a great time to take on the project and reminisce about the good times at the same time.
What is Your Wedding Celebrating?
What you are in love with, what seizes your imagination, will affect everything.
It will decide what will get you out of bed in the morning, what you do with your evenings, how you spend your weekends, what you read, who you know, what breaks your heart, and what amazes you with joy and gratitude.
Fall in love, stay in love, and it will decide everything.
Pedro Arrupe, s.j.
Your wedding celebrates the life the two of you have created AND it celebrates the life you are committed to creating.
Your wedding celebrates your love for each other AND for all the loves you have in your life, together and separately.
I believe that a marriage is one, long, grand conversation.
While it's so basic a question that I hesitate to even ask, ask you I will. . .
Do you know what seizes your partner's imagination?
Do you know what amazes your partner with joy and gratitude?
What breaks their heart?
While it's so basic a question that I hesitate to even ask, ask you I will. . .
As a couple, what seizes your imaginations together?
Fills you with joy and gratitude?
Could break your hearts?
Your answers to these questions tell the story of your life and commitment.
Let your answers guide you in –
crafting your ceremony
choosing the words for your vows
and
creating your celebration.
Ideas to Perform an Autumn Wedding
As a Universal Life Church wedding officiant, there is a good chance that I will be asked to perform a wedding in Autumn more than once in my career. Given that officiants ordained in the Universal Life Church are often friends of the happy couple or professional celebrants, we can often help the couple by offering wisdom and ideas we have discovered for ourselves. A lot of couples are looking to have an outdoor wedding in order to enjoy the crisp fall air, the change of the seasons and the beauty of the leaves, but when you are asked to perform a wedding, I would consider some potential themes for the wedding as well as inform the bride and groom of any thoughts or concerns I may have about an outdoor wedding during Autumn.
There are a lot of great wedding ideas for the Fall, and a lot of creative ways to make them happen. As a ULC minister, I am not limited to only performing ceremonies in a church. Outdoor weddings and indoor weddings are equally perfect. Some inspiring script ideas for fall weddings including the symbolism of the changing leaves. As time passes through the seasons, the leaves change, fall and regrow. In a marriage, people change, go through cycles, and their love renews itself. Another idea to include in the script for a Fall wedding is the bounty of the harvest. Just as the Pilgrims and Natives sat together to be thankful for the bounty of food they had, two families sit together at a wedding to be thankful for the bounty of love their children have found.
Planning a date for a Fall wedding requires knowledge of the religions of the families of both the bride and the groom. Autumn has many religious holidays, specifically within the Jewish faith. If there are any major religious holidays going on within the month they wish to be married, they will need to be planned around. In addition, if there are any other unrelated large family events around that time of year, the couple will want to make sure that they are not planning their wedding on a date that will clash with another event, so that as many guests as they would like can attend.
If the couple wants to have an outdoor wedding in Autumn, it can be beautiful and certainly doable but there are a few things that should be expressed to them. A crisp Fall day can turn into a brisk Fall night very quickly, and those who are sensitive to the cold such as older relatives may find themselves too cold to be comfortable. For this reason and for weather related reasons, it may be prudent for the couple to invest in both tents and industrial heaters to keep cold guests comfortable. In addition to this, if the bride and groom choose to use natural fire pits as a way for guests to stay warm and enjoy the Autumn night, they must be mindful of the fact that burning wood and leaves can trigger an allergic reaction for some and that anti allergen eye drops and over the counter antihistamines should be kept on the premises for any guest who has an allergy issue.
Each season comes with its own set of considerations. I will not compromise the vision of the bride and groom – their ideas can still be used even as the weather gets less agreeable with some forethought and planning.
Congratulations on Your Engagement!
Are You Nervous? Let Me Ease Your Fears.
Planning your wedding is a daunting task.
No question about it and I don't intend to trivialize your trepidations.
Guest list first. Your one most controllable expense factor. Wedding date. Winter, Spring, Summer, or Fall? Fees for almost everything are typically higher during the peak season — May through September in Connecticut. And Saturdays always get booked first by venues and vendors of all types.
So now to go to work on a venue. Indoors or out? Or outdoors with an indoor backup? Important! Catering might be next — supplied by the venue as part of a package or do you want to bring in your own food (or have an independent caterer take care of that)? What about the cake (or cupcakes or other dessert options)? What about bartending needs if you plan to offer adult beverages at the reception?
Music? For the ceremony and the reception? A DJ, a live musician or group, or a playlist on your smartphone? Can your venue handle your choice?
Oh! And, by the way, you'll need a professional officiant to perform your actual wedding ceremony! Leaving that detail to the last minute could leave you in the lurch! And that's where I come in.
I'd love to marry you and your fiance. Let's have an up-front conversation about what your processional will look like. How many bridesmaids and groomsmen? Flower girl(s) and ring bearer? Grandparents, parents, and ushers? Who gives this bride? Religious or non-religious ceremony? Special readings, songs, or remembrances? Special ethnic, cultural, or other ceremony elements (like unity candle, sand, handfasting, rushnicks, or others)? This part can be the least stressful and simplest part of your wedding planning tasks because I take full care of it for you.
I'll send you a draft script and vows to which we can make any changes that you'd like so that the ceremony meets all of your needs, wants, and desires. So you'll know exactly what to expect on your wedding day. I'll "spoon feed" you the vows and the ring exchange words so that you'll have nothing to memorize or remember. You'll simply be able to enjoy your ceremony as we share it with your guests!
Tell me more about your wedding ceremony plans, what you need, what you want, what you desire. It's YOUR SPECIAL DAY and I can help you customize the perfect wedding ceremony – one you, your family, and friends will remember forever!
How to See Clearly During the Craziness of Planning
It's easy to get lost in your "own" world while planning your wedding. And in that world, often times, things can get distorted, much like those weird mirrors in a fun house.
Here are Ten Questions to get you thinking about the "mirrors" in your world:
Do you think that if your partner does something that upsets you, it's because he or she deliberately wants to hurt you?
Do you see how and where you can be wrong in a discussion?
In a discussion, do you look for ways to disprove what the person is saying?
Are you familiar with your partner's culture, family, religion?
Do you think the world revolves around you? (okay—loaded question!)
Do you often use the phrase, "I know how you feel?"
If there's a 50% chance of rain, do you think it's going to rain?
Do you believe that every problem has a solution?
Do you often use the phrase, "What's the use?"
Are you able to see the wedding planning from your partner's point of view?
If you answered, "yes" to any of the odd-numbered questions, and "no" to any of the even-numbered ones, then most likely you will feel frustratingly challenged as you deal with the foreseen and unforeseen issues that unexpectedly pop up during planning!
I believe one of the biggest challenges when planning a wedding is fixating on certain things which can pull you down, instead of looking up at the bigger picture.
Here are five simple things you can do to look "higher":
You made the choice to hold a wedding celebration out a place of joy, celebration, and gratitude. Each week remind each other of the "why" of that choice.
Giving up on a problem or challenge that is crimping your wedding planning obviously will solve nothing. Select a problem that you're obsessing over. Can you look at it from another angle? Think of it as a mystery to be cracked open and not as an insurmountable obstacle.
There's more to life than planning a wedding. Make time to enjoy what you enjoy doing—individually and as a couple. Spending time on non-wedding fun will help clear your head and refresh you when you return to dealing with wedding issues.
Make time to offer thanks to all the good things and to all the good people that uplift and support you in the planning. Gratitude puts everything into right perspective.
Most especially, thank your partner for all things, large and small, that he or she does to make the planning less stressful and more fun for you. Tell your partner what you specifically appreciate.
It's soooo easy to get lost in our heads, create soap operas and lose sight of what life (i.e. wedding planning) is all about.
However. . .
Staying sane is worth the effort!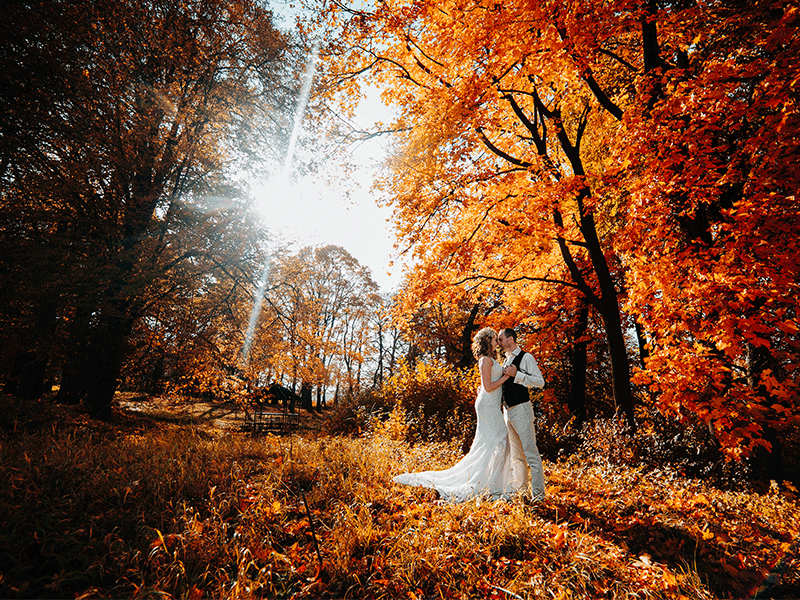 When I have my final meeting with a couple, usually a week or so before their wedding, I oftentimes find them to be both excited and exhausted. They're excited because "the" day is near at hand. And they're exhausted because of all the demands, challenges and stress they never imagined they would encounter during the planning of their big day.
In the hope of helping you reach the end of your planning a little less dazed and confused, here are
8 Truths About Your Wedding You Don't Want To Forget
You are a couple. Protect each other. Is your mother or some other family member or friend complaining about "that person" you're marrying? The time to set boundaries is now – not after your wedding. Remember – we train people how to treat us. And "train" is not too strong a word.
You are a couple. You are not victims. Take responsibility for your wants, needs, wishes, feelings and choices. All of these have consequences. With courage, embrace these responsibilities and consequences. This is the only way you can honor and protect each other.
You are a couple. And your family members are consistent. No one is going to change. Be prepared for all those old familiar buttons being pushed.
You are a couple. Again I say – establish boundaries. You are no longer a child. You are not a pair of children playing house. People owe you respect. Do what is needed to receive that respect.

say "no" when needed
understand you cannot please everyone
respect your right to feelings
recall that you cannot change anyone
refuse to be taken advantage of
You are a couple. You are each other's home. And from that place of home, you may have to have conversations with family or friends that are "sticky." Keep the following in mind:

do not keep things bottled up inside
speak from a place of "I"—do not begin with "you this" and "you that"
do not accuse, do not yell, do not be sarcastic
make it safe for you and the other – ask if you can talk with them about the issue that is troubling you
speak assertively – not aggressively
resist becoming defensive – take responsibility for your share of the situation without assuming a posture of guilt
make sure you are speaking about the "right" issue – is it a particular experience or is it a pattern of behavior you want to speak to?
focus on what it is you want from the conversation and the person – is this person capable of giving you want you want?
6. You are a couple. Whatever challenges one of you may encounter see them as being shared by the two of you.
7. You are a couple. Remind each other of your love.
8. You are a couple. Laugh your heads off.
"Spiritual" and not "Religious"
Most couples who tell me that they are "spiritual" and not "religious" grew up in homes that had some church affiliation. While a person/couple has drifted away from those early church rituals, they still believe in God.
They desire a ceremony that honors the sacredness of what they are doing without being denominational.
How do I craft a ceremony that honors that sacredness?
By keeping in mind the truth of what a ceremony is supposed to be about.
And what is the great "truth" of a wedding ceremony?
God is never found in a church building simply because it is a church building.
People bring God to a church building. So it is with a wedding.
Family and friends, knowingly and unknowingly bring God (the spiritual) with them to the ceremony.
It is their love, joy and wishes that make a ceremony spiritual .
A couple say to family and friends
"Come celebrate the great good we have found in each other, and bear witness as we give our word to each other."
A couple enters into the mystery that is life and love when they give their word, their vow, to each other.
The spirituality of the ceremony comes from recognizing and honoring that mystery.
In an age when talk is cheap, what could be more spiritual than to give your word to your beloved with an open heart?
The spirituality of a ceremony also comes from recognizing that family and friends become the "collective memory" of the day.
In years to come, they are to remind the couple of the love they bore witness to.
A wedding ceremony, when done right, renews and refreshes by reminding us of what life is all about – friends, family, love, loyalty.
What could be more sacred, more spiritual than creating that simple, yet profound oasis of a reminder?
All of this is the great and spiritual truth of a wedding ceremony.
And for me the "fun" part comes in working with a couple to create signature moments within the ceremony that highlight these themes and realities!
Quotes to Get You Thinking About Your Vows
In prepping for a wedding ceremony, I take the time to look through various quotes I've collected over time that are appropriate for the couple who is walking down the aisle to take their vows and will fit them perfectly.
In looking over some of these quotes, I realize they actually could help in the writing of vows. . .
You don't get to choose how you're going to die. Or when.
You can only decide how you're going to live. Now.
Joan Baez
How do you and your partner want to live?
Have you talked about the particulars and the dreams?
Have you figured out a strategy to make your wants and dreams help you live – and not just exist?
Still – in a way – nobody sees a flower – really.
It is so small – we haven't time – and to see takes time,
like to have a friend takes time.
Georgia O'Keeffe
Have you and your partner found ways to make time for and with each other?
Do you "see" each other in those times or do you feel taken for granted?
What do we live for, if it is not to make life less difficult for others?
George Eliot
How do you make life less difficult for your partner?
How does your partner make life less difficult for you?
It costs so much to be fully human that there are very few who have the enlightenment or the courage to pay the price. One has to abandon altogether the search for security and reach out to the risk of living with both arms open. One has to embrace the world like a lover. One has to accept pain as a condition of existence. One has to count doubt and darkness as the cost of knowing. One needs a will stubborn in conflict but apt always to total acceptance of every consequence of living and dying.
Shoes of The Fisherman
Morris West
Are you and your partner committed to becoming "fully human"?
How do you give each other the courage?
These next two quotes mention "God" – but even if you are not a believer, I think they can challenge you in your commitment to each other. . .
When I stand before God at the end of my life, I would hope that I would not have a single bit of talent left, and could say,
"I used everything you gave me."
Erma Bombeck
How do you help your partner develop and use their talents?
How does your partner help you develop and use your talents?
When we die and go to heaven, and we meet our Maker, our Maker is not going to say to us,
"Why didn't you become a messiah?"
"Why didn't you discover the cure for such and such?"
The only thing we're going to be asked at that precious moment is,
"Why didn't you become 'you'?"
Eli Wiesel
What does it mean for "you" to become "you"?
For your partner to become him or her own self?
How can you help each other in that great, ultimate undertaking?
Are you thinking of writing your own vows to one another?
If so, I invite you to reach out to me and I could assist you with your needs.
Tips to Help You Listen to Yourself and to Your Partner
I have said time and time again that conversation is they key to keeping your relationship in a good place. I am sharing tips to help you listen to yourself and to your partner from the day you say,"Yes, I will marry you" to the day you say "I Do" and even after.
~ Get rid of all distractions. Yes, turn the TV off and agree not to answer any phone call. You'll have time for all those other things later. Don't ever multi-task when talking about wedding "stuff" – particularly your vows!
~ Listen openly to what your partner has to say without becoming defensive, even if you don't readily agree with what he or she is saying.
~ Let the other person complete their thought. Don't interrupt or finish each other's sentences.
~ Engage your partner in genuine conversation. Don't deliver a monologue or a scolding.
~ Ask your partner to explain what he means or she means, if you don't understand his thinking or her take on things.
~ Pay attention to the feelings that lurk underneath what your partner is and is not expressing.
~ Paraphrase back to your partner what they've said, so you confirm that you do understand what they're saying. Ask for clarification.
Always remember to take time for one another. A relationship thrives on attentively listening to one another and communicating your needs and desires.
Ten Thousand and One Ways to Say I Love You
Each day I look through the book, 10,000 Ways to Say I Love You by Gregory J.P. Godek, when looking for interesting ways to keep the spark in a relationship. This week, I have asked my family and friends to share ideas about what they do for their significant other to show them they love one another without actually saying the words, "I Love You" and I am going to share those ideas with you.
One kiss on the forehead is more than a thousand kiss on the lips. No lust but full of Love and Respect.
A way to a person's heart is through their stomach…make their favorite dish.
Share the household chores.
Listen to each other intently.
Place a post-it note on their car windshield with a special note.
Bring flowers home, "just because".
"Unconditional love is the most powerful stimulant to the immune system." ~ Bernie Siegal
Play footsie under the table at an elegant restaurant.
Go on a spontaneous weekend getaway.
Return to the spot with the most romantic view you have ever experienced.
Take a horse-drawn carriage ride through Central Park in New York.
Cuddle up while watching your favorite movie at home.
Tour the Connecticut Wine Trail together.
Share a bottle of wine at sunset.
Take a long walk on the beach hand-in-hand.
Have a candlelit dinner at home.
Make your partner breakfast in bed.
Always be available.
Write a love letter.
Draw a nice bubble bath and light candles after a long day.
Plan a spa day and get a couple's massage.
Get a manicure and pedicure together.
Get your partner's favorite coffee when you are out and bring it home to enjoy.
Get a babysitter and plan a date night for each other.
Always have some body part touching your partner, as you fall asleep.
Light candles to symbolize your love.
Send a bouquet of your partner's favorite flowers to their workplace.
Make love to her the way she wants to be made love to.
Ask your partner what they really want during love making.
Create a sexy "Five-Sense Evening," during which you and your partner stimulate all five of each other's senses.
Expand your definition of love every year.
Learn from your mistakes.
Write a hot-hot-hot note to him; seal it in three envelopes; place it under his windshield wiper.
Surprise him with his favorite chocolates.
Rent a cabin in the woods.
Sit side-by-side in dinner booths.
Serve dessert in bed.
Hold a surprise birthday party for your partner.
If you are truly adventurous, hold a surprise wedding.
Take a hot-air balloon ride.
Hire an airplane to write a message in the sky.
Words that men love to hear: "You're the greatest."
Words that women love to hear: "I adore you."
Let your children see you kissing and hugging.
Share stories with your kids about how the two of you met.
Lovers don't keep secrets from each other.
Sing duets in the car together.
Make love in the most romantic setting and in the most romantic manner you can imagine.
Kiss at the top of the Empire State Building.
Stop. Hold her face in your hands. Gaze into her eyes. Tell her you love her. And really, really, really mean it.
Have fun keeping the romance alive!!!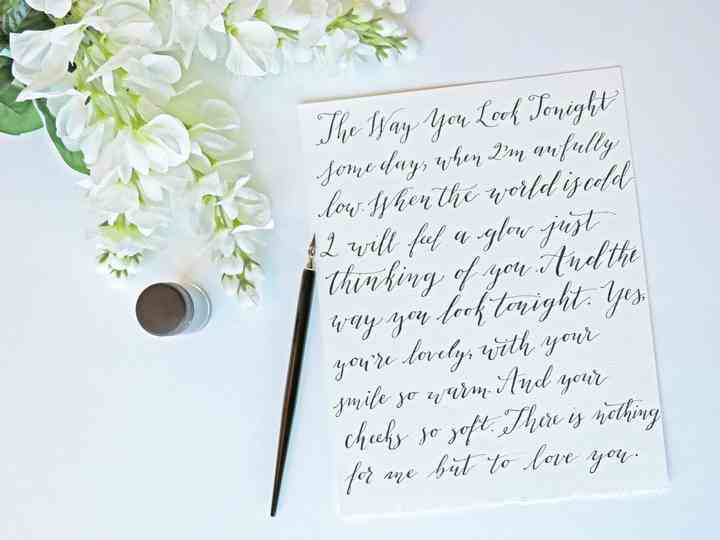 Planning on Eloping?
A Guide on How to Write Your Wedding Vows
When you elope, you can throw out the traditional ceremony guidelines. You can do what you want, hike where you want, and for your vows—say what you want. Whether it's short or long, serious or funny, it's about writing something that's incredibly meaningful, fits your day—and speaks deeply to your commitment to each other. I'll walk you through how to write wedding vows that speak to your partner in the most meaningful way possible.
Your elopement will most likely be a pretty vulnerable experience. It's a vivid, epic day with heightened emotional experiences. Taking the time in advance to really think through your thoughts and emotions are well worth it come your wedding day.
However, there won't be 200 people listening to your vows. Instead, it's a handful of the closest people in your life. People that will laugh at your inside jokes; people that will understand the hardships that you've been through; and most importantly, understand and love the both of you for who you are. If there was ever a context where your vulnerability should reach pen and paper—it should be your wedding day.
What if I'm not a Great Writer?
Writing eloquent, Pulitzer Prize-winning vows doesn't require you to be a great writer. It requires you to feel strongly about something. In this case, you're significant other. How you feel, and the way that you reflect on those emotions are far more significant than whether or not you use certain adjectives or have great composition. You need to get thoughts and reflections on paper—the grammatical details can happen later on. You need a raw draft to explore your emotions and what this commitment means. Focusing on that, instead of perfection, will often lead you into a better flow where your creativity and reflection can come to life.
Even if your vows end up a literary mess, your significant other will be overwhelmed with love for you. Your great effort and strong feelings are what carry the weight of your vows. This is one of the few pieces of writing in your life where you could have a compositional wreck—and still quite successfully bring your significant other to tears and heartfelt emotions.
Tip: Once you have the emotions, experiences, and overarching structure to your vows, you can ask for help! You might have friends or family that are eloquent writers who are willing to help. They might find grammatical errors or help you better arrange your rough draft. It doesn't make your vows any less significant. In a way, you are showing great care to what you say and how you say it.
Reflection is Key
Have you ever found an old photo, looked back on social media, or talked about a past trip together and realized, "Wow, we've been through so much together. I remember when…"?
Going through old photos, letters, or other nostalgic memorabilia of your relationship can help foster emotions and examples of why you love them SO much. Often we forget about the little details from years ago that helped cement your feelings. For example, Todd took a picture of me on our first trip to Disney together which truly shows our feelings for one another. That photo and many other memories helped shape our relationship. Revisiting "the archives" is a great way to find inspiration and also to explain how the two of you made it here.
Writing Vows Without Distraction
As a writer, I have my own "method" that helps me get into a flow and explore my thoughts. I often get easily distracted and really have to focus on what I'm doing. But if you're not used to writing, you might be tempted to write at work, while watching Netflix, or some other distraction filled environment. I find the best exploration of thoughts comes from deliberately setting aside leisure time to actually focus on getting your thoughts down.
Helpful Tips for Getting into Your Writing Flow:
1. Find a quiet place like your home office, or a local coffee shop where you can write without getting distracted.
2. Jot down memories or bullet points that you thought of while reviewing your old photos, letter or memorabilia. That way, you can easily look at your list if you get stuck while writing.
3. Listen to soft music that might make you feel more reflective or heartfelt.
4. Give yourself time to be stuck. Writing isn't instantaneous. If you give yourself a couple of minutes to stare out the window, you'll probably figure out what you were trying to say and be able to keep going.
5. Don't feel obligated to write perfectly, or to write it all in one setting. This is an exciting, creative thing that isn't related to work. It should be peaceful and fun. If you put pressure on yourself, you won't be able to enjoy the writing process or come up with your best words.
How to Write Your Own Wedding Vows
There are a few different subjects that you'll probably want to write about. How much you emphasize each subject depends on its significance to your relationship. For instance, you might have had a long-distance relationship for 4 years—so talking about your journey to this moment is really important. While other couples might have spent 6 months trying to get family from all over the world to Elizabeth Park for their ceremony—so family and the context of the Park play a huge role. Each relationship is unique, but you'll probably want to touch on most of these subjects:
Talk About Your Journey: What did it take for you to get here? Were there any hardships you went through as a couple that helped you grow closer? When did you first know you wanted to marry them? When did you first develop feelings for them? Were there any significant experiences you went through together?
Talk About Your Why: What traits do you love about the other person? How has being with them changed your life for the better? What makes them unique? What qualities do you admire in them—have you seen those qualities again and again, or possibly have an example to bring up? Have you seen them grow significantly as a person in your relationship? Have they helped you grow significantly as a person? Do they bring out admirable qualities in yourself?
Talk About What Matters: Do they share the same goals in life? How does having someone in your life that shares those goals make you feel? Do they support you in a way that nobody else does—if so, what does that support look like?
Talk About This Moment: What did it take for you and your guests to get to this epic ceremony location? How meaningful is it to elope in this landscape together? How do you feel that your guests showed up to support your marriage? Why did you choose to elope in this landscape? How does eloping in this landscape reflect your relationship or your future lives together?
Talk About Your Commitment: What kind of person do you promise to be for your significant other? What qualities or traits do you want to uphold in your marriage? Can you describe any experiences together that explains how strong your relationship is? What will you do to ensure that your love and marriage stays strong over the years? Do you have any funny inside jokes or serious experiences together to help support any of your answers from above?
Talk About Something Funny: A well-timed inside joke can give you and your guests a break from any serious tears or crying. When you're vulnerable and saying your vows out loud, your body will probably tense up a lot. Having a funny, inside quip helps relieve that tension so that you can relax before continuing on with other serious parts of your vows. It's natural to say something light to break that tension, and it sometimes helps if you can plan for it.
Talk About What's Next: Where do you go from here together (moving across the country together, new jobs, etc.) ? What will life look like now that you're married? How do you feel about starting this journey together? Are there any experiences or moments you look forward to in the next few years—10 years? How do you see your relationship together growing? How do you feel with this person by your side for the rest of your life?
The thorough list of questions above should really help you write your vows without getting stuck. Answer the questions that have the most significant answers—and feel free to skip the ones that don't speak to you. The structure above is fairly sound, as it chronologically walks through your relationship. However, there are other compositional structures that might work better. If you're not a writer and you really need help, you can stick to the questions and structure above. You might end up with some pretty profound vows!
It's Important to Reflect
Often times, we're not this meditative and our thoughts and emotions stay fairly surface level. Consciously delving into these thoughts and emotions will probably bring out really, really strong feelings that you haven't felt in a while. This can be a really cathartic process. If done deliberately it can really tap into a level of vulnerability that you haven't put into words before. Embrace the vulnerability this process might bring out.
Be Vulnerable During Your Vows
In your decision to elope, you're crafting an experience where you can truly be who you are—and get married exactly how you want to get married. It's important that:
1. The environment you create for your wedding day feels comfortable and lets you be your 100% true self.
2. You give yourself permission to be vulnerable and emotional.
Sometimes we hesitate or try to hold back tears. But your wedding day is the perfect day to let your guard down and display your emotions. It isn't embarrassing, and the closest people in your life are there to support you. You spent a lot of time, effort, and money to get to this moment—allow yourself to fully experience your wedding day. Try to be mindful and keep yourself from "hesitating." It's a grand display of love for your significant other and can make your elopement photos that much more meaningful.
Stunning Outdoor Wedding Venues in Connecticut
Connecticut is known as one of the most scenic and beautiful states in New England. No matter the style of the wedding you are looking to host, there are plenty of options.
As many couples have had to switch their original plans due to Covid-19, I have put together a list of venues for the perfect outdoor ceremony to say your "I Do's".
Rustic and Barn Wedding Venues
Wood Acres Farm
Wood Acres Farm is centrally located in Terryville, Connecticut. It used to be a fruit and poultry farm but its caring owners turned it into one of the most charming wedding venues. The land of 25 acres boasts of the wooded trails, sister ponds, and gardens.
The Barn represents a spacious venue with giant windows and two sets of French doors. It combines rustic elements with elegance, thus giving you a chance to spend the reception and the ceremony in the desired style with many alternatives. There is a spacious Bridal Cottage situated on Wood Acres Farm to satisfy your needs during your special day. It has its own private porch and garden that you will find helpful. Up to 140 guests can be a part of your wedding day, sharing the best moments of the ceremony, cocktails, and reception that can be hosted indoors or outdoors.
You will definitely feel unique with a one-wedding-a-day service throughout the year. The dedicated staff guarantees an individual touch to each element of your day and encourages your ideas and preferences, considering them a priority.
Address: 68 Griffin Rd, Terryville, CT 06786
Phone: (860) 583-8670
South Farms
South Farms is a tranquil wedding location situated in Morris, Connecticut. A fourth-generation farm of the Paletsky Family turned into one of the most desired destinations.
The historic venue provides you with the award-winning White Barn that perfectly combines rustic elements and elegance. Being a spacious 20,000 square-foot barn, it gives you a variety of ways to decorate and customize itself, according to the style you want to see on your wedding occasion. The parlor, hayloft, bull room, and stone barn are among the facilities offered in the Barn. The ceremony can become a wonderful event thanks to a scenic ambiance around produced by romantic lighting indoors or a natural setting outdoor. An open-air space boasts of the meadow with a pond, gazebo, bridges, and trails that are situated 150-acre land. You don't need to trouble over weather conditions or the necessary amenities like restrooms, electricity and climate control.
South Farms grants accommodation for up to 80 guests. There are enough tents to accommodate 100 more guests outdoors. The services include setup and cleanup, chairs and tables, as well as outside vendors. South Farms prefers not to have simultaneous events, thus giving you a chance to be unique indeed.
Address: 21 Higbie Rd, Morris, CT 06763
Phone: (860) 567-9847
Woodbury Barns and Farm
Woodbury Barns and Farm is an exclusive 20-acre wedding venue located in Woodbury, Connecticut, and encompasses several facilities. The homestead was originated in 1706 and offers B&B for 16 guests, providing them with six guest rooms, three and a half baths, a charming living room, a dining room area, a library, gym, spa, stone terrace, fire pit, and a gourmet kitchen.
The barn dated back to the nineteenth century is a spacious area that has the conference room, antique shop, retail spaces, design studios, wine cave, cellars, and private tasting room. They are complemented by natural background with its pond, meadow, and garden. The staff wants to make the wedding event unforgettable by finding an individual approach to each couple and their guests. The team can offer many alternatives of how to amaze your guest and create a setting that will correspond to the style of the event.
Woodbury Barns and Farm is so much admired that it is regularly observed on television, in films or print which definitely ensures the uniqueness of your ceremony, cocktail hour and reception. The capacity reaches 50 guests for indoor space and the number can go up to 350 guests for outdoors if you want a big wedding. You are welcomed to celebrate this special occasion throughout the year.
Address: 557 Main St S, Woodbury, CT 06798
Phone: (203) 266-4500
Winivian Farm
Winvian Farm is an exclusive resort-style hotel located in the Litchfield Hills of Connecticut. The venue occupies an enormous territory of 115 acres and begins its story in the second half of the eighteenth century.
Here you will have a unique opportunity to create the ideal setting for the celebration, which adapts to all weather conditions and the number of guests due to the abundance of the indoor and outdoor area. A spacious dance floor and first-class catering facilities are offered in the Gordon Brown House where everyone will be amazed by the picturesque views from the patio. The main house attracts with an intimate atmosphere of its four dining rooms. You and your guests are welcomed to use the Games Room, the Solarium, the Wine Cellar, and the Spa to make the day to remember. Hadley Suite and eighteen extraordinary cottages can become a real comfort for those who want to relax after the celebration.
The dedicated staff will help you with engagement parties, bridal showers, elopements, and rehearsal dinners by paying attention to each element of this day or weekend. The chefs preserve the best traditions of the area providing you with fresh farm-to-table feasts from Winvian Farm's organic gardens.
Address: 155 Alain White Rd, Morris, CT 06763
Phone: (860) 567-9600
Candlelight Farms Inn
Candlelight Farms Inn represents a unique B&B and wedding venue that is located in New Milford, Connecticut. The Farm was bought in the early 40th of the last century. It got its name from the fact that there was no electricity on the Candlewood Mountain and it was signed by candlelight.
Having the territory of 640 acres, Candlelight Farms Inn will ensure the accommodation for 500 guests. This amazing venue provides you with a large clubhouse, used as a wedding reception area; a lower barn, overlooking the pond; and five cozy guest rooms as an indoor space. You and your guests will be surprised by an intimate and natural setting with its 26-acre pond, paddocks, meadows, and streams. There is an option to set up a tent on the farm for outdoor activities. All these facilities will help you to choose the perfect place for the ceremony together with the devoted vendors and expert planners who promise a personal touch to each detail.
The caring owners created a peaceful and spiritual atmosphere that will follow you on this special day. Candlelight Farms Inn hosts only one event per day during summer and fall which means care and an individual approach.
Address: 214 Candlewood Mountain Rd, New Milford, CT 06776
Phone: (860) 210-0594
Tyrone Farm
Being located in Pomfret, Connecticut, Tyrone Farm is an excellent wedding destination that will please you and your guests. It was founded in the eighteenth century and is the main agricultural land, most of which was placed in a conservation easement.
This wedding venue has 170 acres in the possession and boasts of its picturesque views, gardens, lawns, and hills that form a wonderful setting for your unforgettable day. Two granite pergolas and the barn offer you a variety of ways to spend the ceremony of your dream. The rustic Chestnut Barn and tented Bluestone Terrace is an ideal combination that can enliven the reception for 135 guests. The Tyrone Farm truly cares about the environment and uses a photovoltaic system for electricity purposes that makes this place so unique. It is essential to preserve it for future generations and let you remember the best of your celebration.
One wedding per weekend will satisfy the needs of those who seek privacy and commitment. Tyrone Farm also provides with such services as a bridal suite, event planning, outside vendors, setup and cleanup, wireless internet, lighting, and sound that you might find helpful on this exciting day.
Address: 89 Tyrone Rd, Pomfret Center, CT 06259
Phone: (860) 928-3647
Outdoor Wedding Venues
Hill-Stead Museum
Hill-Stead Museum is a Colonial Revival-style house that was designed by Theodate Pope Riddle back in 1901. The pioneering female architect created a beautiful landscape that featured a working farm, greenhouses, and lovely gardens. Today, the historic place can become your dream wedding venue. Breathtaking views of the Litchfield Hills and a unique collection of impressionist masterpieces – your guests will certainly be pleasantly surprised.
The venue accommodates up to 350 individuals. Hill-Stead Museum offers five indoor and outdoor event spaces that you can choose from. The outdoor venues are truly gorgeous – the Sunken Garden features stone walls and colorful flower beds, the Grass Court offers splendid views of the veranda and historic home, while the West Lawn & Veranda has incredible vistas of the hills and meadows. Makeshift Theater is a charming indoor setting. However, do bear in mind that it has enough space for 120 guests max.
The bride and groom can take advantage of the separate dressing areas. The venue can provide plenty of tables, chairs, a podium, coat racks, and an LCD projector.
Address: 35 Mountain Rd, Farmington, CT 06032
Phone: (860) 677-4787
Inn at Mystic
Inn at Mystic was a private estate back in the days, but now the 14-acre property features a stunning mansion, a hotel, a restaurant, lush lawns, and incredible views of the Mystic Harbor and Fishers Island Sound.
The venue has enough space for 200 individuals. If you want to go for a romantic outdoor ceremony, then say 'I do' to the lovely garden. The ceremony can also take place inside, in the elegant Haley Mansion. The stunning house was built at the beginning of the 20th century. There is also an on-site restaurant – Rocks 21 Restaurant and Raw Bar. Have the cocktail reception or a sit-down dinner right in front of the water. The couple can create their dream menu together with the Executive Chef.
Inn at Mystic is a year-round choice (there is even a heated terrace for the colder months). Take advantage of the complimentary bridal suite; the groom can use a separate dressing area. The venue will provide glassware, tables, chairs, linens, votive candles, and a ceremony arch. Moreover, the Inn has 52 rooms and suites to offer to the guests that will be staying the night.
Address: 3 Williams Ave, Mystic, CT 06355
Phone: (860) 536-9604
Interlaken Inn
Interlaken Inn is a year-round country resort located in the foothills of the Berkshires. The 30 acres of the property are nestled between two gorgeous lakes and you can certainly choose to have a stunning lakeside wedding ceremony.
The venue accommodates up to 220 guests. You can go for a weekend-long celebration and enjoy the garden barbecue, a private lakeside bonfire, lawn games, kayaking, and luxurious spa service. The cocktail hour can take place in the beautiful garden. After that, have a wonderful farm-to-table experience in the tented Pavilion and Atrium. These are the spaces where the newlyweds and the guests can hit the dance floor. Don't want to end the fun? You can use the venue's Game Room to have an epic after-party. For the lovebirds that prefer a more intimate celebration, the venue also offers wedding settings for small weddings.
Interlaken Inn features 83 elegant guest rooms. The venue provides the tables, chairs, glass, silver, linens, china, a tented pavilion, and a farewell breakfast for the individuals that stayed the night. The big day's menu will be based on the couple's personal preferences.
Address: 74 Interlaken Road, Lakeville, CT 06039
Phone: (800) 222-2909
The Inn at Woodstock Hill
The Inn at Woodstock Hill was constructed back in 1816. The huge clapboard house can become a dramatic backdrop for your wedding photos. By the way, the property located in the state's Quiet Corner is listed on the National Register of Historic Places.
The venue accommodates up to 200 guests. Whether you want to go for an outdoor or an indoor wedding ceremony, the Inn at Woodstock Hill has a space to offer. From May 15th to October 1st, you can say 'I do' at the stunning gazebo or on the side lawn. The venue's front rooms will have enough space for 100 guests, in case you decide to have the ceremony inside. The three front parlor rooms are great for a cocktail reception, while dinner can be served in a lovely banquet room (175 guests max).
The Inn offers 21 charming overnight guest rooms. The venue will provide all the necessary tables, chairs, silverware, linens, glassware, napkins, oil candles, and hurricane globes, as well as a spacious dance floor.
Address: 94 Plaine Hill Rd, Woodstock, CT 06281
Phone: (860) 928-0528
Venues on the Water
Candlewood Inn
Candlewood Inn is a wonderful wedding venue situated on the state's largest lake. Being located in Brookfield, Connecticut, the place is accessible from the popular spots as Litchfield, Fairfield, and Westchester counties. It appeared in 1999 with an intention to surprise and fascinate everyone and is a part of the Elegant Banquets family.
The ballroom represents a spacious facility with soaring ceiling, elegant chandeliers, and floor to ceiling windows overlooking the lake. Such delicate elements are complemented by light and natural tints which allows you to find the most interesting decisions on decoration and customization. It ensures the gatherings of as many as 300 guests for the reception. The outside area attracts with fresh air, tranquility, and beauty of the still lake and hills. The ceremony can be truly romantic due to the ambiance of the one-of-a-kind background. Waterfront terraces will be an amazing alternative for the cocktail hour.
The wedding destination offers indispensable services that include a bridal suite, event planning, catering, bar, servers, tables, chairs, linens, setup, and cleanup. The culinary team will be pleased to help you with menu options and layout selection. Candlewood Inn hosts one event at a time thus maintaining the privacy and individual approach.
Address: 506 Candlewood Lake Rd, Brookfield, CT 06804
Phone: (203) 775-4517
The Waterview
The Waterview is a breathtaking wedding venue that is conveniently situated on the 13-acre waterfront of Lake Zoar. Being located in Monroe, Connecticut, the place is available from the popular spots as New York, Westchester Country, Fairfield, and New Haven Countries. The Waterview is a part of the Elegant Banquets family. It has been surprising every guest by a personal approach and care since 2004.
The venue boasts of the spacious ballrooms with high ceilings, chandeliers, floor to ceiling windows, dance floors, fireplaces that altogether create an intimate ambiance for the reception. The East and West Ballrooms ensure accommodation for 250 people. If you expect to see more guests, the Grand Ballroom is big enough to host 600 guests. There is an opportunity to invite more guests by choosing the cocktail format of the celebration. Scenic views of the immaculate gardens, a lakefront patio area, and an elegant arch will create an inspiring setting for the wedding ceremony and further photo experience.
The attentive staff will offer a variety of opportunities to decorate the place according to the desired style. The team can also provide you with personal event planners and catering staff, along with a private kitchen and bar to ease this special day and make you enjoy every second of the event.
Address: 215 Roosevelt Dr, Monroe, CT 06468
Phone: (203) 261-0915
The Lake House
The Lake House is a wonderful catering facility situated in Wolcott, Connecticut. It is situated on a 19-acre land and grants the best waterfront views. Being the main catering venue, the Lake House boasts of excellent service and gourmet cuisine to satisfy all of its guests.
The building includes the Grand Ballroom and the Parlor Room that can accommodate 300 and 150 guests, respectively. The romantic atmosphere is supported by two stone fireplaces, 14-inch ceilings, and walls of glass. There is a private open-air location to hold the ceremony in such a scenic setting. The Parlor Room has an adjacent all-season terrace ideal for outdoor cocktail hours and ceremonies. The art column line array speaker system is tuned precisely for the room and is available through the house entertainment company.
The competent staff is eager to make your special occasion flawless and stress-free. Servers are provided for each table to ensure the personal approach. The Lake House can host two wedding celebrations maximum, but it makes them begin and conclude at different times to create once in a lifetime memories.
Address: 66 Central Ave, Wolcott, CT 06716
Phone: (203) 879-3273
Mystic Seaport
Mystic Seaport is a wonderful wedding spot that offers breathtaking views and numerous locations for your special occasion. Being situated on the Mystic River, Connecticut, the place will charm you with tall ships, waterfront site, and fresh air.
You can choose the desired size and location that will correspond to the format of the wedding. The River Room overlooking the Mystic River can accommodate 220 guests throughout the year. It can be perfectly complemented by Patio Terrace with a three-season tent, thus providing you with additional space for the cocktail hour. The North Lawn can become a scenic open-air area for the ceremony. The Boat Shed is another outdoor pavilion used for holding receptions and buffets of 200 people on the waterfront from May to October. The celebration here can be combined with ceremonies at Light House Point. Morgan Suites creates an intimate ambiance for small weddings all year round. It includes Morgan Suite West and Morgan Suite East hosting 45 and 50 guests, respectively.
Coastal Gourmet Catering has a 25-year-old reputation and guarantees the high level of service for over 34 venues that it caters. In addition to that, you will be offered a competent help of onsite wedding event manager and personal bridal attendant to make your day flawless and relaxed at Mystic Seaport.
Address: 75 Greenmanville Ave. Mystic, CT, 06355
Phone: (860) 572-5305
The Glastonbury Boathouse
The Glastonbury Boathouse represents an elegant wedding venue conveniently located in Glastonbury, Connecticut. The place fascinates its guests with a unique setting produced by waterfront views, an observation deck, along with the immaculate grounds. The location allows you easy access to the accommodations, highways, airports, and attractions which will definitely satisfy your guests' needs.
The banquet hall is an ideal indoor place that hosts 160 guests for a sit-down dinner or 260 guests if it is a cocktail format. The spacious facility can be customized according to your personal vision due to its flexible décor. You will have an amazing opportunity to spend the ceremony on the riverfront patio and enjoy the gorgeous New England landscape. You are granted excellent photo opportunities that will capture the most exciting moments of your special day.
The Glastonbury Boathouse is available all year round. It presupposes such services as a bridal suite, event planning, setup and cleanup, in-house bar, servers and bartenders, audio equipment, dance floor, lighting, tents, and valet. Reliable catering partners will help you to make up the desired menu. The experienced team will provide each couple with competent assistance and individual approach by hosting one celebration per day.
Address: 252 Welles St, Glastonbury, CT 06033
Phone: (860) 652-4640
Castle and Mansion Wedding Venues
Wadsworth Mansion
Wadsworth Mansion is a luxurious wedding destination located in Middletown, Connecticut. It dates back to the nineteenth century and has 103-acre territory of parklands and immaculate lawns.
Having spacious ballrooms, the mansion offers accommodation up to 200 guests for a sit-down format of celebration. Their interior perfectly combines elegant chandeliers and fireplace area. The décor elements form a romantic ambiance and are easy to customize. The cocktail hour or dancing can be held in the patio with a tent possibility to host more guests. The Italianate façade complements the setting and creates additional motives for the wedding photos. The mansion supervisor will be present throughout the event to help and make sure everything is flawless.
The reputable staff will also provide you with such services as a full catering kitchen, bride's dressing room, setup and cleanup, tables, chair, and a dance floor. They will assist you in choosing vendors and caterers that correspond to your personal style. You can choose any season to celebrate your special occasion in Wadsworth Mansion. The devoted team hosts only one event per day so that you feel absolutely unique.
Address: 421 Wadsworth St, Middletown, CT 06457
Phone: (860) 347-1064
Saint Clements Castle
Saint Clements Castle is a remarkable wedding destination situated in Portland, Connecticut. It was built at the beginning of the twentieth century. Located on over 90 acres, this place charms its guests with overwhelming gardens, lawns, river views, and grand ballrooms with their own entries and courtyards.
The Prince Edward Ballroom will help to create a warm reception area that boasts of coffered ceilings, elegant chandeliers, wainscoted walls, and a spacious dance floor. The facility that comfortably hosts 250 guests is complemented by a tranquil courtyard, authentic stables, and a tavern bar. The Waterford Ballroom has wooden elements in its décor, thus adding natural colors to the interior. The location, along with its fascinating courtyard and Art Gallery offers accommodation for 200 guests. The outdoor space can be provided with tents to make the immaculate back lawn available at different weather conditions. Therefore, you have a chance to consider different formats of the event that correspond to your vision.
The experienced team of Saint Clements Castle wants to take care of each step of the event by offering a wedding sales manager, a day-of banquet manager, a bridal attendant, table settings, bar opportunity, wine service and dinner, plated dinner service, gourmet stations, or buffet. The staff is eager to please the couple and all guests by ensuring full commitment and privacy.
Address: 1931 Portland-Cobalt Rd, Portland, CT 06480
Phone: (860) 342-0593
Fox Hill Inn
Fox Hill Inn provides you with two wonderful event locations to celebrate the romantic day of your wedding. Situated in Brookfield, Connecticut, the place charms all the guests with a rich history and stunning views.
An indoor experience offers an elegant two-level facility that is available on your special day. The Grand Ballroom can host 250 guests for sit-down dinner or dancing. The oak-paneled bar area adjacent to the Ballroom is complemented by soft seating and a large stone fireplace. The cocktail room upstairs has its own bar and an outdoor patio that tempts with breathtaking views. The entire space gives the couple a variety of ways for decoration and customization to maintain the desired style of the event. An open-air area offers a natural setting for the most intimate ceremony. You will be inspired by the beauty of the private garden, a manicured lawn, and a fountain.
You are guaranteed professional assistance from the Fox Hill Inn's expert wedding planners, catering team, and a serving team that will make your day flawless. Service packages also presuppose a bridal suite, groom suite, chairs, tables, linens, In-house catering and bar, setup, and cleanup. All couples are granted privacy and attention due to a one-event-per-day service.
Address: 257 Federal Rd, Brookfield, CT 06804
Phone: (203) 775-0089
New Haven Lawn Club
The New Haven Lawn Club represents a historic wedding destination located in New Haven, Connecticut. It appeared in 1891 and has been used as a place for different gatherings since that time. The availability throughout the year allows the couple to enjoy the venue in the desired season. The proximity to Yale University, cultural attractions, and accommodation will please your guests and make the event truly memorable.
The charming mansion offers elegant rooms full of natural candlelight and fireplace, ensuring the atmosphere of romance and tranquility. The facility is flexible for decoration and customization according to the preferable style. The ballroom with barrel-vaulted ceiling and checkered terrazzo floors can be transformed to reflect your vision. You can invite 210 guests for the reception or more guests if you prefer a different format. The historic building along with New Haven landmarks guarantees an excellent setting for the wedding photos.
Lawn Club and Fine Catering provide you with essential services that encompass an event coordinator and in-house chef who uses the freshest and most seasonal ingredients. The experienced staff wants to make the day perfect by offering such services as a bridal suite, setup and cleanup, event planning, and event rentals. The couple can also take advantage of glassware, linens, china, and flatware. A one-wedding-per-day service grants you privacy and uniqueness at New Haven Lawn Club.
Address: 193 Whitney Ave, New Haven, CT 06511
Phone: (203) 777-3494
Bill Miller's Castle
Bill Miller's Castle is a picturesque wedding destination conveniently located in Branford, Connecticut. It used to be a horse barn, but its owner made it a magnificent castle that pleases newlyweds, their family, and friends.
The property boasts of high ceilings, crystal chandeliers, a giant dance floor, and cozy fireplaces. Combining elegant and rustic elements, its décor is flexible for customization to reflect the personal vision of the couple. The overall space gives you an opportunity to invite as many as 250 guests. The chapel and the ballroom represent an indoor experience for warm and intimate gatherings. A beautiful gazebo with a large deck, along with the Trellis under the trees can become a perfect decision to spend the open-air ceremony. The place guarantees an attentive attitude to all aspects of the celebration by having one event at a time.
The experienced team of Bill Miller's Castle will make sure you enjoy each moment of the day by providing you with such services as a bridal suite, event planning, lighting and sound, setup and cleanup, in-house catering and bar, servers, bartenders, and valet.
Address: 834 E Main St, Branford, CT 06405
Phone: (203) 488-4583
I cannot wait to personalize your ceremony for your unique relationship.
A Wedding of Smaller Proportion
When my husband and I first got engaged, we initially toyed with the idea of having more typical nuptials, complete with the expansive venue, the big bridal party, and 100-plus guests. As we dug a little deeper though, we realized that maybe a large, traditional wedding wasn't for us. We ended up finding a perfect, small barn nestled in a small town in Connecticut and invited our close family and friends, and have not regretted it once.
Apart from the obvious benefit of saving a ton of cash on a one night affair, here are some other reasons to consider tying the knot the tiny way.
1. It's way easier to plan. Some people genuinely love planning their wedding but I am not one of those people. Executing such a large event is basically a full-time job, which can be hard when you already have a full-time job. A tiny wedding means tinier problems, which means tinier heart palpitations when something goes wrong. Having to think about moving around 50 people inside if it rains? Not a big deal. Two hundred people? That's a different story.
2. You can focus more on the details. From hand-painted portraits of your guests as place cards, to personalized welcome notes, to epic gift bags filled with a curated selection of your most favorite locally made goods, it can be easier to bring your vision to life when it's on a smaller scale. Not having to skimp on the details due to budget or time constraints means your wedding may actually turn out like that secret Pinterest board you've been obsessing over since before you got engaged. (I see you, everyone does it.)
3. To be honest, it's a great excuse to use for people who didn't get invited. It's hard not to feel pressure when it comes to the guest list, especially since every list has a cutoff number. While there always will be someone who is bound to be upset they didn't get an invite, when you only invite your closest circle — "No, really, it's a tiny wedding!" — it feels a lot less personal for those who didn't make the cut.
4. You can be totally vulnerable. If you're somebody who doesn't mind being the center of attention or can easily hold back buckets of water from behind your eyes, then go for a big wedding. I, on the other hand, immediately started crying big tears as my father and son walked me down the aisle to my future husband. In a crowd of 100-plus people, I would have felt like I was supposed to maintain my composure, and would have felt embarrassed and uncomfortable. But in a small group, it was endearing and felt very much like a safe space.
5. You're less likely to get Wedding Day Amnesia. So many brides say that their wedding day was a blur. With a large wedding, from coordinating with your planner to making sure you greet every guest, it's super hard to step back and take it all in. A tiny wedding means you can talk to everyone and still escape with your partner every now and then to experience it as just the two of you … and even squeeze in a quick makeout session or two.
6. You can celebrate in other ways (and keep the party going). Just because you don't have a big wedding doesn't mean you still can't celebrate with your extended friends and family. You can throw a casual party for your friends the night after the ceremony than can be inexpensive and easy to plan. Not having everything over and done with in one night also means you're less likely to get those post-wedding blues. You can have your (wedding) cake and eat it too.
Wedding Plans on Hold?
I want to address some of the uncertainty swirling around us these days. It's mind-blowing how our world has gotten turned forward, backward and upside down in the matter of months.
Covid-19. Corona virus. Pandemic. A few months ago, most of us had never even heard any of these words. Now they have changed our lives as we know it.
Many of you are in the midst of planning your wedding, what is supposed to be one of the best and happiest days of your lives and now a cloud of uncertainty hangs over the next few weeks, even months. You may be asking yourselves, what should we do next? I have a few options that may just help you in these uncertain times.
I am first and foremost a Reverend and Wedding Officiant, which means that I care deeply about you and what is happening in your life.
You may need to cancel, downsize, or postpone your wedding. There may be no way around this… and I realize it really stinks!! I encourage you to reach out to your "team", the professionals you have hired to take care of your wedding, as well as your trusted family and friends. As a team, decide what is most important to you, figure out what your options are, and then make a "Plan B."
If you are invested in getting married, but are put in a position where you cannot (now) have the celebration you planned, talk to your officiant and see if you can arrange for a small, (socially-distanced) legal ceremony to GET YOU MARRIED. Perhaps you can even keep your original date, so your legal anniversary will always be the date you had picked! You can then relax a bit and postpone or plan an amazing celebration once this crisis is over. Not having to call it a "wedding" opens up all sorts of fun possibilities for the celebration!
If you live in the state of Connecticut, and you need an officiant to legally marry you during these hectic times, reach out and let me know! You can reach me through my Contact Page to schedule a phone consultation with me! I'm offering a "compassionate rate" for those impacted by the current crisis and would love to connect with you to create the ceremony you envision.
I am in the business of helping people to embrace and celebrate the significant moments of their lives, and that means that I am deeply committed to helping everyone who is struggling through this challenging time.
I am sending each and every one of you, calming, peaceful, loving thoughts from my home to yours. Take care of yourselves and each other! We will get through this trying time!
How to say "I Love You"

Without

saying "I Love You"
As the weeks have passed, I have noticed myself expressing my love towards my husband in different ways, other than saying, "I love you!" Have you ever noticed that saying the words is one thing, but showing your partner you love them is another?! Here is a list of ways to say, "I love you" without saying, "I love you!"
~ Honor your partner's individuality
~ Sign your letters: "Forever and a day"
~ Promise to be your partner's one-and-only
~ Strive to be an A+ couple
~ Change one bad habit
~ Blindfold your partner and take them to a new restaurant
~ Keep mistletoe hung in your home year-round
~ Go "above and beyond" for your partner
~ Trust your intuition
~ Try this: Go one solid week without saying anything negative
~ Warm her bath towel in the dryer for her
~ Kiss her hand – the proper way (lower your lips to her hand)
~ Celebrate the anniversary of when you first met
~ Carry a wedding photo in your wallet
~ Use the little strips of paper from Hershey's Kisses as coupons redeemable for one kiss each
~ Get a sleeping bag built-for-two
~ View romance as "Adult Play"
~ Love through the week
~ Sunday: Be zany
~ Monday: Be debonair
~ Tuesday: Be enchanting
~ Wednesday: Be sexy
~ Thursday: Be funny
~ Friday: Be playful
~ Saturday: Be romantic
~ Share a Whitman's Sampler
~ Plan a "Mystery Date" for sometime next month
~ Plan sexy surprises
~ Tell your partner that you – adore, admire, cherish, desire, want, need, prize, esteem, idolize, revere, treasure — him/her
~ Use your logical abilities and your creative abilities to express love
~ Cuddle in front of a campfire
~ Devote yourself to your partner's happiness
~ If you're an expressive, loud person, try whispering your love to your partner
~ Leave written clues that lead your partner to a restaurant where you are waiting for them
~ Hide a little gift for her so she'll find it during a walk together
~ Remember your anniversary
~ Tell your lover something you've never told anyone before
~ Give phone-kisses
~ For busy couples: Schedule time for romance
~ Make love your Number One Priority
~ Live every day with passion
~ Touch more
~ Eat erotic chocolates and pastries
~ Continue to woo your mate throughout your relationship
~ Give meaningful greeting cards
~ Tease your partner in a subtly sexy way while out in public
~ Practice your cuddling skills while watching TV
~ Swing together on playground swings
~ Go camping together
~ Believe in your partner
~ Cook dinner together
~ Read your partner's mind
~ Buy your dream home together
~ Roll up the rug and dance together at home
~ Blindfold him and take him away fr a romantic weekend
~ Believe in the healing power of love
~ Be your partner's friend
~ Encourage humor
~ When attending a wedding, whisper the vows to one another
My husband and I often share the words, "I love you" with one another, although it is always fun to express our love for one another by simply showing our love in more ways than one. The most important aspect in every relationship is the factor of communication, which can be done through having conversations or doing something simple for each other to show how much you truly love one another. Many people have asked me what my favorite way to say, "I love you" without saying "I love you" is, and I have to say it is the simple things. When I come home from s long day of work and the dishes are done, dinner is being made and our son is entertained that says, "I love you" in more ways than one!!!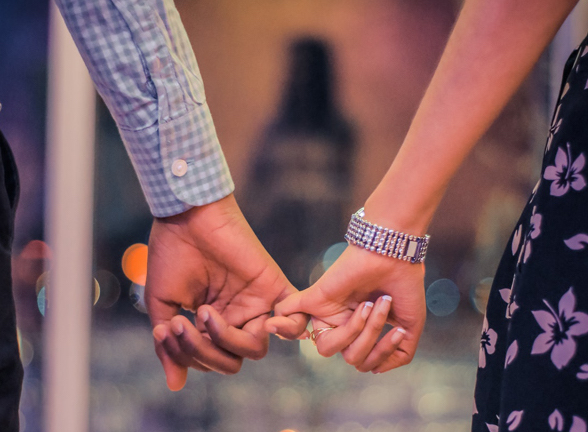 The Important Questions Your Wedding Officiant

Wants to Know
When you are deciding on who will officiate your wedding, chances are you will sit down and talk with at least one wedding officiant to find out if you are a good fit for each other. Asking questions is the best way to do that. Here is a list of questions I ask couples.
Let Me Know About You
1. How did you meet? Tell me about your relationship. What do you like to do together?
I want to get to know you as a couple so I can find the best way to relate to you. I am also picking up pieces of your story to add to your ceremony and coming up with suggestions for items you might want to include in your ceremony.
2. When was your first date and what was it like?
This will help me to add details to your ceremony and come up with suggestions to add to your script for your special day.
3. Do you have any children or pets?
Will your children or pets be included in your ceremony. For example, on my special day, our son walked me down the aisle with my father, which made the day even more special for everyone in attendance.
4. When did you "know" that they were the right person?
As a couple, you will usually know when the person is "right" for you. I would love to hear when you figured this out in your relationship.
5. When did you first say "I love you?"
Each person has their own time frame when they believe it is the right time to say, "I love you". When did you each say "I love you" to one another the first time?
6. When did you know you wanted to get married?
Every couple has their own feelings about when they are ready for marriage. When did you know?
7. How did you get engaged?
Let me know your engagement story, maybe I could add the story into your ceremony script.
8. What is something unique about your relationship?
Every relationship has their unique or quirky attributes. I want to learn more about your unique attributes, so I get to know you as a couple before your special day.
9. How would you describe your relationship?
It is clear that everyone has an opinion on love and what it means in a healthy relationship, how would you describe your relationship?
10. What are you most looking forward to about your life together, after this wedding?
Whether it means being able to spend every day together once you have said your I do's, or it is the fact you get to describe yourself as a married couple, what are you most looking forward to.
The Wedding Ceremony
1. What is the date, time and location of your wedding?
This is important because I want to make sure I am available for your special day. I will ask you this during our first conversation via email, text or telephone call.
2. How many guests do you expect at your wedding?
This gives me an idea of what to expect on the day of your ceremony, whether it is an intimate gathering or a larger group. The aspects of each ceremony can be different according to how many people are gathering for your ceremony.
3. How many people are in your wedding party?
This question tells me what kind of rehearsal you are going to need. I offer ceremony only packages, as well as packages with a rehearsal. If you have a large bridal party, 99% of the time, you are going to need a rehearsal with a professional.
4. Who will escort the bride down the aisle? Do you want to be given away or presented in marriage?
Sometimes it is the bride's father walking her down the aisle and he is going to "give" her away. Sometimes he will "present" her, instead. Other times, he will only walk her down the aisle. There are times when the mother, mother and father or stepfather or stepmother walk the bride down the aisle. You might have a brother, cousin or grandparent as well. Each person has their own special person in mind when the time comes for their special day.
5. Do you want to write your own vows? Do you want to repeat after me or just say "I do."
You do not have to write your own vows, although you may be thinking about it, in which case I can give you some pointers and suggestions on ways to share your vows with your guests or in private as a couple. I would like to remind you, there are always options. You can repeat after me or I can simply ask you questions and you say "I do" or "I will." This will often take a load of stress off of the couple that can be shy or simply do not like to be the center of attention.
6. Do you want a unity ceremony?
The unity ceremony is a wedding tradition used to symbolize the joining of the two parties as one. One of the most well-known ceremonies is the unity candle, although there are many options for couples who would like to incorporate a unity ceremony.
7. What type of ceremony do you want?
Religious, non-religious, something in the middle? As a professional wedding officiant that happens to be an ordained minister, this is usually one of the first aspects we talk about, even before a meeting. I specialize in combining different religious backgrounds into your ceremony or just keeping it as non-religious as possible. We will create a ceremony together that will keep the couple true to themselves but still honor the religious backgrounds of their families.
8. Will there be any Readers or Performers participating in your ceremony?
Do you have special people you want to share readings? Do you have someone who is going to sing or play other music?
9. Is there anything you must have in your ceremony?
You might want a certain reading or unity ceremony that you've seen before. Maybe you want exactly what they did in your favorite movie or TV show. Maybe a certain version of 1 Corinthians 13 is what you have been dreaming of your whole life. ​
10. Is there anything you definitely do not want in your ceremony?
Chances are, there is something you have seen in a ceremony you hated and definitely do not want in your ceremony. No sermons or definitely not the same unity ceremony you have seen over and over again.